Former Australia captain and current assistant coach Ricky Ponting believes the Australian selectors will have a big call to make when Steve Smith is fit to return to the playing XI for the fourth Ashes Test against England in Manchester.
Ponting, however, backed Marcus Harris to partner David Warner in spite of his twin failures at Headingley in a one-wicket defeat to England on Sunday (August 25). He also expects England to field the same top order despite the lean returns of struggling opener Jason Roy.
Australia's three-day tour match in Derby, starting on Thursday (August 290, will likely have a significant say on who plays in Manchester.
Smith did not play in Leeds as he carefully recovers from delayed concussion but his replacement Marnus Labuschagne made the most of his chance by scoring twin half-centuries as the visitors' best with the bat.
Ponting says Labuschagne is '100 per cent in' and tossed around the idea of moving him to three, dropping Harris – who scored 8 and 19 in Leeds replacing Cameron Bancroft – and promoting Usman Khawaja up the order to opener.
But when asked who he thinks will open the batting at Old Trafford as both teams search for their maiden 50-run first-wicket stand of the series, Ponting opted for Warner and Harris to keep stability at the top.
"It's a big call," Ponting was quoted as saying by cricket.com.au. "The top order hasn't fired yet, but do you want to be making another couple of changes in your top three?
"When you talk about batting orders you talk about the engine room being your top three, you keep mucking around with that it's not going to get easier. There's the most pressure on those guys in Test match cricket.
"I know it would be harsh on Harris having come in and played that one game but maybe they could think about opening with Khawaja and then maybe Labuschagne bats three, Smith four. Labuschagne looks well equipped against the new ball. I think it's one of those two (Khawaja or Harris) who might have to move or do they look further down the order to Wadey (No.6 Matt Wade)?
"Wade made a very good hundred in the second innings at Edgbaston, do they maybe look at making a change down there? I honestly don't know what the right thing is," Ponting added.
If Australia experiment with a new top order, the clash with Derbyshire is the last tour match on the itinerary before the back-to-back Tests at Old Trafford (September 4-8) and The Oval (September 12-16) round out the Ashes.
Australia's tour matches have proven pivotal so far, with Bancroft earning his Test recall with a an unbeaten 93 in the intra-squad clash in Southampton, while Josh Hazlewood's impressive display in Worcester saw him playing in the following Test at Lord's.
Ponting says runs on the board in Derby could decide who survives Smith's return to the batting list.
"We might get a bit of a hint (in Derby)," the former captain said. "Say if Warner didn't play, if Khawaja opened the batting that might be a giveaway as well.
"If there's a line-ball decision (the selectors) are going to make then all you can do as a batsman is get runs, and if you get runs then it's up to the selectors to do what they do," he added.
Ponting says the Derby game is also likely to determine the fate of fast bowler Mitchell Starc. Starc has not played yet this series as Australia have rotated through their quicks, but Ponting has been keeping a close eye on the left-arm paceman and couldn't help but think what impact Starc might have made had he played at Headingley when allrounder Ben Stokes was going berserk in the final hour of play.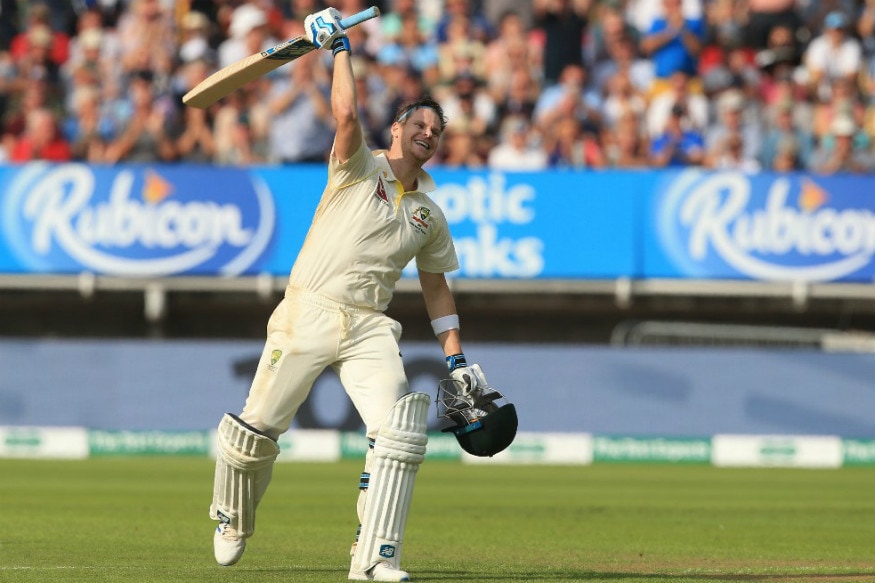 (AFP)
"I must admit, as the game was sort of slipping away the other day the only image I had in my head was Starc bowling Stokes at The Oval in that World Cup with a yorker right at the base of off-stump," Ponting said.
"And even someone like (No.11) Jack Leach, I'm not sure he would have been that keen on facing Mitchell Starc at 150kph with the ball reversing back onto his toes either.
"The game might have been completely different had Starc played but in situations like that when the tail is in and the ball is old he just knocks them over for fun. I watched him in the nets two mornings during that Test match and he bowled beautifully.
"I know it's a different kettle of fish, but he did bowl well, bowled fast and swung the ball. They're all the things you're looking for with Mitchell Starc," the former skipper added.
Ponting believes Australia will see an unchanged pace attack of Pat Cummins (4-103 in Leeds), James Pattinson (3-56) and Hazlewood (9-115) if Starc does not impress in Derby.
"Cummins won't be coming out of the side. I think if they look at making a change I think it will have to be Pattinson (who was rested for Lord's) again," he said.
"Hazlewood, with the exception of his spell with the second new ball in the second innings, I'm not sure I've seen him bowl better than that. That was outstanding from him. Patto, as the game went on I thought he got better. When it looked like he had his rhythm I thought he was really good.
"But I think they'll see how (Starc) goes in Derby. If he doesn't bowl the house down there I think they'll be reluctant to make change," Ponting added.
The Delhi Capitals head coach says it could be time for England wicketkeeper Jos Buttler to make way for Surrey gloveman Ben Foakes, who has played five Tests and could take the burden of wicketkeeping away from Jonny Bairstow, who is averaging 27.2 this series.
"I think England will stick with their same batting lineup, to be honest," Ponting said. "They'll show a little bit more faith in Roy. Burns has got that hundred already, I don't think he's going anywhere.
"The other one I think they've got a problem with is Buttler. It's a bit of a luxury to have a specialist batsman coming in at seven but they can do that because of what Stokes brings.
"Someone like a Ben Foakes who looks like he's a very good cricketer to me. He's a very good keeper and he's a good batsman. Maybe they could think about bringing him in for Buttler and then taking the gloves off Bairstow and just freeing Bairstow up as well. That might be something to think about," Ponting felt.