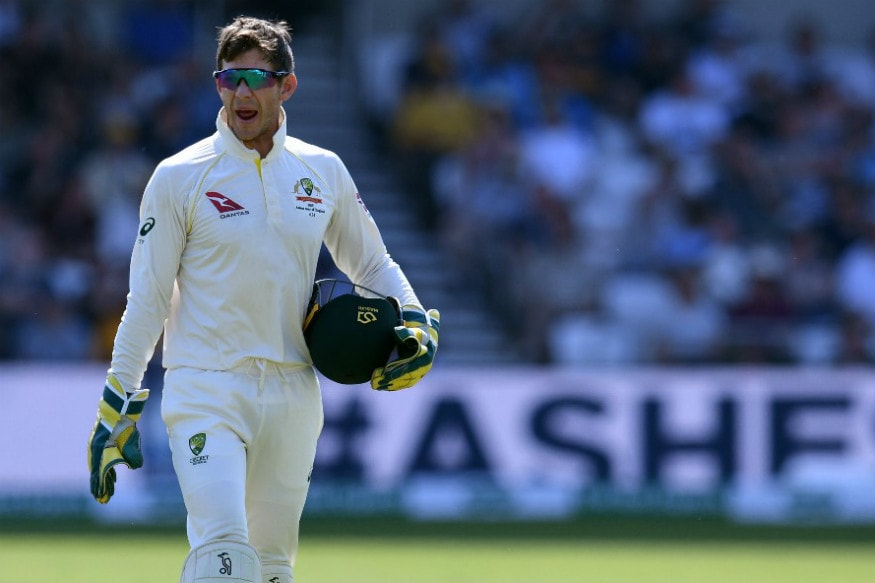 Australia's hard-fought win in the fourth Test in Manchester meant Tim Paine became the first Australian to win the Ashes urn in England since Steve Waugh in 2001.
An emotional Paine said he was relieved and pumped after the win.
"I'm pretty pumped. This team has been through a lot in the last 12-18 months. The character we've shown shows a lot about the quality of the people," he said in the post match presentation. "It's been an unbelievable series, I've not had too much sleep. It's been intense. That's what you expect and prepare for. Our bowlers kept sticking at it and we said we'd get our rewards late.
"We tried to stay calm, not always easy when it means so much to everyone. Thought we handled it pretty well, and the whole week coming out of Headingley. The boys got what they deserved."
Paine was under fire after Australia's narrow loss in Headingley, but bounced back with the bat and as captain at Old Trafford. His decision to bowl Marnus Labuschagne in the tense finishing stages resulted in the crucial wicket of Jack Leach, opening the gates for Australia's win.
Paine said Labuschagne always wants the ball in his hand, and called Steve Smith the best batsman he has ever seen.
"A bit of guess work with Marnus and he works hard on his legspin, he wants the ball in his hand," he said. "Smith is the best player I've ever seen.
"I thought Virat Kohli was the best batsman I've ever seen because of the way he plays in all forms, but Steve Smith... That's another level.
"He's a great problem-solver. His hunger for the game, I've never seen anything like it.
"Yesterday to push the game forward put England under pressure. He's got a lot of courage to take teams on.
Paine stressed Australia are keen to win 3-1 and not just be satisfied with retaining the Ashes.
"Really humbled to come here and do something really special. But we came here to win them, not just to retain them. We'd love to be 3-1 up when we hold the urn aloft," he said.
"A lot of people have put in hard work for this to happen. We'd like to finish off with a series win. We'll enjoy tonight, but focus on next week. It's been a long, long time. We know how difficult it is to win over here. We are the lucky ones who have been here. Every player has some story or sacrifice which is what makes moments like this so great. It doesn't happen, retaining the Ashes in England, very often but we'd like to win next week."
Meanwhile, Joe Root said the loss was 'hard to take' after fighting so hard in the game.
"I'm bitterly disappointed," the England captain Root told BBC Radio. "I thought the way we fought today, the character we showed, every single one of them can be proud of that today.
"To come so close to taking it to the Oval is hard to take. We've still got to look forward and make sure we level the series.
"I think it's been a good Test wicket, an important toss to win, and we were not quite at our best in the first innings. We fought hard and bravely throughout the game, but we're in the position we are now."
Root hailed Steve Smith, who has scored an astonishing 671 runs at 134.2 including three hundreds in the series despite missing England's one-wicket win in the third Test at Headingley with concussion.
"Steve Smith has played very well," he said. "He's a world-class player. You need to take any chance you get at him early. The first Test is probably the difference between the two sides.
"They've bowled well. I think the way we went about our business today was impressive. The guys will take a lot from that.
"You learn a lot about your team and players in situations like this and we stood up to the challenge and fought bravely."
(With inputs from AFP)