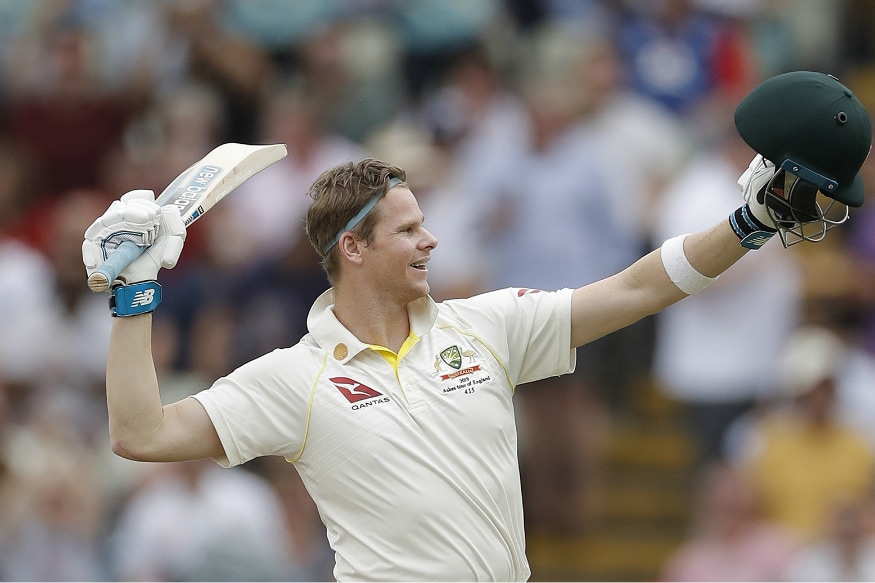 Steve Smith became the eighth batsman to score hundreds in both innings of an Ashes Test as he registered his 25th Test hundred on Day 4 of the opening Test in Birmingham on Sunday.
He became the fifth Australian batsman overall and the first after Matthew Hayden (in 2002) to record hundreds in both innings of an Ashes Test.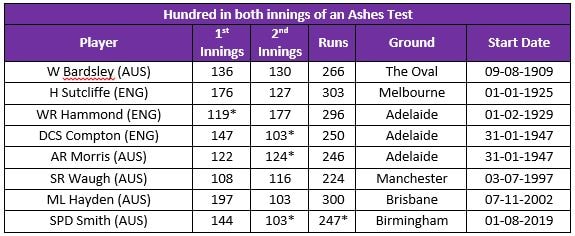 This was the first instance of a pair of hundreds for Smith in the same Test in his career. The feat has been achieved on 85 occasions in Test cricket history and on 23 instances by an Australian batsman (by 16 different batsmen).
Smith's Ashes form has hit a purple patch. He has scored 1077 runs (at the time of reaching his hundred at Edgbaston, ie 103 not out) in his last 10 Ashes innings at a sensational average of 153.85. This includes 6 hundreds and 2 fifties.
143 at The Oval in 2015, 141 not out at The Gabba, 40 and 6 in Adelaide, 239 at Perth, 76 and 102 not out at The MCG all in 2017, 83 at The SCG and 144 and 103 not out in Birmingham – Smith has been Bradmanesque in his last 10 Ashes innings.
Bradman himself had scored 1111 runs in 10 Ashes innings at an average of 138.87 between the second innings at The MCG in 1937 till the end of the Leeds' Test in 1938 – that was his most successful run in the Ashes. This streak saw him register 6 hundreds and one fifty.
Smith has scored 2273 runs in 24 Ashes Tests (43 innings) at an average of 61.43, including 10 hundreds and 6 fifties. He belongs to the select 60-plus Ashes average club and is fourth on the list (min. runs 1000) after Bradman (89.78), Sutcliffe (66.85) and Ken Barrington (63.96).
He joins Steve Waugh with the joint third-highest number of hundreds in Ashes Tests – 10 and is only behind Bradman (19) and Jack Hobbs (12).
Smith has scored 6446 runs in Test cricket in just 65 Tests at an average of 63.19 – it is the second-highest average in Test cricket history after Bradman (min. 2000 runs).