589 runs in the series in just 4 innings at a stunning average of 147.25 including two hundreds and a double hundred – this is the world's best Test batsman – Steven Smith's in the Ashes 2019!
He has scored 30.44% of Australia's total runs (scored by batsmen) in the series – that is how prolific he has been with the bat. This is the third-highest percentage of runs (for his own team) for any batsman in an Ashes series.
The second-highest scorer for Australia in the series is Marnus Labuschagne with 280 runs – less than half of what Smith has aggregated. The second-highest scorer in the series is Ben Stokes with 327 runs – 262 behind Smith.
There is Smith, then there is daylight, then there is more daylight and then the others follow!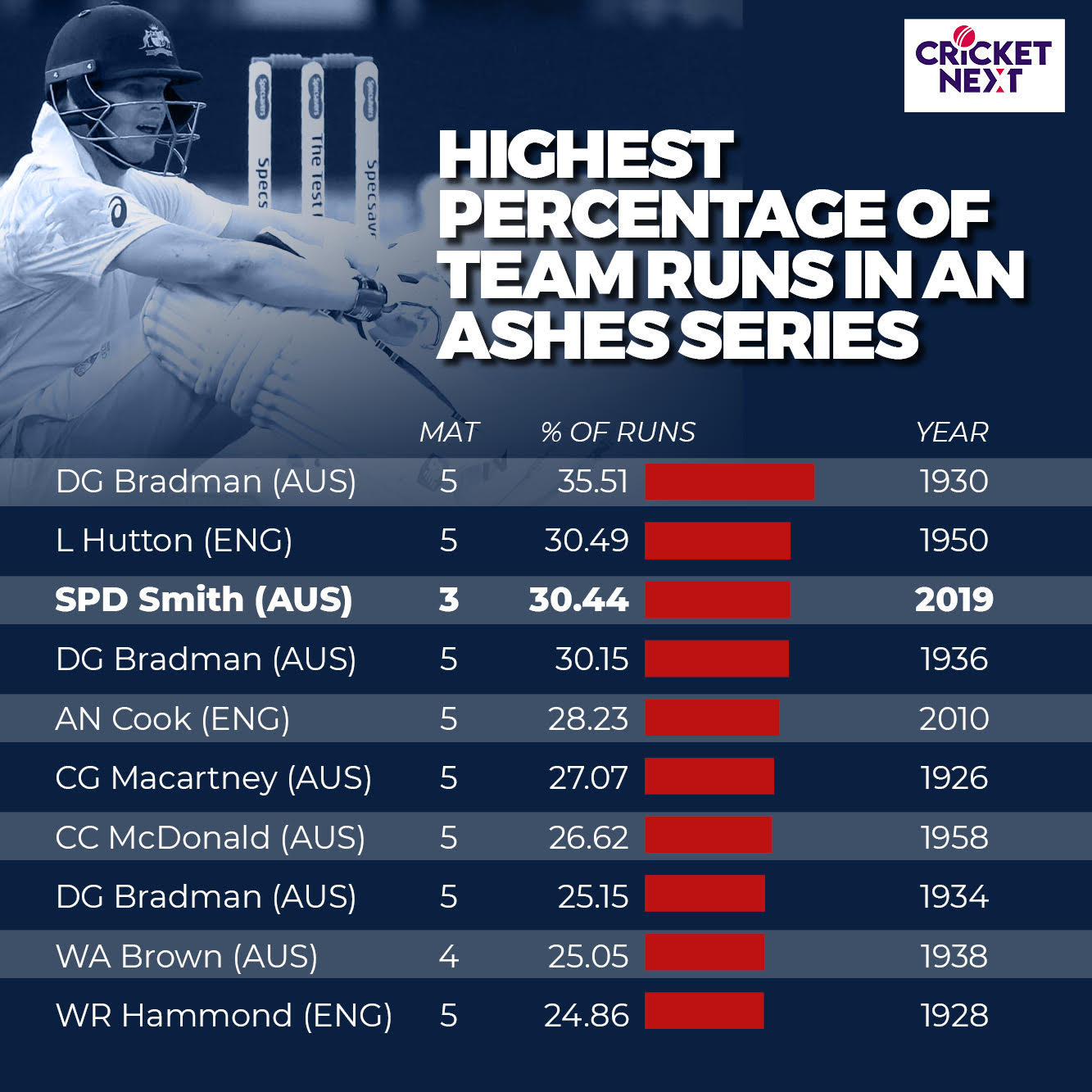 After his twin hundreds - 144 and 142 in Birmingham – where he became only the eighth batsman to score tons in both innings of an Ashes Test, Smith top-scored for Australia with 92 in the first innings at Lord's – an innings full of grit and determination and under pressure of wickets falling around him.
He has now followed that with a double-hundred at Manchester. Apart from the sheer volume of the runs he has scored, what stands out is the timing of his performances. He came in to bat at 17 for 2 in Birmingham and scored more than half of Australia's first innings total.
He again rescued his side from 27 for 2 in the second innings and went on to register his second ton of the match.
The 92 in London was built despite half his side in the pavilion with barely 100 on the board and the 211 at Old Trafford after yet another failure of the openers from 28 for 2. This shows that Smith not only has an appetite for big runs he also has the mental strength and temperament to give his best when his country needs him the most – from difficult situations in an event of the magnitude of the Ashes – the benchmark for batsmen from Australia and England.
And to come up with these performances after a 16 month ball-tampering layoff with a hostile and jeering English crowd – shows Smith's mettle and class.
DREAM RUN
Smith is certainly in the 'purple patch of his cricketing career'. Smith has had a great run in Test cricket on a few occasions in his Test career but nothing compares to the numbers he has generated since his comeback in 2019.
He aggregated 536 runs in 10 innings at 59.55 including three hundreds from the Ashes Perth Test in 2013 to the Cape Town Test in March 2014.
He had a brilliant run from December 2014 (Adelaide; against India) to July 2015 (Lord's; Ashes) – in 8 Tests he scored 1391 runs at an average of 115.91 with 5 hundreds and a double hundred.
In 14 Tests from December 2016 (Brisbane; against Pakistan) till the New Year Test against England in 2018, Smith had amassed 1746 runs in 14 Tests at an average of 87.3. This included 7 hundreds and a double ton.
What is mind boggling is that his current run threatens to overtake all these great periods he has had in his Test career.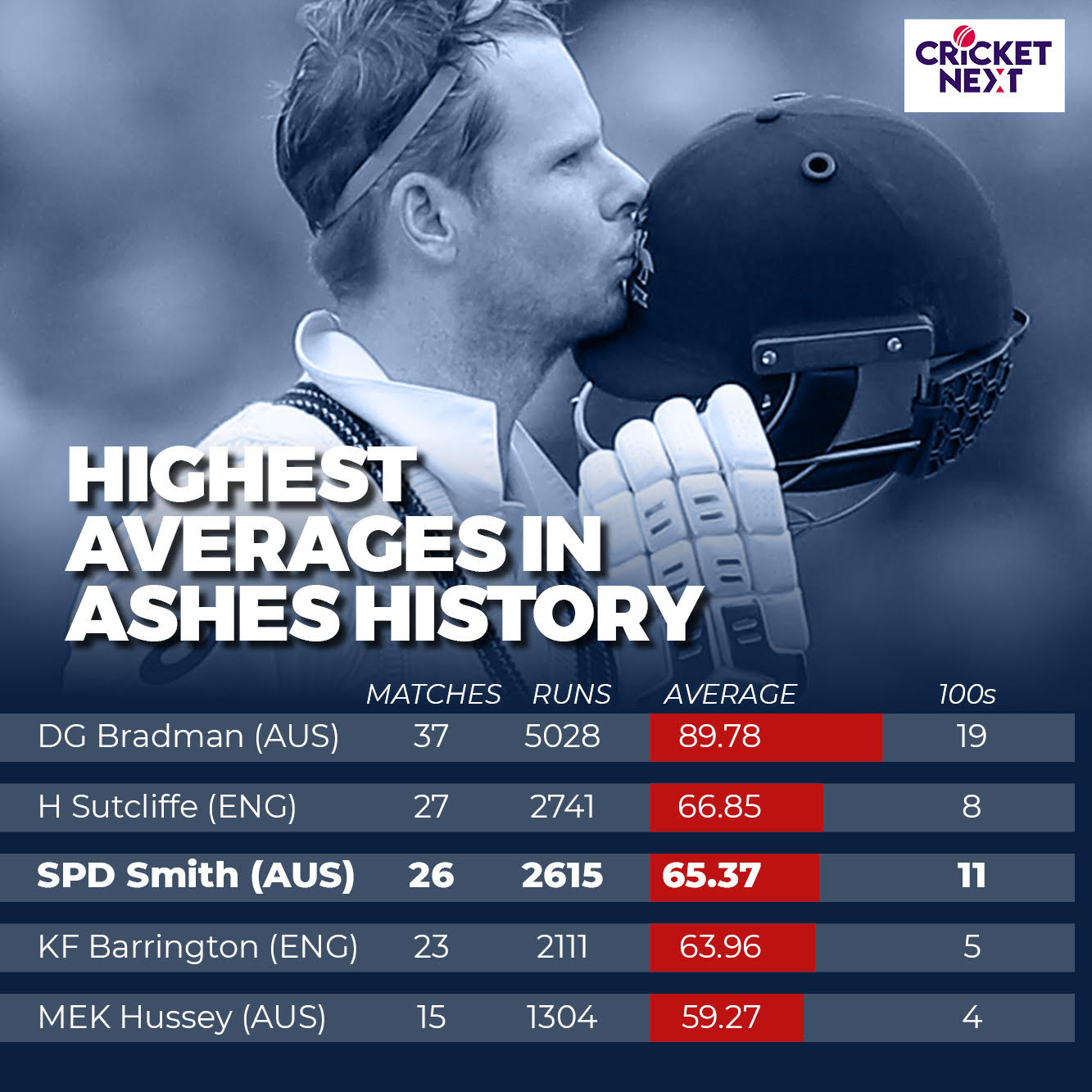 GREAT RECORD IN ASHES
Smith aggregates a whopping 2615 runs in 26 Ashes Tests. His average of 65.37 is the third-highest in Ashes history (min. 500 runs and 10 Tests) after Bradman and Sutcliffe. Smith has registered 11 Ashes hundreds. Only Bradman (19) and Jack Hobbs (12) have more.
Only three other batsmen in Ashes history – Herbert Sutcliffe in 1924, Wally Hammond in 1928 and Don Bradman in 1930 have hit more hundreds in a series (4 each). With an innings and a Test to go at The Oval – considered to be the best batting strip in England – Smith might well break this record.
Moreover, only three batsman in Test cricket history have more hundreds against a single opposition – Bradman (19) against England, Sunil Gavaskar (13) against the West Indies and Hobbs (12) against Australia.
Smith's three double hundreds against England are the third-highest in Ashes history after Bradman (8) and Hammond (4). He has been in a dream run in the Ashes aggregating above 500 runs in each of the last three series – 508 in 2015, 687 in 2017-18 and 589 (so far) in the current series. No other batsman has scored 500-plus runs in three consecutive Ashes.
Smith has scored 1419 runs in his last 12 Ashes innings at a phenomenal average of 141.9. His exploits include 7 hundreds and 3 fifties. Bradman had scored 1111 runs in 10 Ashes innings at an average of 138.87 between the second innings at The MCG in 1937 till the end of the Leeds' Test in 1938 – that was his most successful run in the Ashes.
This streak saw him register 6 hundreds and one fifty. Smith is eclipsing even the great Don!
A PROLIFIC CAREER
Smith has scored 6788 runs in just 67 Tests at an average of 64.64. It is the second-highest average in Test history (min. 2000 runs) after Bradman (99.94). Only three other batsmen average above 60 in Test cricket – Graeme Pollock, George Headley and Sutcliffe.
Smith was the joint second-fastest (in terms of number of innings) to score 6000 Test runs. He took 111 innings to reach the landmark (same as Garry Sobers). He is also the second quickest to 26 Test hundreds taking 121 innings (after Bradman 69) ahead of Sachin Tendulkar (136), Gavaskar (144) and Matthew Hayden (145).
Smith did not have a great beginning to his Test career and averaged just 34.64 in his first 16 Tests till the end of 2013 registering only 2 hundreds. Since then, he has scored 5818 runs in 51 Tests at an average of 75.5 including 24 hundreds.
He averaged above 70 in 4 consecutive years – 2014-2017. Amongst the 96 batsmen who have scored a minimum of 5000 runs in Test cricket, Smith is the only one, apart from Bradman, to aggregate more than 100 runs per Test match played.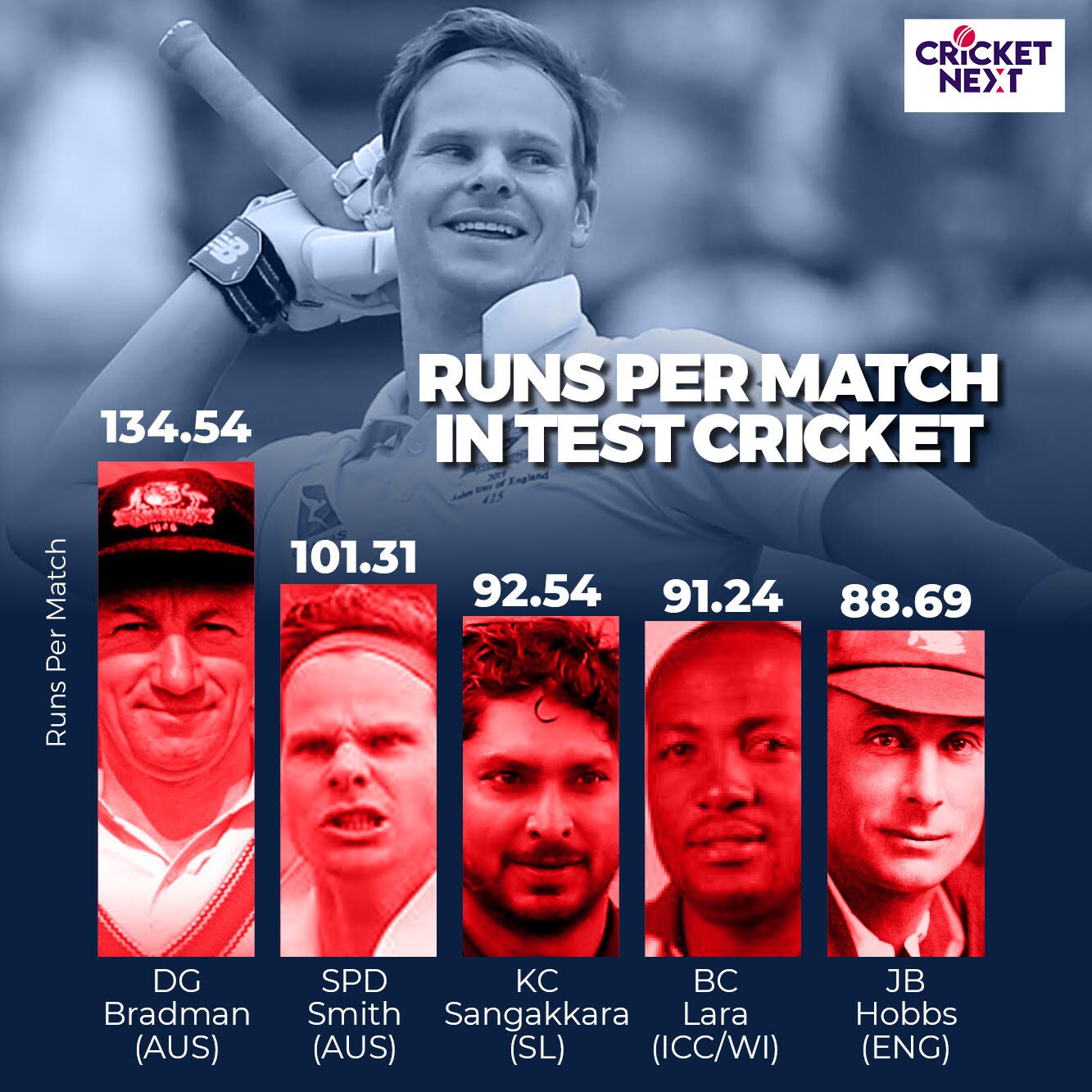 Smith has a sensational average of 93.64 (second only to Bradman; 113.66) in the first innings of a Test in his career. He has an excellent record in India, considered to be the toughest place to bat for batsmen from the SENA countries.
Pitches aiding spin, tough weather conditions and hostile crowds has seen the best in the business crumble - Ricky Ponting with an average of 26.48 and David Warner with 24.25 two prime examples.
Smith has the fifth-best average of 60 (min. 500 runs) for a batsman from SENA in India. He has scored 660 runs in 6 Tests including 3 hundreds in what Steven Waugh famously described as the final frontier.
Smith's runs have also contributed significantly in victories for Australia. His average in winning matches (min. 1000 runs and 15 Tests) is 84.95 – the second-best in Test history again after the Great Don (130.08).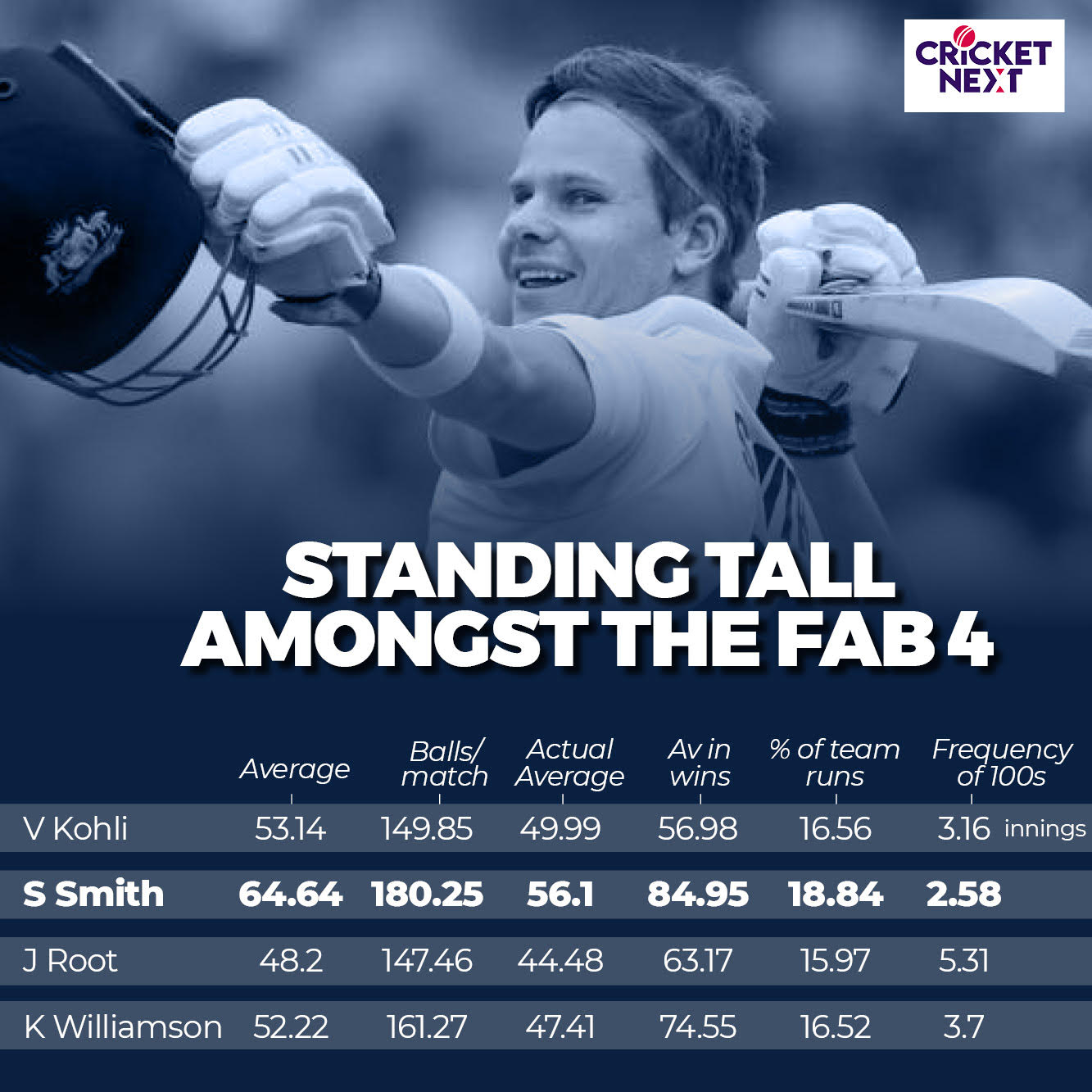 THE BEST AMONGST THE FAB 4
There are several parameters which can be used to compare Smith with the other three great batsmen of his era – Virat Kohli, Kane Williamson and Joe Root.
The remarkable thing is that the Australian comes out atop on almost every single one of these. Not only does Smith have the highest average amongst the FAB 4 (overall career) but also the highest average (amongst all batsmen) since his debut (July 2010).
His Actual Average (Runs per Innings) is also the highest so is his average in winning Tests, and both by some margin. He has registered the maximum hundreds in the least Tests – 26 in 67 Tests – which means his frequency of scoring a hundred is the best amongst the Four (every 2.58 innings).
23 of his 26 hundreds have contributed to an Australian victory or resulted in a draw or tie. A measure of his application and temperament has been his ability to occupy long periods at the crease. His balls/match is also the highest amongst the FAB 4.
He has been Australia's Mr Dependable contributing to 18.84 % of his team runs in his career.
Smith is in the form of his life. The tougher the challenge the greater seems to be his performance. Barring the Don, he may soon leave behind every one in the race.
(Statistics are accurate as of September 5, 2018)