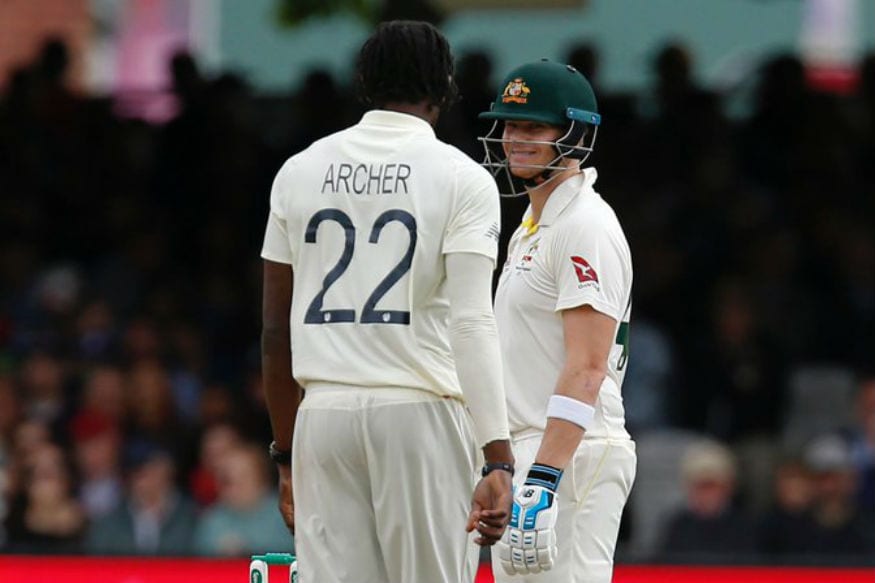 Steve Smith believes England's bowlers played into his hands at Old Trafford by bowling short balls at him as constantly looking to bowl bouncers softened the ball and helped him score runs later in the innings.
"I think and visualise before I play where people are likely to bowl to me and where I am likely to score and try to picture fields that are set and play things over in my mind, where I am going to get runs and how they are looking to get me out," Smith told reporters after stumps on Day 1.
"Then out in the middle you have to adapt to whatever is thrown at you."
England, inevitably, after Lord's, repeatedly tested Smith out with the bouncer.
But Smith, whose career Test batting average of 64.64 is second only to Bradman's 99.94, reckoned England's quicks, with the notable exception of Stuart Broad, had over-done the short stuff.
"I said before the game that if they bowl a lot at my head then they're not bowling at my stumps and trying to get me out lbw and caught behind the wicket," he explained.
"For them to go as short as they did and as early as they did with the new-ball, softened that ball up and played into our hands."
The third double century of Smith's 67-Test career, all of which have come against England, was not chanceless.
Archer dropped a caught and bowled chance when Smith was on 65 and he had made 118 when he nicked Jack Leach to slip only to be reprieved when a third umpire review revealed the left-arm spinner had bowled a no-ball.
"When I saw the foot over the line and (umpire) Kumar (Dharmasena) called me back I thought, 'How good is this! I get to keep on batting'.
"Obviously I had some luck and I made the most of it from there."
This innings also saw Smith extend his own record with an eighth successive Ashes fifty, but he was adamant in insisting: "It's never easy.
"You're playing international cricket against some quality bowlers. I'll never say it's easy."
(With AFP inputs)