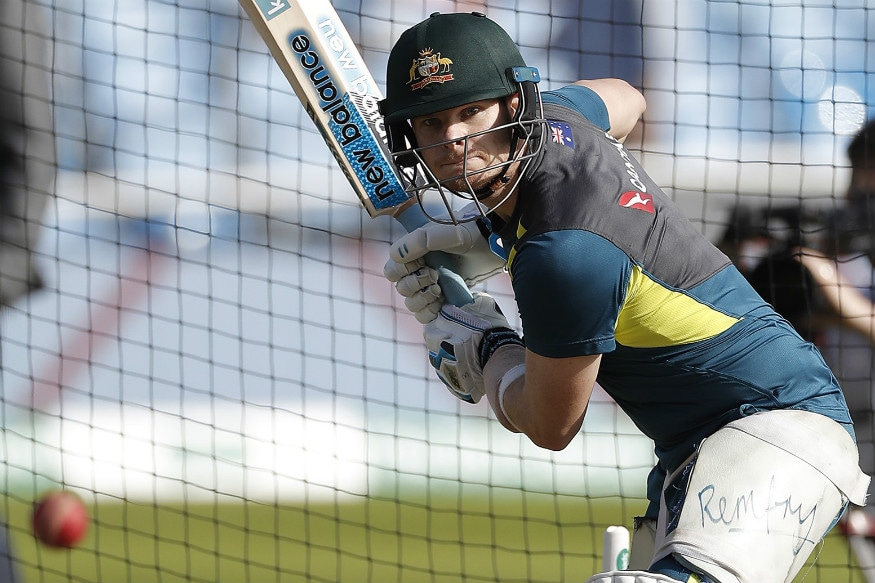 Steve Smith is recovering well after being hit in the neck from a ferocious Jofra Archer bouncer at Lord's and is on course to be fit in time for the fourth Ashes Test which gets underway at Old Trafford in Manchester from the 4th of September. The 30-year-old will play in the three-day tour match against Derbyshire that starts on Thursday eyeing a return to the Test side.
Earlier on Saturday, Smith had a gentle session in the nets under the watchful observation of team doctor, Richard Saw. He did not receive any express-pace deliveries or short-pitched stuff easing his way back into practice after being replaced with a concussion sub in London.
Smith's keenness to get back into the Australian playing XI could be gauged from his insistence of spending a few extra minutes hitting a few extra balls in the nets even as Dr. Saw tried to end the session on several occasions.
The Australian great then tested his fitness and agility running a series of shuttle runs across the Headingley outfield before jumping around a set of plastic cones.
Smith ended his morning training session with some throw-ins to Brad Haddin – the Australian fielding coach.
There is a still a procedure needed to be cleared for Smith to be declared fit to play at Manchester – firstly, there should be no signs of concussion and he should return to full movement and activity. He should then clear routine assessments and be comfortable facing fast bowling in the nets showing no signs of a diminished reaction speed.
Justin Langer, the Australian coach is hopeful that Smith will recover to full fitness in time for the match in Derby and then return with the Baggy Green come September 4 in Manchester.
"It'd be great for Smith rather than just doing it in the nets or having throw downs to play that practice game," Langer was quoted as saying by cricket.com.au.
"It could work out really well. We know what he's like, so look out the Derbyshire bowlers. It'll save us 'wanging' (using modified ball throwers) the whole time, throwing them at him. I'm sure if he passes what he has to go through he'll be right to play that game," added Langer.