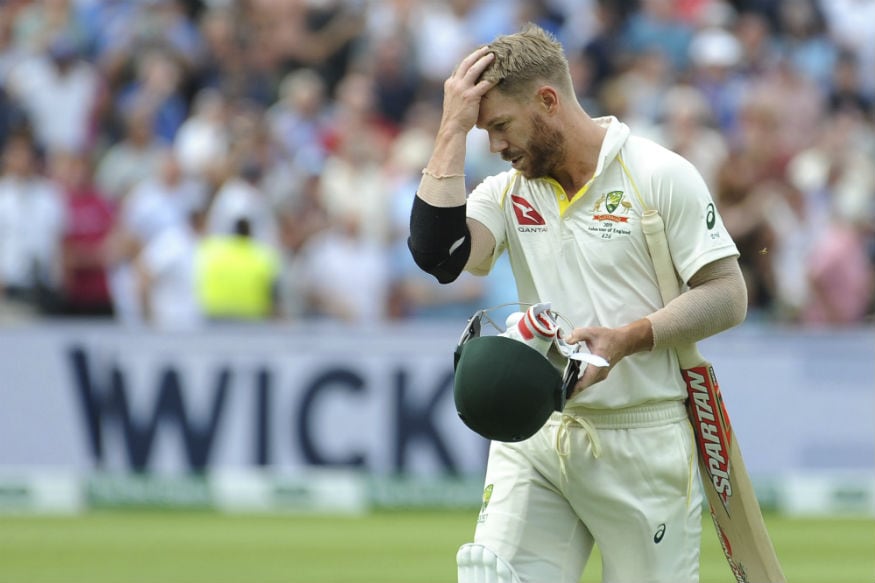 David Warner fell to Stuart Broad for the fifth time in seven innings this Ashes, with each of those coming from around the stumps angle. Warner fell for a duck, and has managed to get double-digits only once in the series (61 in the first innings in Leeds).
Former Australia captain Ricky Ponting said Warner's issues with Broad are in his mind.
"Davey is obviously struggling with Stuart Broad," Ponting told cricket.com.au. "(Broad) has got his number, that round-the-wicket angle is really worrying (Warner). It's worrying all the left-handers to be honest. Broad, with his new-found skills of being able to swing the ball away from round the wicket, it's troubled everybody.
"Davey, again, was lured into playing trying to leave. That's the second time in the series it's happened and I think it's a real mindset thing for him. If he's looking to hit the ball and not leave the ball like he is I think he'd be fine. It's tough as a batter when you know the bowler has the better of you."
Ponting believed the best way out of trouble for Warner would be to attack the bowling.
"I've said a few things to him about how I thought he could line up and try and play but it's a different thing to work on that at training and have the courage to go out and try and do that in a Test match," Ponting said.
"He changed things up at Headingley, he changed his guard a couple of times, moved over on off-stump, moved outside his crease a couple of times to try and get into Broad's line and length a little bit more. It was a decent ball today. It was one of those ones that we've been expecting – the ball angling in and pitching and leaving him. When you see Davey at his best he's not really even thinking about leaving those, he's trying to stand up on top of the bounce and hit that through the covers."
Ponting also warned Jofra Archer that Test cricket is a lengthy battle, and not a matter of one or two spells. Archer bagged six wickets in the first innings in Leeds but his pace was down on Day 1 of the Manchester Test, when he went wicketless in ten overs.
"To be honest, I've had a bit of an inkling about him the whole time," Ponting said.
"Test cricket is not an easy thing for a fast bowler. There's a lot of hype around him and how fast he bowls and that's fine, but to be a truly great fast bowler or a good fast bowler in Test cricket you have to do it day in, day out every spell. It's not about one spell here and there. As we say, one good innings or one good spell doesn't make a summer.
"To me it looks like he's finding it hard trying to back up all the time. If England are talking about trying to carry momentum over from last week (in Leeds) then they had to make a statement early in the game and the way they were going to make a statement was from Broad doing what he does and Archer doing what he does at his best, which is run in and bowl fast and he didn't do that in his first spell.
"I think he only got seven balls at Smith in his first spell before he was taken off. It looked like he must have pleaded with the captain for a change of ends which didn't suit Broad, that didn't work out for him either.
"He's just going to face challenges right though his career."