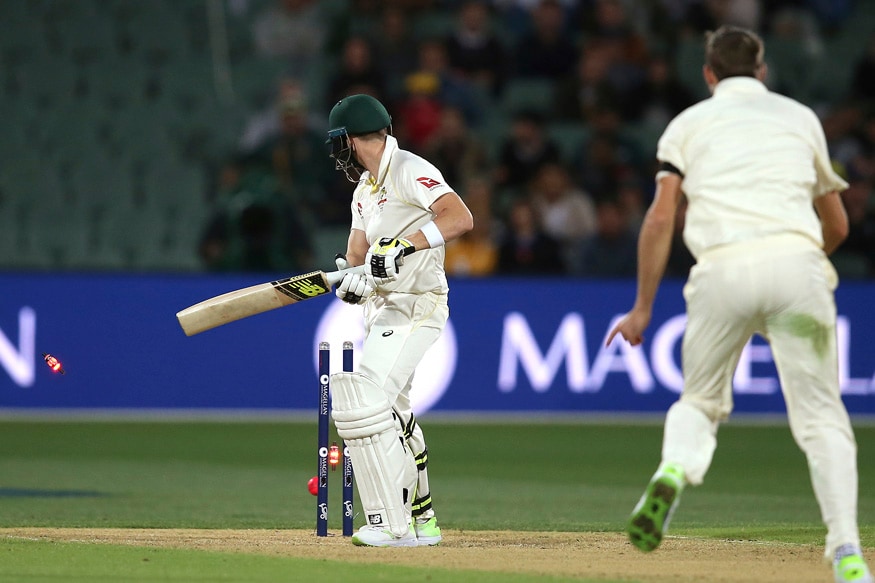 Adelaide: Craig Overton had a dream start to his Test career with the prized wicket of the world's leading batsman Steve Smith as England chipped away at Australia in the day-night Ashes Test in Adelaide on Saturday.
The Somerset seamer, who had dreams as a child of playing Ashes cricket in Australia, broke through the Australian skipper's defences for the crucial breakthrough under lights on the opening day at Adelaide Oval.
Overton was making his Test debut, but was ecstatic as he claimed the coveted wicket of Smith at a pivotal stage of the opening day for 40 as Australia went to stumps at 209 for four.
"It's massive. For me personally my dream as a kid was to always play for England and for me to play in an England Test team against Australia in Australia makes it even more special," Overton told reporters.
"It's nice that my folks were here for them to see it as well. Hopefully I've made them proud and I think I have and it will be nice to see them later tonight."
Australian batsman Usman Khawaja, who scored his ninth Test half-century, praised Overton's wicket.
"Quite handy to get the best batsman in the world out for your first wicket, I'm sure he'll have a good time tonight," Khawaja said.
Overton angled one in between bat and pad to scatter Smith's stumps to the unbridled delight of the England team after the Australian skipper's match-turning unbeaten 141 in his side's 10-wicket first Brisbane Test win.
"It was a pretty nice one, obviously. He's one of the best players in the world so to get that one to start with and hopefully I can carry on with that tomorrow," Overton said.
"There was a plan to go straight at him. We felt we could keep him quiet doing that and just one went through him a little bit quicker with a little bit of pace and went on to the stumps.
"It was nice to beat him for pace. So that was good."
Overton said his England team-mates, particularly fellow fast bowlers James Anderson and Stuart Broad, had got under Smith's skin with a constant verbal barrage during his 90-ball vigil at the crease.
"I'm not sure what was said, I was on the boundary so I don't know too much, but obviously they said a few things and it looked like he got under his skin," Overton said.
"But he still got 40, so he played pretty well. It's nice to get him in the end and we'll go again tomorrow."
Overton said Smith showed his irritation with the England onslaught.
"The way he left the ball, like a sort of exaggeration a little bit. He didn't do that in the first innings in Brisbane," he said.
"I don't know if he was doing it on purpose to wind us up a little bit."