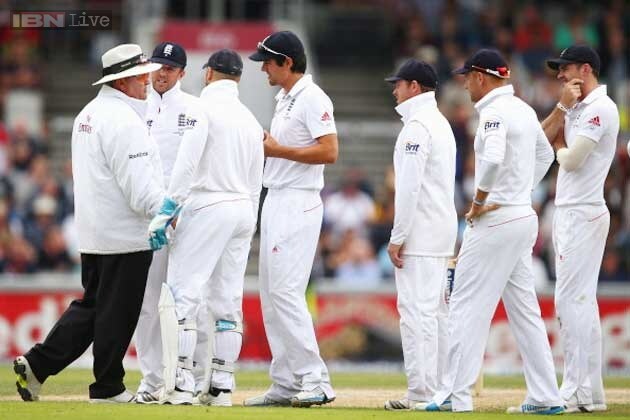 Sydney: Controversial umpiring punctuated the last Ashes series but match officials may be under more pressure in the upcoming Tests as they grapple with a much-changed Decision Review System (DRS).
Tensions involving DRS ran high during England's 3-0 home win this year, with interventions from team and International Cricket Council (ICC) officials, and even a complaint from Australia's prime minister.
Australia were incensed when the umpire missed a clear edge from Stuart Broad to slip at a key moment in the first Test, and they had no reviews left to challenge the decision.
And they were even more enraged in the third Test, when the third umpire failed to overturn an erroneous decision to give out Usman Khawaja.
"That was one of the worst cricket umpiring decisions I have ever seen," tweeted Kevin Rudd, Australia's prime minister at the time.
However, the umpires will face a different challenge in Australia after host broadcaster Channel Nine dumped the costly and inconsistent Hot Spot infra-red technology.
That means the third umpire will have to judge reviews based on Eagle Eye the ball-tracking system, audio from stumps microphones and slow-motion replays.
The ICC has also announced both teams will have their reviews topped up to two after 80 overs of a Test innings, meaning more umpiring decisions will be challenged and the third umpire will be called on more often.
The third umpire's job appears straightforward, but it is considered so demanding that the ICC is giving specialist training in a bid to improve standards.
Players in the last series were confused at times by how the DRS was implemented by the third umpire, and both countries sought clarification of decisions made.
"We expect our third umpires to sit behind a TV and think it is going to be 100 percent right all the time," said Simon Taufel, the ICC's head of performance. The results prove differently. It is an incredibly challenging role."
Hot Spot's reputation was damaged when Channel Nine aired claims -- denied by batsmen including England's Kevin Pietersen -- that players were putting silicone tape on their bats to prevent snicks being detected by its heat-sensing cameras.
Things got so bad the ICC took the highly unusual step of sending their general manager of cricket, Geoff Allardice, over to England to meet the teams midway through the series in a bid to address their concerns.
Despite some aberrations by Hot Spot, which repeatedly failed to show obvious nicks during the series, players and officials remain largely supportive of the technology.
"The news is a little bit disappointing from our perspective," said Taufel, after hearing Hot Spot had been dropped. We would obviously prefer Hot Spot to be part of the majority of international cricket if possible."
The cost of Hot Spot, estimated at Aus$250,000 ($240,000) for the Test series, was cited as another reason behind the broadcaster's decision.
The Ashes starts next month and runs for five games ending in January, a significant test for the umpires' sharp eyes and steady decision-making.