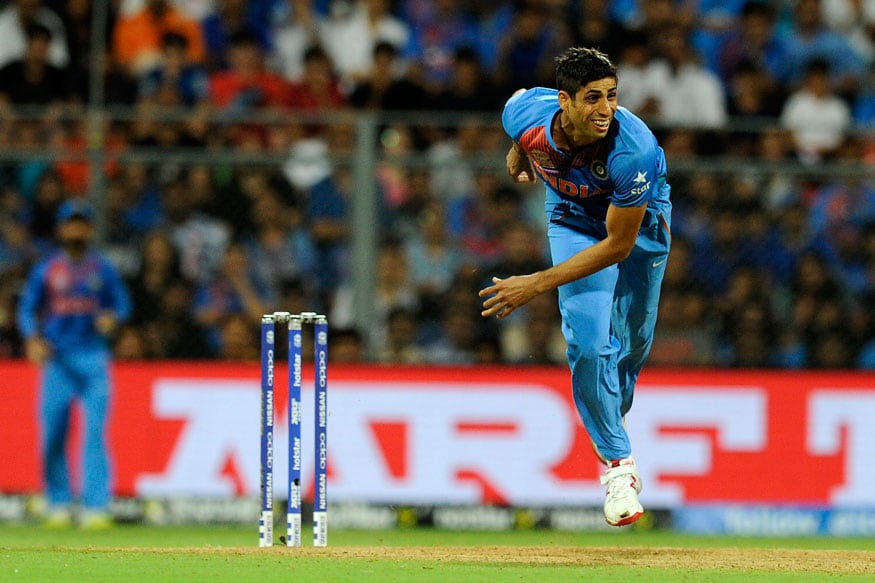 It used to seem to me
That my life ran on too fast
And I had to take it slowly
Just to make the good parts last
But when you're born to run
It's so hard to just slow down
So don't be surprised to see me
Back in that bright part of town
- Steve Winwood, Back in the High Life Again
When Ashish Nehra played his first match for India, Barack Hussein Obama was a relatively unknown member of the Illinois Senate, Saddam Hussain ruled Iraq, and the late Jagmohan Dalmiya was ICC president. Virat Kohli, who captained Nehra in this last game, was ten years old, while Shreyas Iyer - the new kid on the block as the old stager said his goodbyes – was four.
But just how do you look at his career without assessing the regrets, even as he said he was leaving with very few? In a career that spanned nearly two decades, Nehra played 164 times for India. Kohli, in half that time, has accumulated 315 caps. Even Irfan Pathan, who last played for India five years ago, has 173.
By the end, there was little doubt that his race had been run. Bhuvneshwar Kumar and Jasprit Bumrah may have proved more expensive as New Zealand's lower-order batsman flailed away with the match long lost, but Nehra was no longer indispensable. He had been even 18 months earlier, when he was the standout bowler in India's World Twenty20 semifinal defeat to West Indies.
Whether it was as a junior to Javagal Srinath, Zaheer Khan's contemporary or mentor to a new generation of bowlers, Nehra always slotted in without letting the side down. It spoke volumes of his ability to adapt that he finished as India's third-highest wicket-taker in T20Is, a format that didn't even exist when he began his career.
But it was in the 50-over format that he left behind a significant legacy. He was one of the stars of India's run to the final in 2003, taking 15 wickets at 19.26, but was far from an automatic pick on home soil eight years later. Unfairly vilified in some quarters after the loss to South Africa – it was a batting collapse against Dale Steyn that cost India the game – he returned to bowl an immaculate spell (2 for 33) in the semifinal victory over Pakistan. But in a quirk of fate that was typical of the wretched luck that dogged his best moments, a broken finger meant he would miss the final.
Either side of that 2003 World Cup campaign, Nehra was also part of the group of pace bowlers that Sourav Ganguly and John Wright assembled to try and improve India's appalling overseas record. In fact, as many as 16 of Nehra's 17 Test caps came away from home. Those opportunities, which came before his 25th birthday, weren't always taken. By the time he developed the nous to trouble the world's best, his body had begun to fail him.
At Rawalpindi in April 2004, he had Inzamam-ul-Haq caught behind to help trigger an emphatic Indian victory. He wouldn't wear the Test cap again. Then, after his best year in ODI colours (2005), when he took 29 wickets at 24.41 from just 17 games, he broke down again. It would be nearly four years before he returned.
The highlights reel didn't want for spectacle. His finest hour, at the 2003 World Cup against England, was marked by pitch-side vomiting. In Karachi a year later, as India played perhaps the most eagerly anticipated bilateral ODI of all time, it was he that bowled the final over to lay the ghost of Sharjah 1986 to rest. With Javed Miandad watching from the balcony, Moin Khan could only bunt a full toss to cover.
Even in this final outing, Nehra, unwittingly, provided one of the eye-catching moments. Throughout his career, his fielding summoned up thoughts of a giraffe on roller-skates. And that curious shuffling gait was very much in evidence as he chased a ball in the outfield, and stuck his foot out to stop it. It looped up perfectly into his arms, and as the throw came in, Kohli's expression was part mirth and part appreciation.
In the age of wall-to-wall social-media vanity, Nehra was a throwback in more ways than one. He was also a reminder to others of the endurance of the human spirit. A lesser man would have picked up his World Cup winner's medal in 2011 and given his aching body a rest. Nehra kept plugging away, earning a T20 recall purely on the strength of sterling displays in the Indian Premier League.
He doesn't leave behind the body of work Zaheer did, but in his own way, he was every bit as important. It's just that every look back will be accompanied by the inevitable what-ifs.