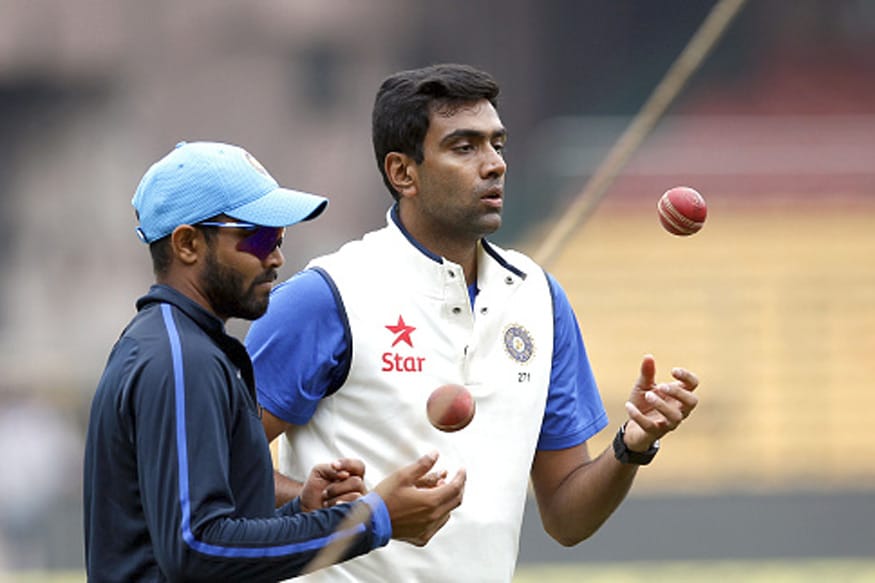 They are amongst the most successful bowlers at home in Test cricket history.
They are the backbone behind India's remarkable run at home in Test cricket in this decade.
R Ashwin and Ravindra Jadeja have been the Batman and Superman for India winning them matches and series one home season after the other.
AMONGST THE BEST EVER AT HOME
While Ashwin has picked 234 wickets in 38 Tests in India, Jadeja has bagged 144 in 28.
So dominating has been their performance in India that their bowling averages and strike rate, both, place them in the top 5 amongst the 27 spinners who have picked a minimum of 100 wickets at home.
While Ashwin has been a colossal wicket-taker, Jadeja, comparatively, has been a miserly wicket-taker at home for India.
In fact, Ashwin's strike rate (a wicket every 49.2 balls) in India is the best ever amongst all spinners on the above list - even better than the great Muttiah Muralitharan!
On an average, he has picked 3.16 wickets per innings at home – this is the best wickets per innings ratio at home (after Muralitharan – 3.68). Ashwin is followed by Clarrie Grimmett (3.09), Anil Kumble (3.04) and Rangana Herath (3.02).
He has picked 6 ten-wicket hauls in 38 home Tests. His frequency is the second-best, again after Muralitharan. He has also picked 20 five-wickets in an innings in 74 innings – the third-best frequency after Muralitharan and Herath.
Jadeja has been very restrictive choking the batsmen for runs forcing them to make a mistake. His economy rate of 2.17 at home is by far the best for any spinner in this generation. In fact, he has been way above the standard norm of 3.06 during his career. Coupled with this his ability to pick wickets and that explains his low bowling average in India.
If we take a combination of bowing average and strike rate at home, then Jadeja and Ashwin are at number 3 and 4 only after Jim Laker and Muralitharan.
COMPARISON WITH OTHER INDIAN GREATS
Jadeja and Ashwin have the best average and strike rate and also the best product of the two amongst the 8 Indian spinners who have picked a minimum of 100 wickets in India.
While Jadeja has the best bowling average (19.41), Ashwin has the best bowling strike rate (47.7) amongst all Indian spinners in matches won/drawn/tied in India.
As a pair, Ashwin-Jadeja have played in 28 Tests in India. They have the best average, strike rate and wickets per match, and by some distance when compared with other great Indian spinner duos – Kumble-Harbhajan, Bedi-Prasanna and Bedi-Chandrasekhar.
Even amongst leading contemporary spin pairs, it is Ashwin-Jadeja who come out on top. They have a better average-strike product than Rangana Herath-Dilruwan Perera and Shakib Al Hasan-Taijul Islam.
GREAT MATCH WINNERS AT HOME
Ashwin has picked 5 wickets in an innings 20 times in 15 matches at home. India has gone on to win 14 of these matches – that is how big a match-winner he has been for India with the ball.
Jadeja has an average of 17.79 and Ashwin of 18.85 in victorious Tests in India. It is better than the corresponding home averages of greats like Harbhajan (21.75), Abdul Qadir (22.26), Graeme Swann (22.45), Warne (23.73) and Vettori (28.87).
Ashwin's strike rate in wins (42.8) is better than the likes of Kumble (44.8), Grimmett (47.7), Derek Underwood (48.5), Bedi (48.7), Chandrasekhar (50.6) and Warne (54.7) – that is how crucial he has been at home for India.
India has won 21 of the 28 Tests (75%) Ashwin and Jadeja have played together at home. Just for perspective, the corresponding percentage for Kumble-Harbhajan is just 41.18% (14 of 34 Tests) and 60% for Muralitharan-Herath.
The Ashwin-Jadeja combination has aggregated 10-plus wickets in a match on as many as 19 occasions in 28 Tests – that is a stunning statistic! It speaks volumes of the remarkable consistency with which they have picked heaps of wickets.
The pair has picked 60% of the total top-middle order (positions 1-6) wickets dismissed in Tests at home they have played together – this is a significant percentage given that India have had a good pace attack during most of their career.
While the off-spinner has accounted for 6.11 wickets per match, the left-arm orthodox bowler has averaged 5.14 wickets per match in these 28 matches.
India has not only won but dominated all the 7 full-series Ashwin and Jadeja have played together at home.
The series' analysis reveal some staggering statistics. In 6 of these 7 series, Ashwin and Jadeja were the leading wicket-takers (top 2). Ashwin was the highest wicket-taker in 5 (with Jadeja the second-highest) while Jadeja topped the charts against Australia in 2016-17 (Ashwin was second-highest).
In 5 of these 7 series, the pair combined to take more than 60% of the wickets and crossed 70% in two.
India swept three of these series and did not lose a Test in as many.
Ashwin and Jadeja have been the most dominant bowling pair at home for the most dominating home side in the most dominating home period in Test cricket history.
They have tormented and bamboozled the opposition batsmen with their spin, variety and guile.
It does not come as a surprise that India sits atop the current ICC World Test Rankings.
South Africa have their task cut out.