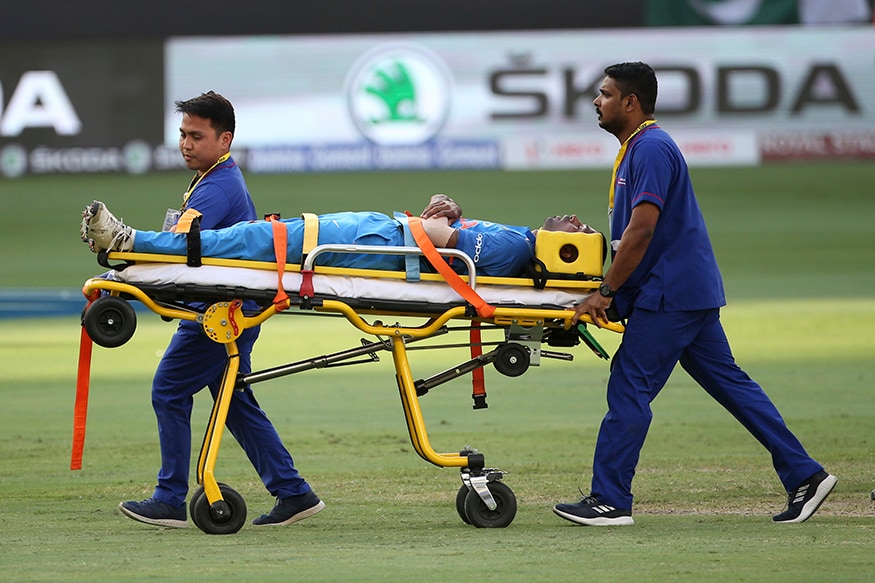 India all-rounder Hardik Pandya was stretchered off the field during the Asia Cup group league encounter against Pakistan after sustaining an acute lower back injury. The incident took place in the 18th over of the Pakistan innings when the all-rounder was bowling his fifth over.

It was the fifth delivery and Pandya, after completing his follow through immediately went down and looked to be in considerable pain. He was unable to get up and was stretchered off the field.

The situation looked scary with head coach Ravi Shastri also rushing to see what exactly had happened.

Later on, BCCI tweeted an update saying that he has suffered a lower back injury but is able to stand at the moment.




Injury update - @hardikpandya7 has an acute lower back injury. He is able to stand at the moment and the medical team is assessing him now.
Manish Pandey is on the field as his substitute #TeamIndia #AsiaCup pic.twitter.com/lLpfEbxykj


— BCCI (@BCCI) September 19, 2018

Pandya's figures were 4.5-0-24-0 after Babar Azam's catch was dropped by Mahendra Singh Dhoni when the batsman was on 32.

The Indian team would be hard pressed to find a like-for-like replacement for Hardik Pandya should he not be available to play for the rest of the tournament, with Tamil Nadu's Vijay Shankar the most likely candidate to replace him. A further announcement on Pandya's injury is awaited.

First Published: September 19, 2018, 7:20 PM IST