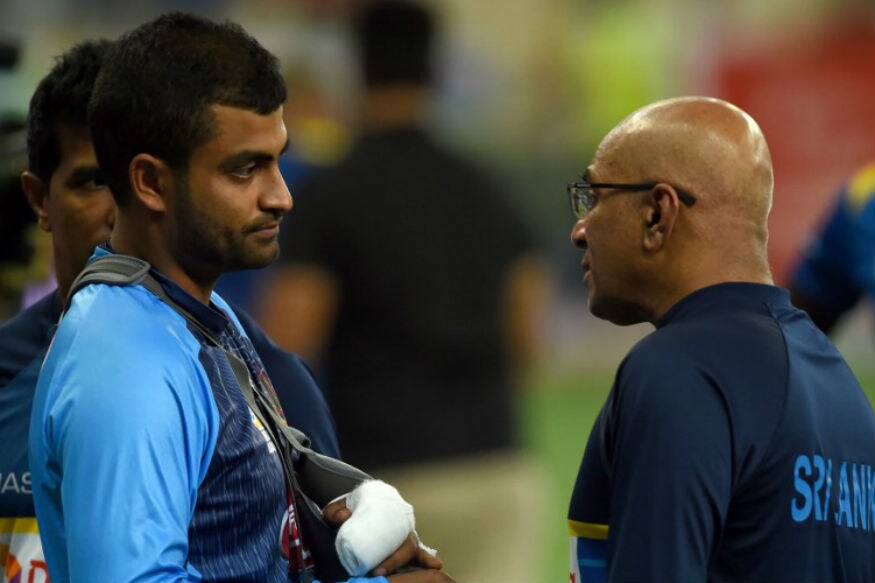 Tamim Iqbal showed great courage in going out to bat with a broken wrist during Bangladesh's Asia Cup 2018 against Sri Lanka, but the left-hander insisted he didn't have any second thoughts about coming out for his country.
"I had a lot of high hopes with the Asia Cup and I was overcome with emotions at that moment," Tamim told ESPNCricinfo. "I felt that if by playing this one ball the team can get five or 10 runs, it'd help the team. I thought that if I had to play one ball, then why not?
"When the moment arrived, it was still undecided what was going to happen. I didn't think of anything. I just walked out. The moment Mustafizur (Rahman) got out I didn't have a second thought. I was asked if I was sure of doing this. I said I was quite sure."
The opener sustained a fractured wrist after being hit by a Suranga Lakmal bouncer during the second over of Bangladesh's innings. He immediately grimaced in pain and left the field clutching his left hand post which he was taken to the hospital where scans confirmed a fracture.
By the time he returned to the Dubai International Stadium, Bangladesh had staged a comeback but still sensing every run was invaluable, captain Mashrafe Mortaza suggested Tamim could go out to bat in the last over.
"I thought Mashrafe bhai was joking when he said I should go out to bat. The initial decision was for me to go to bat in the last over, if I am off strike. I would just have to stand there," said Tamim.
But Bangladesh lost their ninth wicket in the 47th over. With Mushfuqur Rahim batting like a dream at the other end, the plan changed and Tamim strode out to face the last ball of the over, once again by Lakmal. He revealed feeling "very brave" at the time, but things could have turned rather risky.
"I felt very brave in those ten seconds when the bowler was running in," admitted Tamim. "I was very pumped up after hearing the roar in the stadium. I could have got out or anything else may have happened, but in that moment, I was very, very committed to the team and nation.
"It was quite risky now that I think about it. My injured hand was behind me but when I played the ball, you'd notice that the hand had come in front. If I had missed the ball, it would have hit my hand."
As it turned out, that was the only ball Tamim had to play but he ended up adding 32 runs with Rahim to take Bangladesh's total past the 260-mark.
"I don't think I have experienced such a thing in my life. I can see all the reactions (now), but when I was going out to bat or facing that delivery, I didn't think of what might happen afterwards. I just went there for the team and country."
There was also time for some humour while Tamim was padding up. "I started padding up when Rubel (Hossain) was at the crease. Mashrafe bhai cut open my gloves. For the first time in my life, someone had to put on my abdomen guard," laughed Tamim. "Mominul (Haque) and the others helped me put on my pads. My bandage got meshed with another glove. Everyone was helping me."
Bangladesh have not yet named a replacement for Tamim as they are waiting for a secondary scan before making any decisions.