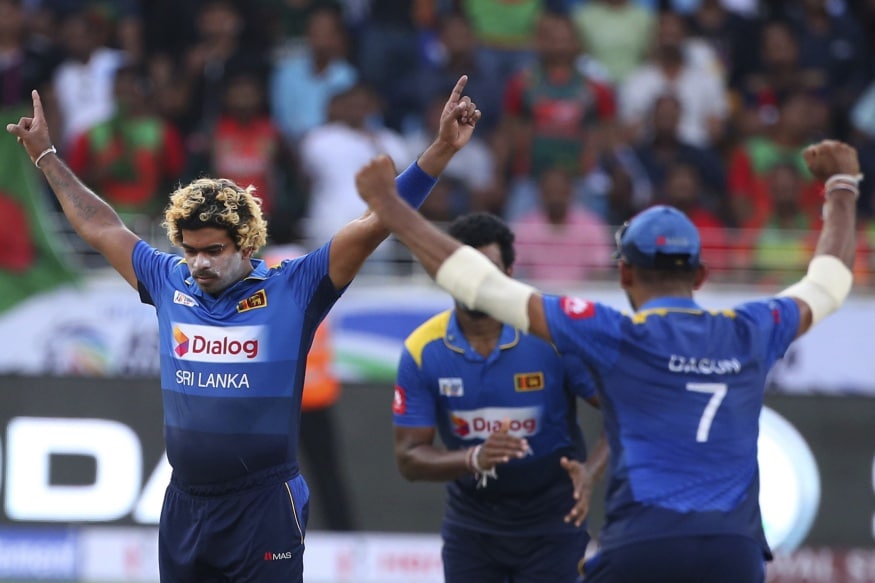 Rilava bene, girava gahe.
For all non-Sinhala speakers, this pithy sentence was the one that banished Lasith Malinga to the wilderness. When Sri Lanka's Sports Minister, Dayasiri Jayasekara, questioned the fitness levels of certain members of the team in June 2017, it was widely assumed he was taking a dig at Malinga.
The response? Rilava bene, girava gahe. Roughly translated from Sinhala, this equates to: "What does a monkey know about a parrot's nest? This is like a monkey getting into a parrot's nest and talking about it."
Naturally the Sports Minister, who signs off on every Sri Lankan national team selection did not take too kindly to be likened to a monkey. But Malinga was making a point, not slinging mud. He was saying, in his rustic way, that those who have not been in his place should not judge too quickly.
On Saturday, Malinga roared back into the 50-over cricket world at the Asia Cup in Dubai. Fifth ball of the first over, Liton Das went for a duck, kissing a full ball that left him late. Next ball, Shakib-al-Hasan finds his stumps shattered by a yorker long before he can bring bat down. Bangladesh are 1-2 after Malinga's first over in his return to ODIs.
They stabilise through a 132-run third-wicket stand, Mushfiqur Rahim (144) and Mohammad Mithun (63) doing all they can to stabilise things at the Dubai International Stadium. It was Malinga who broke the stand, a ball coming on too quickly to Mithun who tried to play to on, and then the bowler made it two in two overs when Mosaddek Hossain parried a short one to the keeper.
Malinga ended the game with figures of 10-2-23-4, even as Bangladesh won by 137 runs.
At 35, Separamadu Lasith Malinga should not have to work so hard. He should be back in his beloved village, Rathgama, in Galle District, swimming in the lake, not busting his shoulder, knees, back, groin and god knows what else, delivering the ball in his slinging action.
But this is the problem. Malinga knows his best days are over, and that the strength he developed in the shoulders swimming that lake, the round-arm action that came from bowling a soft ball on the beach where yorkers were the only option, have given way to sedate years approaching middle age.
Malinga is heavier than he ever was, sports the kind of curves in the middle that are unbecoming of elite sportspersons and yet the fire in the belly won't die down.
When Malinga was first picked up for serious cricket, Champaka Ramanayake was with the Galle Cricket Club. He saw this spindly chap bowling madness with a freakish action and asked him to join his club. Mali was too raw — he could bowl the yorker but not much else back then — but Ramanayake pulled up with a stiff neck on the eve of a match.
Lasith, barely 17 at the time, filled in, picking up eight wickets and won the game for his team almost singlehandedly. Ramanayake, who, ironically, is with the Bangladesh Cricket Board at the moment, could have been the first coach to tell this kid to get his arm higher up, but he resisted. Having faced Malinga in the nets, and not fared too well, Ramanayake allowed Malinga to do his thing.
At the time, perhaps 2000 or so, Malinga touched 135 kmh at his best. Ramanayake taught him how to bowl a little quicker, showed him the merit of the bouncer and eventually the slower ball also.
Back to 2018. Malinga's career was said to be done and dusted. A liability on the field, a genuine No. 11 with the bat, he simply did not bring enough to the table with his bowling alone. Chandika Hathurasingha, the Sri Lanka coach, did not push for Malinga's selection in the Nidahas Trophy Twenty20 tournament that happened in Colombo in March this year.
But, Hathu, as he is best known, had his reasons then and now. "Lasith is not a bad fielder in certain positions," he said. "He has good hands. He is ageing but he is a better fielder than you have seen in the past."
What he left unsaid was that this meant the door was certainly not closed on Malinga as far as international limited-overs cricket. What's more, Malinga is known to be an astute reader of batsmen, and an able elder-brother figure in the dressing-room to young quicks, something the Mumbai Indians have made good use of in the Indian Premier League. Some time in the dressing-room with Sri Lanka's young quicks is not the worst idea.
After all, it's the parrot father who can teach his offspring to take flight, go beyond their hollow and make the world a better place, not the monkey.