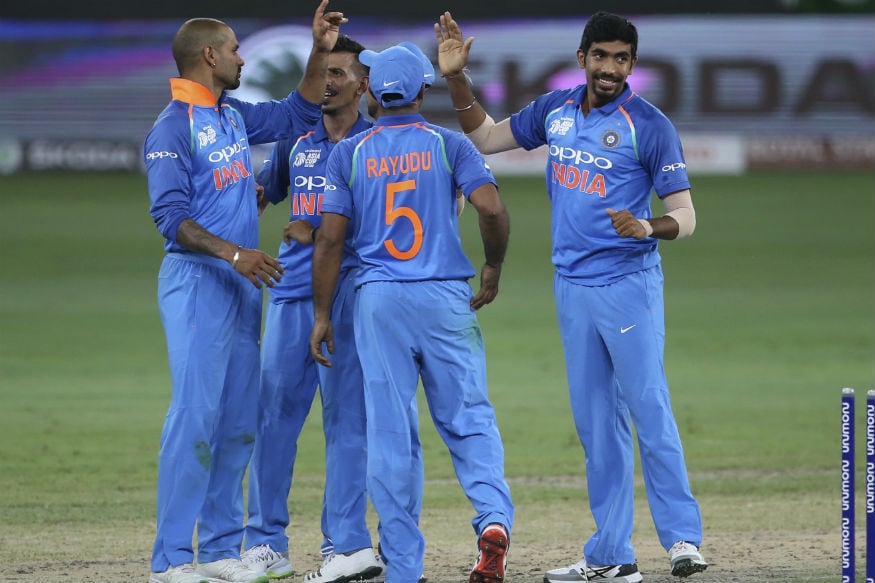 Dubai: Pakistan chose to bat. They slip-slid their way to 162. India knocked off the runs in 29 overs with eight wickets to spare. Perfect game for India? Well, yes and no.
The biggest gain for India from this match was that they played like a gun team from the word go. Bhuvneshwar Kumar, that master of swinging the ball both ways, sometimes in a single delivery, was right on the money from the word go. Jasprit Bumrah, whose awkwardness and deceptive pace were supposed to stop having the same shock and awe as he played more and more, could have landed the ball on a fifty-paise coin each time, if such a thing still existed.
On a Dubai pitch that gave you nothing unless you seriously bent your back and were pin-pint accurate, India's fast bowlers began the game with a sense of purpose that was unmistakable.
Bumrah pressed the stranglehold and Bhuvi picked off the victims as they gasped for air. The discipline of India's quick bowlers in the early part of their Pakistan sojourn was a sight to behold. Bumrah could not be scored off for two overs, and in the time Bhuvneshwar conceded just three runs while picking up two wickets.
But those maiden overs and wickets were only made possible by the manner in which India fielded. It was the cricketing equivalent of a full-court press in basketball. At no time was a batsman allowed to get off the strike unless he had placed the ball perfectly and in the instance when it speared off the edge the cordon in the infield was upto the task of anticipating, diving and killing the run at the concept stage.
To start with there were no individual acts of fielding brilliance, no Jonty Rhodes style flying into the stumps ball in hand, but there was a collective excellence impossible to ignore. As much as Pakistan's batsmen tried, they could not get the accurate bowling away, even on a pitch that offered nothing to fast bowlers or spinners, simply because the swarm of fielders cleverly put in place were alert, ready and did not slip up.
There were two significant misses in the innings. The first, when Mahendra Singh Dhoni crumpled low quite acceptably when Shoaib Malik edged, but the ball just wouldn't stick in his big glove. Eleven times out of ten Dhoni would have pouched that, but here was his off moment. Bhuvneshwar was settling under a fairly straightforward chance, off Shoaib again before the setting sun in the West, directly in his eye-line, distorted depth of field and left him red-faced.
That we speak of these lapses as aberrations is itself testimony to how sharp India were on the field.
Manish Pandey, called on as substitute after Hardik Pandya suffered his horrific back injury that required him to be stretchered off the field, was a beast at mid-on to start with. Kedar Jadhav, who got an extended bowl with his round-arm off breaks since Pandya was out, benefited the most. Attempting to bowl to his field, the part-timer did not always get it spot on, but Pandey at mid-on ensured that the gap was bridged.
Then, as a boundary runner, Pandey sprinted, caught, flicked upwards and strolled back in to complete the catch of Sarfraz Khan. It was an act of fielding brilliance that is now being understood better by those that watch the game, but the combination of athleticism, soft hands and presence of mind is not given to all.
Then came Dhoni's redemption. Even as he was being cheered from the stands there were those suggesting he was long enough in the tooth to be slid into pasture when he showed that he still has the fastest hands of any wicketkeeper alive. Jadhav might have got past Shadab Khan but it was not as though he had beaten him in flight, dip and turn. Yet, when the batsman missed Dhoni struck like quiet lightning, and even his earlier dropped catch was forgotten.
While all this was happening, Rohit Sharma quietly enhanced his captaincy credentials, especially as a successor to Dhoni in limited-overs cricket. He reacted without panic to the loss of Pandya, he made up for the ineffectiveness of Yuzvendra Chahal and got the job done with the resources at hand.
When looking at 163 in 50 overs, no team will miss their greatest chaser. But even the greatest chaser can't take his team home each time, if the target is stiff enough. If he is captain, he would do well to pick his men wisely enough not to have to do the job himself all the time.