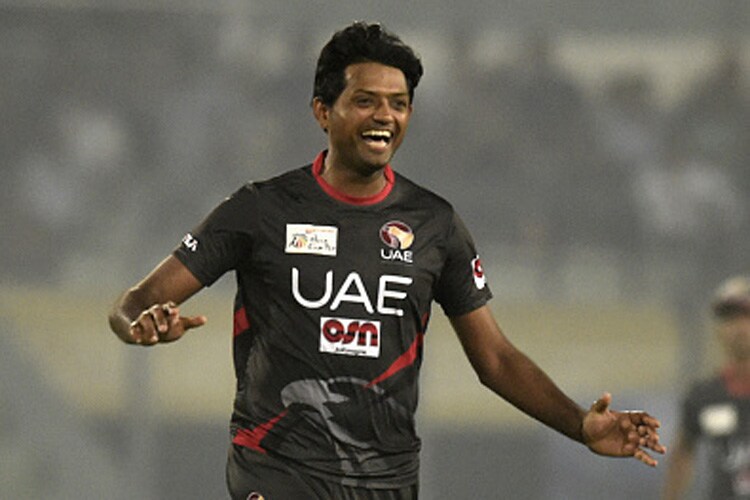 Pakistan innings
Chasing 130 to win, Pakistan lost their top three to Amjad Javed but Malik (63*) and Akmal (50*) had an unbeaten 114-run stand for the 4th wicket to take their team to victory in match six of the tournament in Dhaka.
That's it. What a comeback win for Pakistan. Pakistan beat UAE by 7 wickets.
SIX! What an over this was for Pakistan. Pakistan need 4 runs in 12 balls.
SIX! What a shot! The partnership is now 100 runs. Pakistan need 10 runs in 14 balls
SIX! A full-toss delivery from Amjad Javed and Umar Akmal hits a big one. Four runs. Now Umar his it to deep backward point. PAK 113/3 in 17.2 overs.
Shoaib Malik hits a four and a six off Rohan Mustafa to reach his fifth T20I fifty. Pakistan need 27 runs in 18 balls.
Dropped! Usman Mushtaq has dropped a sitter. Shoaib Malik is very lucky. This could be crucial. Pakistan 91/1 in 16 overs.
Ahmed Raza to Shoaib Malik, six runs to long on. The partnership is now 66 runs. Pakistan need 47 runs in 31 balls.
SIX! That's a big one by Umar Akmal to deep midwicket off Mohammad Naveed. This is Pakistan's first six in the tournament this year. Pakistan 75/3 in 13.5 overs.
Chasing 130 to win, Pakistan lost their top three to Amjad Javed but Shoaib Malik and Umar Akmal had a solid stand for the fourth wicket to re-build their team's innings.
The partnership between Shoaib Malik and Umar Akmal is now 42 runs in 53 balls. But they need to accelerate the scoring rate. The required run rate is now above nine runs per over. Pakistan 60/3 in 12.2 overs.
Pakistan 48/3 in 10 overs. Pakistan need 82 runs in 60 balls.
Umar Akmal and Shoaib Malik are not being able to score runs freely. Umar has made just nine of the 19 deliveries he has faced. Pakistan 39/3 in 8.2 overs.
Four runs. Shoaib Malik hits Amjad Javed to extra-cover boundary. Pakistan need 104 runs in 84 balls
Good over from Mohammad Shahzad. Just one run came from it. Pakistan 18/3 in 5 overs (chasing 130).
Pakistan need 113 runs in 16 overs to win the match.
Chasing 130 to win, Pakistan lost their top three to Amjad Javed who also scored a crucial 27-run knock to take United Arab Emirates to a fighting total in Dhaka.
OUT! Amjad Javed takes his third wicket. Mohammad Hafeez gone for 11. Pakistan 17/3 in 13.1 overs.
End of over 3: Pakistan 16/2 (chasing 130)
Naveed bowls two dot balls and then Hafeez hits him to midwicket boundary.
OUT! Amjad Javed get another one. Khurram Mansoor dismissed for a duck. Pakistan 11/2 in 1.5 overs.
OUT! Sharjeel Khan falls to Amjad Javed for 4. Pakistan 11/1 in 1.3 overs.
Four more. Hits it to cover boundary.
Four runs. Hafeez hits Naveed for the first boundary of the innings. Pakistan 7/0 in 1 overs
Mohammad Hafeez and Sharjeel Khan are opening the innings for Pakistan. Mohammed Naveed starts the first over. Two dot balls followed by a double.
End of over 20: UAE 129/6.
Six and a four by Naveed off Mohammad Sami.
OUT! Muhammad Usman bowled by Mohammad Amir for 21. Another good over from him. This is how his spell looks like: 4-1-6-2
13 runs came from Mohammad Irfan's last over. UAE 114/5 in 18 overs.
SIX! Amjad Javed hits Irfan over fine leg boundary.
Just when UAE were looking to make a comeback with quick runs, Mohammad Amir comes in to bowl a tight over. Just one runs came from his third over. UAE 101/5 in 17 overs.
100 comes up for UAE in 15.4 overs. They are making a comeback here. Ten runs have come from first four balls of Sami's over.
SIX! Muhammad Usman hits a big one off Shoaib Malik. Four more. This time to backward point. 14 runs came from the over. UAE 90/5 in 15 overs.
OUT! Shaiman Anwar falls to Mohammad Anwar after playing brave knock of 46 runs. Caught behind by Sarfaraz. Second wicket for Irfan. UAE 76/5 in 14 overs.
Shaiman Anwar hits three consecutive fours off Shahid Afridi to enter the 40s. 17 runs came from the over. UAE 70/4 in 13 overs.
SIX! Shaiman Anwar hits a big one to deep midwicket. Four runs. This time he cuts it to third-man boundary.
OUT! Shahid Afridi dismisses Usman Mushtaq for 9. His struggle at the pitch ends.
Mohammad Nawaz bowls another good over. Just four runs came from it. UAE 40/3 in 10 overs.
The current run rate is just above four runs per over. The spinners are finishing their overs quickly. UAE can't keep playing like the way they are if they want to make a comeback in this match. They have still got seven wickets left.
UAE batsmen are finding it difficult to score runs. The three quick wickets have made it difficult for Shaiman Anwar and Usman Mushtaq to score freely. SIX! Anwar plays it inside-out over long off boundary for a big one. UAE 33/3 in 8 overs.
Another tight over from Mohammad Irfan. After bowling four dot balls Usman Mushtaq gets an outside edge off his delivery which goes for four runs to third man boundary. UAE 20/3 in 6 overs.
Mohammad Irfan starts his first over. Shaiman Anwar is finding it difficult to hit him but he finally finds a way to hit him to extra-cover boundary. First boundary for UAE in the match. OUT! Here goes another one. Shaiman Anwar is dismissed by Irfan for 5. He wasn't able to handle the bounce from the pacer. UAE 12/3 after 4 overs.
Mohammad Sami dismissed Mustafa (1) in the second over and Mohammad Amir got rid of Muhammad Kaleem (1) in the third after United Arab Emirates won the toss and opted to bat in Dhaka.
OUT! Here goes another one. Muhammad Kaleem bowled by Mohammad Amir for 1. UAE 5/2 in 3 overs. Wicket maiden from the pacer.
Mohammad Sami starts the second over. One leg bye off the first ball followed by a wide and a dot. OUT! Rohan Mustafa falls to Sami for 1. UAE 5/1 after 2 overs.
Rohan Mustafa and Muhammad Kaleem are opening the batting for UAE. Just one run came from the first over bowled by Mohammad Amir.
UAE: Amjad Javed(c), Fahad Tariq, Usman Mushtaq, Rohan Mustafa, Muhammad Kaleem, Mohammad Shahzad, Shaiman Anwar, Swapnil Patil(w), Muhammad Usman, Ahmed Raza, Mohammad Naveed
Pakistan: Shahid Afridi(c), Mohammad Nawaz, Mohammad Sami, Mohammad Hafeez, Sharjeel Khan, Khurram Manzoor, Umar Akmal, Shoaib Malik, Sarfraz Ahmed(w), , Mohammad Amir, Mohammad Irfan.
6:35pm: Mohammad Nawaz comes in to replace Wahab Riaz in Pakistan's squad while Usman Mushtaq gets a place in United Arab Emirates' playing XI.
UAE win toss, opt to bat against Pakistan.
6:20pm: Hello and welcome to the live updates of match six of Asia Cup 2016 to be played between Pakistan and UAE at the Shere Bangla National Stadium, Dhaka.
A hurt Pakistan are set to intimidate minnows United Arab Emirates with their four-pronged pace attack in a round-robin league game of the Asia Cup Twenty20 cricket tournament in Mirpur on Monday.
While Pakistan are a little hurt after losing to arch-rivals India by five wickets in a low-scoring encounter on Saturday, it is expected for them to be a cakewalk when Shahid Afridi's boys take on the qualifiers in their second league encounter.