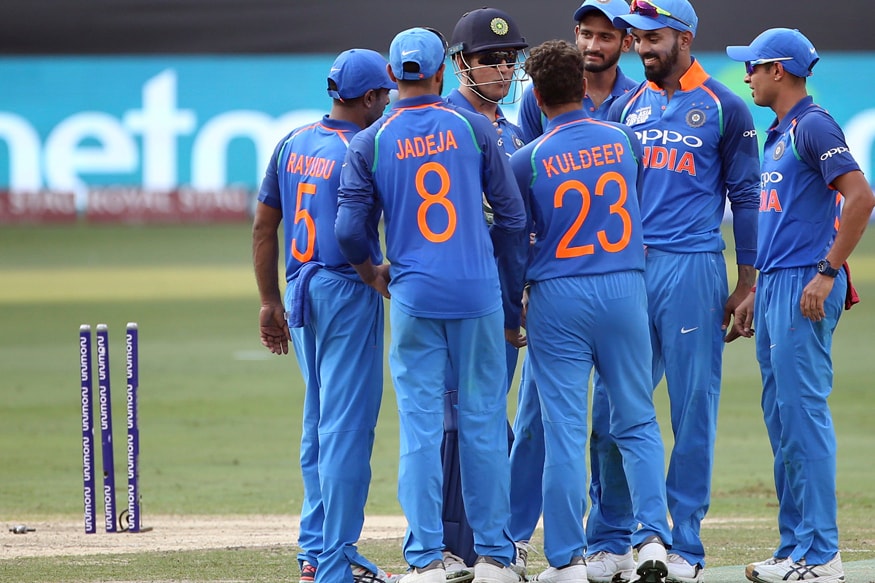 Even as celebrations take center stage following a closely fought win against Bangladesh in the finals of the Asia Cup, questions remain around what exactly India gained from the tournament in preparation for the World Cup. The one problem that India would have loved to sort out at the Asia Cup was a middle-order quandary that seems increasingly impossible to decipher. The top-order has been partially responsible for this since they have been incredibly consistent in this time frame, contributing to 63.35% of the runs India have made in ODIs since the last World Cup. This has virtually left the middle-order to yawn about and do little.
Batsmen from 4 to 7 in the Indian line-up have faced just 33.21% of all balls India have faced in ODIs in this period, lesser than that of seven other nations. What this has created is skepticism regarding their trustworthiness if and when the top-order fails to click in unison. This fear materialized in the most macabre manner in the Champions Trophy finals against their arch-rivals, Pakistan, when India lost their first three wickets for 33 runs and never really recovered from there.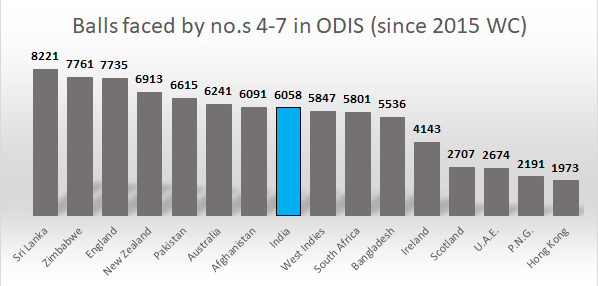 Since then, the middle-order debate has gained unforeseen attention simply due to a hypothetical fear of a top-order collapse that could arise in another crunch game next year in England. To top the fears, it reincarnated again in the finals of the Asia Cup when the middle-order fumbled in a run-chase of 223.
While the Asia Cup was supposed to be testing ground for India to meddle with their options, the stupendous form of Rohit Sharma and Shikhar Dhawan, and in their absence KL Rahul and Ambati Rayudu, has prevented that. That a middle-order fiasco resulted in a tied game against Afghanistan and a nearly lost final against Bangladesh has further aggravated the dread.
It has now come down to eight months for India to fix their middle-order inadequacies. A first step towards that would be analyzing each position in India's middle-order (omitting no.3 for the obvious, immovable presence of Virat Kohli), who has played there, where India have faltered and to identify the right candidate to fit into the slot.
We will go from no.7 to no.4 in reverse order for the elusive no.4 spot has been India's most problematic. Some of the parameters you could come across in the discussion are:
Average difference in RPO with team's RPO - this refers to how quick the batsman has scored with respect to the team's rate of scoring runs. This is calculated on a match-by-match basis and summed up to get a value. Any positive value means the batsman has scored above the team's run rate on an average basis over this time period.
W/L ratio - This refers to the win/loss ratio of the team.
Max streak at position - This is to identify how consistently a batsman has been played at a particular spot. It calculates the maximum of continuous number of matches a batsman has played in one particular batting position.
No.7
What India seek from their no.7
India's scoring rate in the final ten overs of an innings has often been the subject of discussions in recent times. Against Hong Kong, in their first match of this Asia Cup, India scored a meagre 48 runs in the final ten overs, something that nearly cost them the match. With MS Dhoni no longer the force he once was, India need a true accelerator, one who can take the game by the horns and tilt it firmly in India's direction.
The ideal choice at 7 – Hardik Pandya
With an ability to step up with seam-ups and fill in as the fifth bowler in the side aside from hammering attacks with the willow, Pandya is a decent bet at the spot and has rightfully been given a lot of games.

As the metrics say, Pandya has managed to have a decent runs/innings average of 30.08 while scoring at a rate that is not only in the positive, but also well above the team average. He has earned green arrows in both categories – the only player to do so – and is the unanimous choice to occupy the position. Pandya has three half-centuries from no.7 and a strike rate of 118.48. In terms of scoring rate, Pandya is India's best in any position from 4- 7 (min 150 runs), which makes him the ideal candidate to finish off the innings for India. While his position is fixated at 7, it is advisable to use him in a floating role to maximize his potential. This would mean promoting him if he hasn't arrived yet after the 40th over in an innings.
Alternate option – Ravindra Jadeja
The other option would be Jadeja, who has managed to stay neutral with his average and scoring rate (just about positive). What favours Jadeja is that he can be entrusted with his full quota of overs, which cannot be said of Pandya who has shown a tendency to leak runs with the ball.
No.6
What India seek from their no.6
The no.6 spot is a tricky one in the current Indian line-up. They would ideally need someone who can finish off the innings if needed or bat with the tail if the situation demands. There is also the issue of having too less part-timers in the top 6 which gives an added advantage to anyone who can chip in with the ball.
The ideal choice at 6 – Kedar Jadhav
Contrary to what has been thrown around before the Asia Cup, Kedar Jadhav has more than fulfilled his role at no.6 for India. He has racked up 579 runs since the World Cup at a stupendous average of 64.33 (boosted by 6 not-outs) while scoring exceptionally quickly.
As the metrics show, Jadhav has aced the no.6 spot even without his uncanny slingers with the ball. His average runs/innings (minus the not-outs) is the best in that position for India and he has managed this while scoring pretty quickly. He is also the only one to have received a streak of five consecutive matches in the position, which means India haven't really tested anybody else at the position to gain an informed perspective.
Alternate option – Dinesh Karthik
Per chart, the ideal man to fill in at 6 if Jadhav isn't available is MS Dhoni or Manish Pandey. Pandey's sample size is less but he has been in remarkable form for India A and B teams that suggests he could fill in. But with India needing someone to up the ante from the word go at 6 and 7, given their insanely consistent top-order, Dinesh Karthik, who hasn't been preferred in this role yet, is a decent option. He has had success coming in and tonking the ball from the word go in the T20 format, most evidently in the IPL last season for Kolkata Knight Riders, and is perhaps a better fit here than at 4, where he has been used amply. Karthik made 498 runs in 16 matches in the 2018 IPL at a strike rate of 147.77 and was pivotal in KKR's surge to the play-offs coming in down the order and striking big.
No.5
What India seek from their no.5
With the middle-order lacking some much needed experience, India ideally need a stabilizer at 5, someone who can shoulder the burden of resuscitating the innings or powering it. Rotation of strike and ability to play spin with conviction are also qualities quintessential for a no.5 in present day ODI batting line-ups. That said a power hitter who can swing matches with the willow is most welcome.
The ideal choice at 5 – MS Dhoni but…
There are two factors that favour MS Dhoni in this position despite all the clamour going around. He acts as a sponge in the middle-order by absorbing pressure and also gives Virat Kohli and his openers the leeway to play their natural game since they derive confidence from his presence down the order.

While Dhoni has often been used at 6, no.5 is perhaps more suitable to him now for he can bat around some dynamic players in the middle-order without having to do the bulk of the big hitting himself. His strike rate has been on the wane in the past few years as has been his finishing skills, evident from his negative value in the 'avg diff in RPO' column.
But the good thing is, there is an option of not needing to take up responsibility for the surge with Jadhav and Pandya coming in beneath him. Dhoni has also managed to keep his average runs/innings reasonably good (this does not include the three not-outs that boost his conventional average). This has, however, been overshadowed by the fact that he slows up when India need quick runs as was the case in the finals of the Asia Cup.
Dhoni's presence in this team, however, should ideally be on a conditional basis. If the situation demands, the team management should be flexible enough to move him down the order to accommodate someone like Pandya for the death overs. Dhoni is no longer the aggressor in the middle-order and shouldn't be treated in that manner. This would reduce the pressure on him and also put the onus on the younger group around him to take charge even if Dhoni is batting with them. It is vital that India understand this and lower their expectations accordingly if they need to utilize the wealth of experience he possesses.
…… if India need Dhoni in the XI, they cannot afford to be rigid about his role or batting position.
Alternate option – Dinesh Karthik
No.4
What India seek from their no.4
This is perhaps the most controversial spot in India's middle-order in ODIs. A lot of players have come in and gone at no.4 for India in the recent past but none has managed to etch down their name in the position. With a remarkably consistent top 3, all India seek from their no.4 is an ability to utilize the platform and carry on the good work to build up to the death overs. It helps if the no.4 can also switch gears if needed for he is likely to come in to bat after the 25th over if Rohit, Dhawan and Kohli find their groove.
The ideal choice at 4 – Rishabh Pant
It is perhaps surprising that the ideal choice at no.4 is a batsman that India have never even bothered to try in this format. Pant, for all his wham-bam approach, has a very average List A record which could be one reason why he wasn't preferred in the ODI side.

As many as 10 have been tried in the no.4 spot for India since the World Cup but it has been more of a merry-go-round tussle than a well-planned trial. Yuvraj Singh and Ajinkya Rahane are India's most successful no.4 going by averages (they are also the only two to have had consistent chances) but there are different factors impeding the two. For Yuvraj, it is his tendency to get bogged down by spin in the middle-overs. Recent records in the IPL also suggest that the veteran World Cup hero is a spent force although with him the rule is 'never say never'. As for Rahane, he has been the most consistent of India's no.4 batsmen but current team dynamics mean that Rahane at 4 is a backward choice for this side.
With Dhawan, Rohit and Kohli hitting peak form more often than not, India need their no.4 to also be someone who can step up and give the run-rate a solid push. That the no.4 batsman is more often than not followed by a considerably slowed up Dhoni further puts emphasis on the scoring rate of whoever occupies this slot. This is where Rishabh Pant comes in handy. He has had tremendous success in the IPL and has stepped up like fish to water in the Test side with the bat.
At Delhi Daredevils, Pant was an instant hit at no.4 coming behind the likes of Prithvi Shaw, Colin Munro and Shreyas Iyer. India need to distance themselves from an ODI mindset while choosing their no.4 for the top three is abnormally good by ODI standards. If they can take away their rose-tinted glasses and look at the actual scenario, they might see that the ideal no.4 is someone who can free up the lower middle order in a cameo role while possessing match-winning abilities. Pant has both. Even if he makes a 10 ball 30, he gives the lower middle-order, which isn't the quickest in the world, an added boost. That he is capable of carrying on in the same vein and provide game-changing innings further bolsters Pant's case.
Alternate options – KL Rahul, Shreyas Iyer
Rahul is perhaps the unluckiest guy in the cricketing world now. Even after a splendid IPL, Rahul hasn't managed to break into the limited-overs XI on a consistent basis. This has to do with the fact that he is basically a top-order batsman who likes the ball coming onto the bat. At 4, he doesn't get that but unfortunately the selectors have never bothered to try him at the position long enough to get a clearer picture. Joining him is another flamboyant batsman, Shreyas Iyer, whose chances have also been few and far between despite his unquestionable talent.