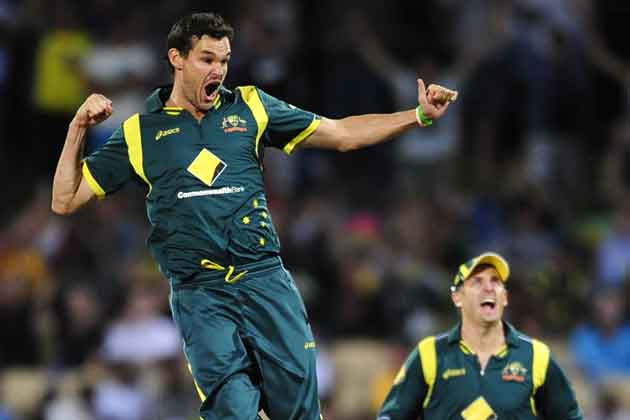 And so, after 15 matches spanning 33 days, we have a winner of the CB Series. The three-team ODI tournament, which was a fixture in the Australian summer until it was abandoned three years ago, has huffed and puffed its way across Australia and ended after three engaging finals. The victors, Australia, weren't the best team in the tournament but they held their nerve when it mattered most and added a 20th home tri-series title to their kitty.
Thursday's win was not an exceptional game of cricket, but it was proof there is life in the old dog that is 50-over cricket. In an era where scores of 300 are chased down with regularity the world over, to see Australia defend 230 was captivating. The game ebbed and flowed, and there was enough action to keep the fans glued in.
From 75 for no loss in 13.5 overs, Australia's batsmen proceeded to combust. The openers David Warner and Matthew Wade fell just short of half-centuries, Shane Watson biffed his way to 19 from 18 balls before picking out a fielder in the deep, Peter Forrest came and went for 3, Michael Hussey was run out for 1 and his brother David got to 19 before he was out lbw. From 151 for 6, Australia pushed on past 200, thanks to Clint McKay and Brett Lee, a fast-bowling pair whose role with the ball later in the evening would prove immense to their side's fortunes. The 40-run stand the pair shared was the third-highest of the match, adding to their value as all-round players on an evening when many famed names failed to click.
Considering the ease with which Sri Lanka rattled off a target of 272 on Tuesday, there was expectancy that this chase would be relatively simple. But it was not to be. McKay extracted the in-form pair of Mahela Jayawardene and Dinesh Chandimal and Lee nipped out the big wickets of Kumar Sangakkara and Tillakaratne Dilshan to leave Sri Lanka at 50 for 4 inside ten overs. Suddenly a target of 232 seemed more like 300, and Australia – in with more than a sniff – pressed the throttle.
At the heart of this victory was McKay, an unassuming 29-year-old pace bowler who would not look out of place in behind the counter of an ice cream outlet. McKay epitomises this current Australian team: not an eye-catching player, but one who works hard at what he does with minimal fuss. Without searing pace or disconcerting lift, McKay ran in ball after ball and turned in the best performance of his career in a match he will never forget. His 32-ball 28 – including three fours and a six – injected much-needed runs into Australia total. Later, coming on at first change after Watson opted for spin with the new ball, McKay prized out Jayawardene, Chandimal, Chamara Kapugedera, Rangana Herath and Lasith Malinga for a career-best 5 for 28. There can be fewer strong all-round performances from a player happy to let his more illustrious team-mates hog the limelight. McKay has come a long way from being clubbed for a decisive six earlier in the tournament by MS Dhoni, and then being made 12th man for the next match, in a span of a couple weeks.
Lee, an ageing warhorse who looks at the end of his career, was a key figure too with an innings of 32 and three wickets. Playing on despite a worrisome foot injury, Lee proved how valuable he can be. As he prepares to exit the international scene, Lee has much to pass on to the likes of McKay.
In the most open of tri-series for some time, Sri Lanka - led skillfully by Jayawardene - were worthy opponents. After a slow start to the series, they beat Australia three times in the league stage and then forced a third final with a big win in Adelaide. Their batting – Dilshan, Chandimal, Jayawardene and Sangakkara – played a big role in the team's success but in the decider they were limp. The top four were all gone before ten overs had been bowled, and though Upul Tharanga, batting in the unfamiliar No. 6 spot, played another battling innings, Sri Lanka were left to rue a poor start to the chase.
In a tournament that seemed to go on forever, Australia and Sri Lanka contested some of the best matches. Their first head-to-head was a tight match which Australia won by five runs; in Sydney, the Sri Lankans stormed back into the competition by bowling Australia out for 158 and then grabbed a bonus point inside 25 overs; their third match went down to the wire with Sri Lanka chasing down 281 with three wickets and four balls remaining; at the MCG, in a match they needed to win to reach the finals, Sri Lanka made it three wins in a row over the hosts by defending 238 by nine runs.
Thus, Sri Lanka became the most deserving team to reach the finals. In the first final, they came close to chasing 322 and in the second, chased a target of 272 without breaking a sweat. In Thursday's decider, they did very well to bowl Australia out for 230 in 49.3 overs but after a fine bowling and fielding effort, Sri Lanka's batting failed to click. Therein lay the route to defeat.