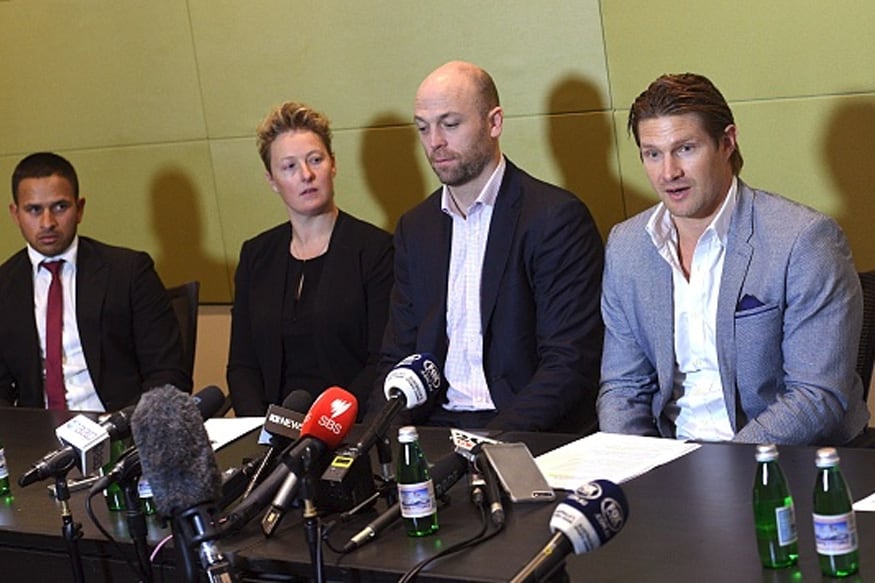 Here are the full list of resolutions passed at the Australian Cricketers' Association Meeting -
1. Statement in support of cricket
Players resolved first and foremost to express their highest respect for the game of cricket and its fans, and for the great honour of being a professional cricketer in Australia. Players expressed their desire to be on the field playing the game they love, interacting with the fans and supporters of cricket and representing their states and countries as soon as possible.
2. Response to the behaviour of CA: players will support their team-mates
Australia's male and female cricketers expressed disappointment at the conduct of CA during the MoU negotiations. And were concerned that 20 years of good faith partnership had been disrespected and disregarded by CA. The players noted with great pride that the efforts by CA to divide them has had the opposite effect. That across domestic and international lines and between men and women, resolve and unity had grown even stronger. And that for CA to have thought otherwise was to misunderstand what it means to be a member of a team as an Australian cricket player.
3. Fair remuneration
Not all players reach the top level of cricket. If they do, players have a relatively short career at that level. As such it was important for all players, men and women, domestic and international to be fairly remunerated for their efforts. The Executive noted in relation to CA's March offer, that with the removal of accounting tricks and with more realistic assumptions, the overall funding to the players is significantly less than how it has been presented to the players.
4. Players to stay united as a matter of principle
The players have resolved that, unless contractually obliged, no male or female players intend to play for a Cricket Australia (CA) team whilst fellow players remain unemployed due to the absence of an MoU. This is an outright rejection of CA's attempts to divide and rule. It is a resolution which will be revisited at the next and subsequent ACA Executive meetings, since the players remain hopeful that common sense will prevail and a new MoU can still be agreed on fair terms.
In terms of contractual obligation: The Executive noted that all players with valid and enforceable contracts (such as multi-year State or BBL deals) will continue to honour them, and will expect their employers to do the same. This includes an expectation of the players sharing in revenue as contained in those contracts. If this is not honoured by their employer, then the enforceability of these contracts will also become questionable.
The Executive noted legal advice that a State Player may "accept" or reject an offer to participate on a Tour with CA, such as the proposed Australia A Tour of South Africa. Australia's Women's World Cup Squad will continue and complete their Tournament as they agreed to do in good faith prior to the expiration of the MOU. The ACA wished them the best in their endeavours.
5. Upcoming Australia A Tour of South Africa by CA
All Australian professional cricketers are not obliged to and are unavailable to Tour South Africa as a part of the Australia A team without an agreed MoU. This decision has been made consistent with resolution 4 above that, unless contractually obliged, no player intends to Tour for a Cricket Australia team whilst others are unemployed courtesy of the expired MOU. And is done in possession of legal advice examining the MOU and mandated player contracts that:
The players cannot be contractually required by CA to participate and play in an international Tour, including the Proposed Australia A Tour, beyond 30 June 2017 because:
(a) in the case of CA Contracted Players, their contracts with and obligations to CA will all have expired on 30 June 2017.
(b) in the case of the more than 50% of State Contracted Players, their contracts with and obligations to CA (and their State Associations) will have expired on 30 June 2017.
(c) in the case of the remaining State Contracted Players on multi-year contracts extending beyond 30 June 2017, their State Player Contracts and the MOU acknowledge that a player can either 'accept' an offer by CA to Tour or not; there is no compulsion to do so. Also for the period beyond 30 June 2017 there are many important issues that are not agreed in the State Player contract, such as the form of Tour Contract that would apply if no MOU is in place, the applicable Squad, Team and Tour Payments and any applicable list of CA protected sponsors.
This decision not to Tour in the absence of a renewed MoU has been discussed and endorsed by the Australia A squad in solidarity. The Australia A squad wishes to represent Australia, and is willing to give CA another opportunity. They will gather in Brisbane on Monday to prepare for the Tour, in a gesture of the players' continued good faith and in hope that CA will reciprocate by agreeing an MOU on fair terms as soon as possible.
6. Tours of Bangladesh and India
Players expressed a strong desire to Tour both Bangladesh and India and urged CA to support them by renewing an MoU on fair terms, allowing the Tours to proceed. However, due to the fact of unemployment and the resolution above, absent an MoU there are no professional cricketers presently obliged or available to Tour.
7. The Summer of Cricket
All players expressed a strong desire to participate in the Australian Summer of Cricket and urged CA to support them by renewing an MoU on fair terms so the Summer can proceed.
8. Rescuing tours and the Summer of Cricket should there be no MOU: the Employment rights of players
To rescue the Tours and the Summer of Cricket referenced above, if there was no agreed MoU, the ACA will be discussing with the players the assignment to the ACA of an exclusive option to employ or second them.
'In contract' players will also participate in the discussion regarding assigning rights to the ACA to allow them to Tour. This means the ACA could offer to facilitate the availability of players on the right terms to assist those games and series that we all wish to see played.
This may extend to the ACA offering the players back to CA on the right terms for the purposes of rescuing the Summer of Cricket. This would be best achieved by an agreed MOU.
This option is available to the ACA and could be exercised absent an agreed MOU. It should be regarded as an option for rescuing tours and the Summer of Cricket absent an agreed MOU which remains the clear preference.
9. Restraint of Trade
Players have resolved to support any out-of-contract players who are restrained from post-employment professional cricket opportunities. This would apply to any refusal to provide an out-of-contract player with a No Objection Certificate (NOC). It would also apply to any threat to lock players out of future employment opportunities if they engage in an 'exhibition game' to raise money for their unemployed team-mates.
10. Intellectual Property of the players and The Cricketers' Brand
The ACA Executive noted that with the passage of the June 30 deadline The Cricketers' Brand was now looking to sign Sponsorships and arrange Player Appearances on behalf of Australia's greatest players, now unemployed, and in consultation with player agents.
The Cricketers' Brand has been given approval to work with agents to commence the process of signing Sponsors and to deal with Broadcasters wanting to use these players' attributes.
*Those State players with multi-year State Playing Contracts will continue to honour those agreements, including to attend player Appearances as directed. **CA retains some rights to use out of contract players' attributes for game promotion and development.
11. WaMCAP (Women and Men Cricketer Assistance Plan) funding distribution to players in need
The ACA Executive approved the making of payments to players who need financial assistance from the WaMCAP fund.
12. Revenue sharing for all men and women who play professional cricket
The players have affirmed their commitment to all male and female players at both international and domestic level receiving a 'fair share' of the revenue they generate for the game. And again, expressed a willingness to make sensible changes to the current model to reach agreement.
13. Mediation is still the right process
The players affirm their view that third party mediation at CEO level remains the right process to resolve the current impasse.
14. Grassroots Cricket Investment
The ACA Executive continued its call for a review into the current under investment in grassroots cricket and for recommendations to be developed for increasing grassroots investment.
And noted that the current level of underinvestment seemed incompatible with the CA decisions to:
- Almost double the number of CA employees over the last five years;
- Grow CA cash reserves to the current level of approximately $70 million; whilst
- Allowing grassroots investment to stagnate at the level of only approximately 12% of revenues.