A year ago, Alex Carey wasn't behind the stumps for Australia when England had their way with them to the tune of a five-nil ODI whitewash. Tim Paine, a caretaker captain on that tour, did the job instead. It was instructive that the South Australian, though, was not only in the side for the T20s that followed, but was immediately elevated to the vice-captaincy.
For a man who doesn't boast a statistics page that is going to turn heads - with the notable exception of a 56-ball Big Bash century for the Adelaide Strikers - he has been heavily backed from the moment he left Australian Rules football for cricket. It was in the winter sport where Carey was on the cusp of big things, the inaugural skipper of the Greater Western Sydney expansion club when they were being nursed into the Australian Football League.
As Sam Perry, of The Grade Cricketer, has persuasively theorised, the increasing influence of Aussie Rules on cricket in Australia – in states where it is the predominant footy code – is difficult to ignore. That Carey was from that system and a leader from that world always put him at something of an advantage. Cricket is used to losing players that way, not gaining them back. It was a great story and his progression to the top flight was suitably breezy.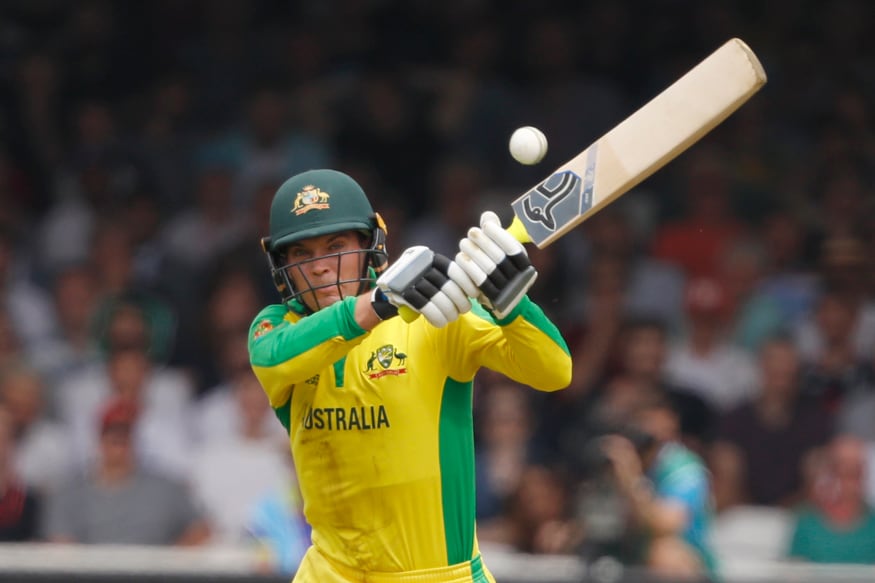 But contrary to the hard-edge that football culture thrives on, Carey is all pleases and thank yous with a smile you can set your watch to. He's soft-spoken and kind. The last time that Australia played New Zealand in a World Cup – the final of the 2015 tournament – their grizzled stumper, Brad Haddin, made a virtue of being as nasty as possible to the opposing side; it was seen as their comparative advantage in that MCG Final. The man in that job now could not be more of a contrast. In the post-Sandpaper world, he embodies a New Australia.
Which isn't to suggest he isn't made of stern stuff. The easy misconception when observing humble and pleasant cricketers is that they are too nice for the rough and tumble of the top flight. For Carey, it wasn't long ago he was seen as one of Australia's weaker links when the ODI side left Australia after a home series against India in January. Then, he was given the chance to open and it backfired with low scores at limp strike rates. Peter Handscomb was in far better shape and keeps wicket more than adequately.
But back in the more familiar surrounds of the lower-middle order, at this World Cup Carey has not only bounced back but wholly flourished on the biggest stage. Throughout, he has been the most adept at sticking the landing on an Australian innings in this tournament, best evidenced against England on Tuesday when he advanced the score from 228 for five to 285 for six, adding 38 of those in 27 deliveries, including 22 in the final two overs.
On Saturday, however, his job was a great deal different coming in at 92 for five halfway through the 22nd over. He had entered in similar circumstances the previous time Aaron Finch's top order backfired against West Indies earlier in the tournament, stroking a vital 45 in 55 balls against the grain. After his efforts against England, astute judges – including Kerry O'Keefe, one of the best – thought he should he be elevated above Marcus Stoinis to come in at six. As it turned out, the all-rounder came in at five ahead of Maxwell. It didn't matter, with the fifth wicket falling but 11 wickets after the fourth. They were in a deep hole.
Within ten balls of joining Usman Khawaja, Carey had pinged away three pristine cover drives to the rope, the best three shots played to date through the day. "It's like he's batting on another pitch to everyone else," was Damien Fleming's reaction to this flurry on SEN's radio commentary. While Khawaja accumulated, scratchily more often than now, Carey timed the ball in a fashion that belied how tricky the slow and dusty surface suggested.
Khawaja had a 32-run head start on Carey but as hauled down when they were together in the 60s some 19 overs later, the spadework largely was done. By the time Carey fell, his 71 in 72 balls formed the bulk of the ultimately match-winning 107-run stand. Khawaja made 17 more runs and Mitch Starc went on to claim a five-wicket bag after tea but the player of the match award was correctly given to the South Australian for the first time in his international career.
"Lots of confidence," Carey said after receiving the award. "I am really enjoying batting at the moment. There is normally a scoreboard that dictates the way I have to play and today it was about spending a bit of time out there. Ideally, it is the last ten overs but if there is an opportunity it is nice to take it like today."
Once again, the conversation will move to his position in the batting order. Indeed, Michael Slater on commentary believes that while he is batting this assuredly, there is no reason not to give him a chance at number five – a true vote of faith. It surely can't hurt and would be entirely in keeping with Australia's flexibility ethos. So often in championship sides, a player without too much scarring emerges to make their mark. All signs suggest that if Australia does return to Lord's in a couple of weeks and collect the trophy, Carey could well be that guy.