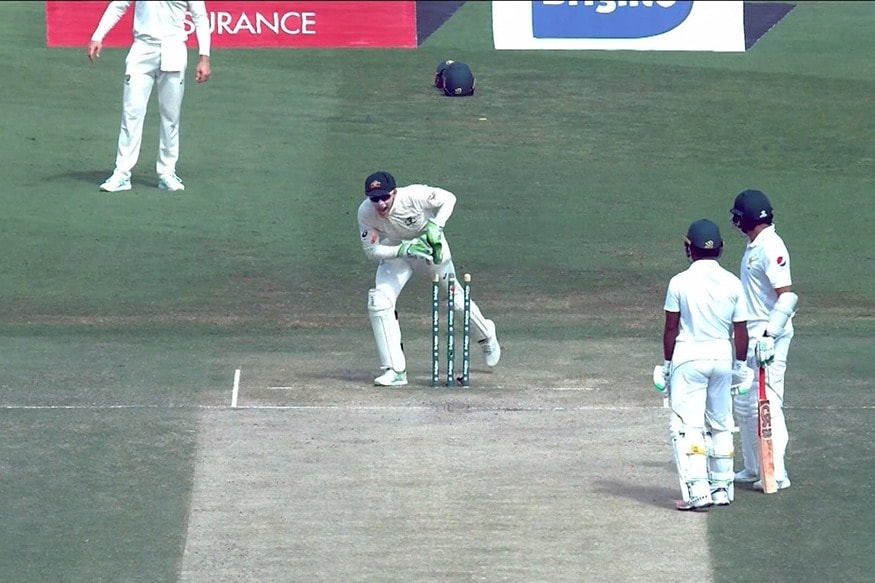 Pakistan batsman Azhar Ali was dismissed in the most bizarre ways against Australia in the second Test at Abu Dhabi.

Ali got an outside edge which ran down to third man and he thought that the ball had gone away for a boundary. Ali came down the pitch to have a word with non-strike Asad Shafiq but the two of them didn't realise that the ball had stopped just short of the boundary.

Starc collected the ball and threw it to Tim Paine, who dislodged the stumps with both the batsmen in the middle of the pitch.


Astonishing run out in Abu Dhabi!

Azhar Ali and Asad Shafiq have a chinwag, thinking the ball had gone for four. Tim Paine whips the bails off! #PAKvAUS pic.twitter.com/rbli7cr2pk

— The Cricketer (@TheCricketerMag) October 18, 2018



The run out had Twitter in splits,


Unbelievable run out in Abu Dhabi. Pakistan batsmen think ball had gone for four. It hadn't and Azhar Ali is run out while chatting to his partner in the middle of the pitch!

— John Etheridge (@JohnSunCricket) October 18, 2018
One of my favourite wickets in the Aust-Pakistan test series live on @FOXSportsAUS . What was Azhar Ali thinking???? Run out after thinking the ball went for four lol @CricketAust @trentcopeland @adampeacock pic.twitter.com/DAWtG7h8UR

— Andy Paschalidis (@AndyPaschalidis) October 18, 2018
This December, please remember to make Azhar Ali's runout as the best cricket thing this year.

— I dont know anything. (@ABVan) October 18, 2018
Full props to Azhar Ali for providing such comic zest to this otherwise dull affair in Abu Dhabi. 😝 #PAKvAUS

— sabuktgeen (@sabuktgeen) October 18, 2018



Pakistan though will not be worried by the dismissal as they are still in a commanding position in the game. They were 160/3 when Ali was run out and had a lead of 297.

First Published: October 18, 2018, 12:55 PM IST