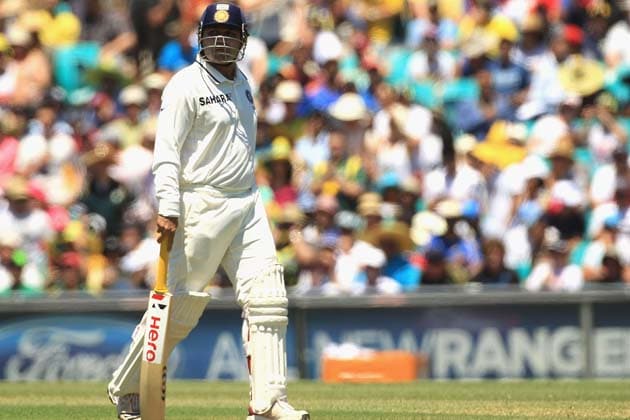 On the occasion of Virender Sehwag's 100th Test match at Mumbai's Wankhede Stadium against England starting Friday, two of his former opening partners shared with Cricketnext their experience of batting with him in Test cricket.
Former India opener Sanjay Bangar was part of the Test squad in England in 2002 when India's then coach John Wright and captain Sourav Ganguly asked Sehwag to open the innings at Lord's. Sehwag made a carefree 84 and then a century at Trent Bridge against Mathew Hoggard, Dominic Cork, Steve Harmison, Andrew Flintoff and Craig White. According to Bangar, Sehwag was a natural fit at the top of the order due to his sheer talent and approach towards batting.
"There was never any apprehension on Sehwag's part when he was asked to open the innings in England, largely because of his attitude towards the team's cause," recalls Bangar. "The century he scored on debut in South Africa had given him the confidence to succeed at this level, and I don't think he saw much of a difference between batting in the middle order or at the top. That's the way he was even then. Looking back now, it really is remarkable what he achieved in England when asked to open the innings after just five Test matches, and then how he changed the entire notion of opening. Sehwag really paved the way for some of India's big wins overseas, and changed the tone of Indian cricket in the last decade."
Bangar and Sehwag opened in two Tests in England in 2002 with poor results when India were experimenting with the top order, but later that year at home against West Indies they shared one double-century stand (201 in Mumbai) and two half-century stands (93 and 50 in Chennai). The pair averaged 45.20 as an opening act in ten innings.
"It was definitely a memorable experience batting with Sehwag, especially watching the way he got on top the bowlers. He just didn't want to give them the chance to settle or dominate," says Bangar, who had scores of 55, 40 and 77 during the series against West Indies. "He was very focused but never got too serious. He has a unique way of batting. He made me feel comfortable as well, which helped take a bit of pressure off me. It was a great experience to be at the other end."
Aakash Chopra, who batted 19 times at the top of the order with Sehwag in Test cricket, averaging 47.21 with four century and two half-century partnerships, credits Sehwag's success to a sheer hard work and a positive mindset. "We tend to use a host of adjectives when describing Sehwag bat, most common of which is to say 'oh Veeru likes to keep it simple'. But it's not as simple as it looks. A lot of hard work goes into what he does. There's a method to the way he bats. To look at what he's done, how he's changed the way openers bat and most importantly his contribution to Indian cricket, just tells you how hard the man has worked. This was a batsman written off early in his international career. The way he's kept his head clear for so long, and so sustain that success for that golden period he had, is amazing."
Chopra's opening stands with Sehwag in Australia during the 2003-04 tour were a a key factor in India's success. Their pair put up century stands in Melbourne and Sydney and 66 and 48 in the epic Adelaide win, and Sehwag credited Chopra's steadfast approach at the other end as crucial to giving him the confidence to play his natural game.
"I especially remember our time in Australia. We would sing all sorts of songs between deliveries and overs, sometimes even decided where to go out for dinner in the evening," recalls Chopra. "It just made batting all the more fun. Sehwag would take pressure of me. To bat with Sehwag is to be taken aback by his approach. Often in Test cricket after seeing off a tough spell from a top bowler, you tend to take it easy against a part-timer or medium-pacer; but Sehwag's attitude was 'don't take it east against him, get after him.' He didn't see a change of bowling as a time to readjust. He saw it as a bowler to attack."
Sehwag's relationship with Sehwag dated back to their time in Delhi, with Sonnet Club and with Delhi's Ranji Trophy team. Reflecting on his earlier encounters with Sehwag, Chopra marvels at how far his friend and former team-mate has come. "It's just phenomenal to see what Sehwag was achieved in his 11 years of Test cricket, especially when you considerer where he started and what he was he was conceived of as a batsman in his early days," he says. "In club cricket, Sehwag used to bat down at No. 7 and when he would walk to the middle we would have our fast bowlers bowl short at him, with fielders around the bat and on the leg side, and he would get out. It's amazing to look back at that and now see that same Virender Sehwag play 100 Test matches."