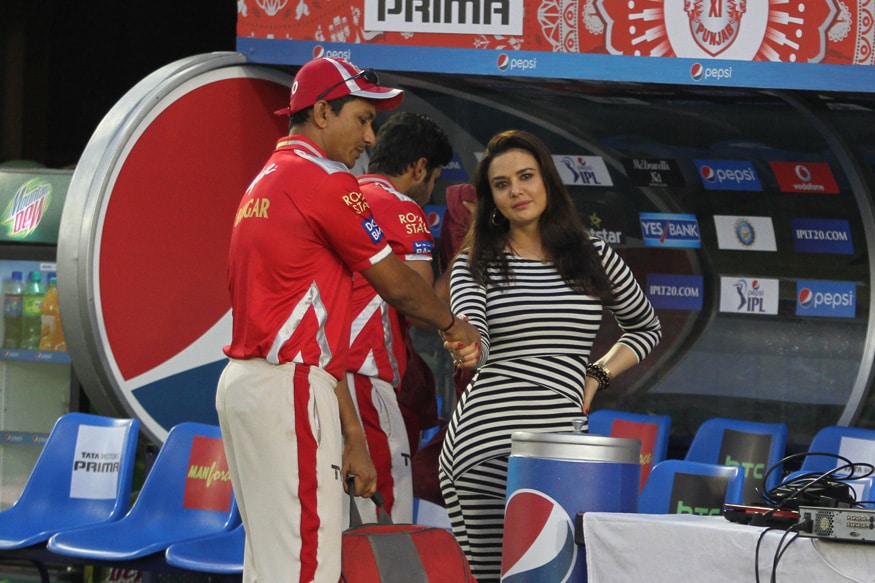 New Delhi: Kings XI Punjab coach Sanjay Bangar reacted strongly to a media report which claimed that the team's co-owner Preity Zinta threatened to sack him after the one-run loss to Royal Challengers Bangalore (RCB) in an Indian Premier League game on Monday, and termed it as "fabricated".
Barely an hour after Preity lashed out at the report on her Facebook page, denying any such incident after the match, Bangar also took to the social networking site to deny the report.
"After our one run defeat against RCB, there was the usual post match discussion on the match with Kings XI owners. Some reports in the media have blown the issue totally out of proportion by fabricating a non existent chain of events..loss by close margin hurts but team has been playing good cricket," Bangar wrote.
"No reported abusive or disrespectful language was against me. Kings XI Punjab will continue to fight for its survival in the tournament," the former India all-rounder further stated.
Earlier, a Mumbai-based daily published a news report accusing Preity of abusing Bangar after the match.
"I most definitely did not be disrespectful to our coach nor abuse any one and definitely did not use the four letter word. Sanjay and I both have denied this story still it gets printed. I am fed up of this nonsense and negativity," the Bollywood actress wrote on her Facebook page.
Preity has slammed a media report for portraying her "as a villain" by claiming that she tore into the team's coach Sanjay Bangar after their recent one-run loss to Royal Challengers Bangalore.
A media report claimed that after the match at Mohali on Monday, she had a spat with Bangar and used a "rant laden with expletives and threats of sacking".
The actress took to her Facebook page on Thursday to clear the air on the issue.
"A perfect example of how journalists lie blatantly and should be sued for defamation! For the record, I do have manners and I did go to school... I most definitely did not be disrespectful to our coach nor abuse any one and definitely did not use the four letter word. Your story reeks of sexism and is incorrect and exaggerated beyond words," she wrote.
Further clarifying her stance, Preity posted: "I did speak to Veeru and Sanjay for exactly 20 seconds and asked why Axe did not bat after which I congratulated Virat Kohli and spoke to him briefly as he walked up to me. After which I proceeded to have a chat with Shane Watson and then left the ground with my husband and in laws as we were in one car and I was disappointed."
"I will not deny that I was disappointed but how dare any journalist cook up a story with me as a villain. Just because I do not support 'paid media' or 'media net' does not mean I am a soft target," stressed Preity, who is in India with her American husband Gene Goodenough.
She also rued how "just because our judicial system is slow, some Indian journalists time and again use it to write any and everything and make soft targets of celebrities".
Preity even slammed the "chauvinist and sexist undertone" to the article.
"Just because I am a woman you presume me to be a bimbo and know nothing about cricket even though I have been working in this sport and business for the past nine years."
The media report featured in a Mumbai-based daily.