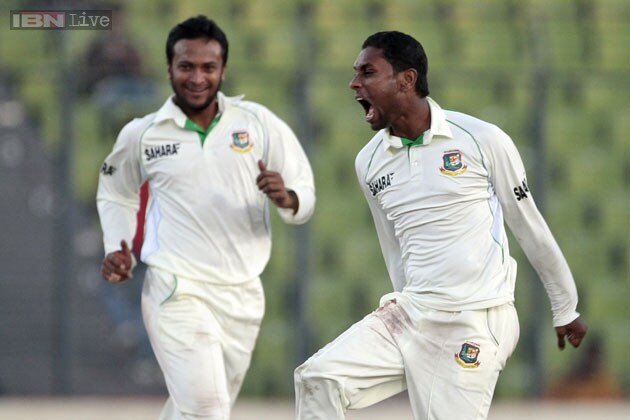 After a confidence-building draw against New Zealand at Chittagong, a rejuvenated Bangladesh team has set sights of winning the series by upsetting the visitors in the final match of the two-Test series beginning Monday in Dhaka.
Shakib Al Hasan, the cog that has helped Bangladesh gain speed in international cricket over the last five years, believes performances like Sohag Gazi's world record of a century and a hat-trick in the same Test has changed the team's thought process from happy at drawing games to go for the win.
"When I started six years ago, our goal was to play five days. Then it was to draw Test matches. Now we go out to win," Shakib told ESPNCricinfo. "We have been progressing as a team all along. Everything takes time. This team has been playing together for quite some time, so we have more confidence. We are looking to win this series. We have a major opportunity, so we have every reason to give it our best," he added
Shakib hinted that healthy competition within the team has helped it to lift its performance. "When there are four or five performers in a team, the rest of the players then want to do well. So within everyone, there is a challenge to perform. I think it is major positive for the Bangladesh team."
After Jacques Kallis's twin failures in the first Test defeat to Pakistan in Abu Dhabi, Shakib returned to the top of ICC rankings for allrounders, and he says that motivates him to strive for consistency. "It is easy to motivate myself when I look at the rankings. My battle is with top cricketers, but I wouldn't compare myself with anyone. Everyone wants to contribute to the team's cause. I don't think any cricketer keeps an eye on the rankings but it does feel good to be at the top," he said.