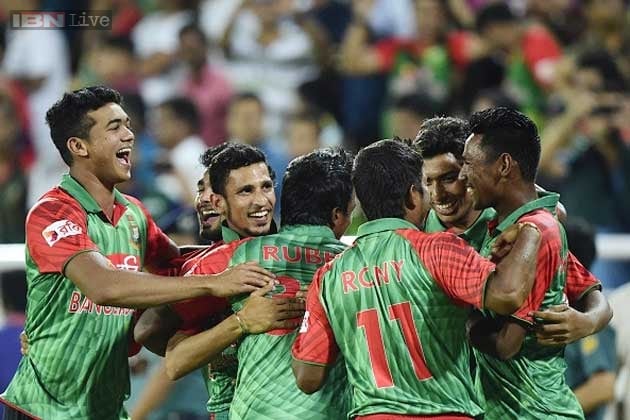 Mirpur: Giving full credit to his wards for pulling off a historic series win against India, Bangladesh's bowling coach Heath Streak has said that it isn't surprising to see the Tigers leading 2-0 in the three-match ODI series.
Bangladesh romped home to their first ever series victory against India on Sunday and clinched a berth in the 2017 Champions Trophy with a comfortable six-wicket victory in the second ODI at the Sher-e-Bangla Stadium here.
The way the series has panned out may have surprised the whole cricketing world and shaken the core of the Indian team but Streak knew that this Bangladesh team had all the potential to stun the two-time world champions.
"No, it wasn't surprising. Since the World Cup, we have seen a different Tigers' team and definitely confidence is there and they now believe that they can win more consistently. In these first two games, they have shown some good fight and they now believe that they can win all three," he told reporters here on Monday.
Bangladesh have been on a roll since the World Cup. In the last few months, there have been many 'firsts' for the Bangladesh team. They defeated England to make it to their first ever World Cup quarter-finals. Then the Bangladesh juggernaut mauled Pakistan by sweeping the ODI series 3-0, again first time in their history. And this time it was India who came under the fire.
"Bangladesh have played well and executed their skills better than India have. So, yes they will be disappointed. They have great players and they will come back hard. But Bangladesh have to be given due credit. They performed and executed their skills in the conditions a lot better than India have in these two games. You can't take away the performances from the Bangladesh team. We just want to keep things simple like the way we have till now," he said.
The former Zimbabwean pacer said the series victory sends out a message to the cricketing world.
"For Bangladesh, it's huge to beat India and throw a message to the cricket world, and it's fantastic. I have to give credit to the players. Players are the one who make the commitment, they are the ones who perform out there under pressure," he said.
The former Zimbabwe captain said Bangladesh's victory in the second ODI reminded him of his country's win against India in the 1999 World Cup.
"It's very different to play for your country and coaching, but as a coach this is fantastic and this means a lot for Bangladesh. And when I saw the passion and what it mean to the boys last night, it reminded me of when we beat India in the World Cup," he said.
Streak also came out in support of Indian ODI captain Mahendra Singh Dhoni, who has been at the receiving end for his side's dismal performance. Dhoni seems to have lost the touch that helped him guide India to win three major ICC titles - the 2007 World Twenty20, the 2011 World Cup and the 2013 Champions Trophy.
Streak feels Dhoni is a great captain and nothing can be taken away from him as his record speak for itself.
"[Dhoni] is a great captain and a great player. You can't take that away from him. Sometimes, other teams are able to play well and I think this Bangladesh team for a long time has been under-achieving but now they are starting to realise their true potential. Especially in one-day cricket they are a force to reckon with. [But] They still have a long way to go.
"So, you can't take away anything from Dhoni. he has had a fantastic career. He has won two World," he said.
Amid all this, Bangladesh have a got a new hero, a young talent who can take their aggressive brand of cricket forward. Left arm pacer Mustafizur Rahman confounded the Indian batsmen with his lethal offcutters and became only the second ODI bowler after Zimbabwe's Brian Vitori to claim five-ford in his first two matches. Mustafizur now has 11 wickets in two ODIs.
Streak is happy with Mustafizur's performace.
"Yeah, I am very happy. Obviously Mustafizur was fantastic. He was outstanding. To do that in two consecutive games and to get a record like that was something special and to get that against India makes all of the coaching staff really happy. Credit goes to the players as they are the ones who have put in the hard work and to see Mustafizur being supported by other bowlers is also good.
Bangladesh surprised India by selecting four pacers in the eleven for both the ODIs and the decision has yielded the desired results.
"I work closely with the head coach and we thought the Mirpur wicket does help the seamers," Streak said. "Mustafizur has been bowling well. We fought hard to get him into the T20 squad against Pakistan and he showed what he is capable of. Since then, it has been good to have Mustafizur, Taskin and Rubel who we know can perform.
"Mashrafe has been a consistent performer for Bangladesh for a long time now. We have a good group and we felt India wouldn't expect that [playing four seamers]. We knew that conditions, if we can prepare the wickets to suit our style of bowling, would play into our hands," he said.
Streak said he noticed the 19-year-old during Bangladesh A tour to West Indies and was impressed with his talent.
"For me, he has to execute (his skills) more regularly and consistently. When you are training with the guys on a regular basis, you can make their skills better. There's no magic trick. It is making sure they are training at a high level for a long period of time.
"We discussed some other options (after the first ODI) if he didn't succeed in doing what he did in the first game, some variations that we might have to try. India would have seen his video footage," he said.
Streak also said that the coaches have to be more careful in managing Mustafizur.
"I think that's where as a coach you have to be careful not to over-coach and just help guide them along," Streak said. "When assistance is needed, you remind them. It is a very important part of coaching. Some people need more coaching than others. We have to be careful how we manage him.
"He is still very young. He has taken 11 wickets but we can't expect him to take five wickets every time. He has shown his potential. If we look after him and support him, he will be a big match-winner for us. When Mashrafe started, he was looked after throughout his career," he added.
Bangladesh take on India in the third and the last ODI on 24th June here in hope to complete the 3-0 sweep.