Test teams have often struggled to exert supremacy in foreign lands. Asian teams have poor records in conditions alien to them while SENA (South Africa, England, New Zealand, Australia) countries have similar issues in Asia. But even considering the expected gap in home and away performances, Bangladesh have been a force only inside their territory and have a terrible record in foreign conditions.
It's 19 years since Bangladesh were inducted to Test cricket, but they've won only 13 Tests. Ten of those have come within the Asian sub-continent. The three outside Asia came in West Indies and Zimbabwe and they have a deplorable record in SENA countries.
Bangladesh have played 51 away Test matches of which they have won just four and lost 44, a win/loss ratio of 0.09. The only nations to win fewer Tests abroad include Zimbabwe (3 wins in 49 Tests) and Afghanistan, who have played just a solitary Test match.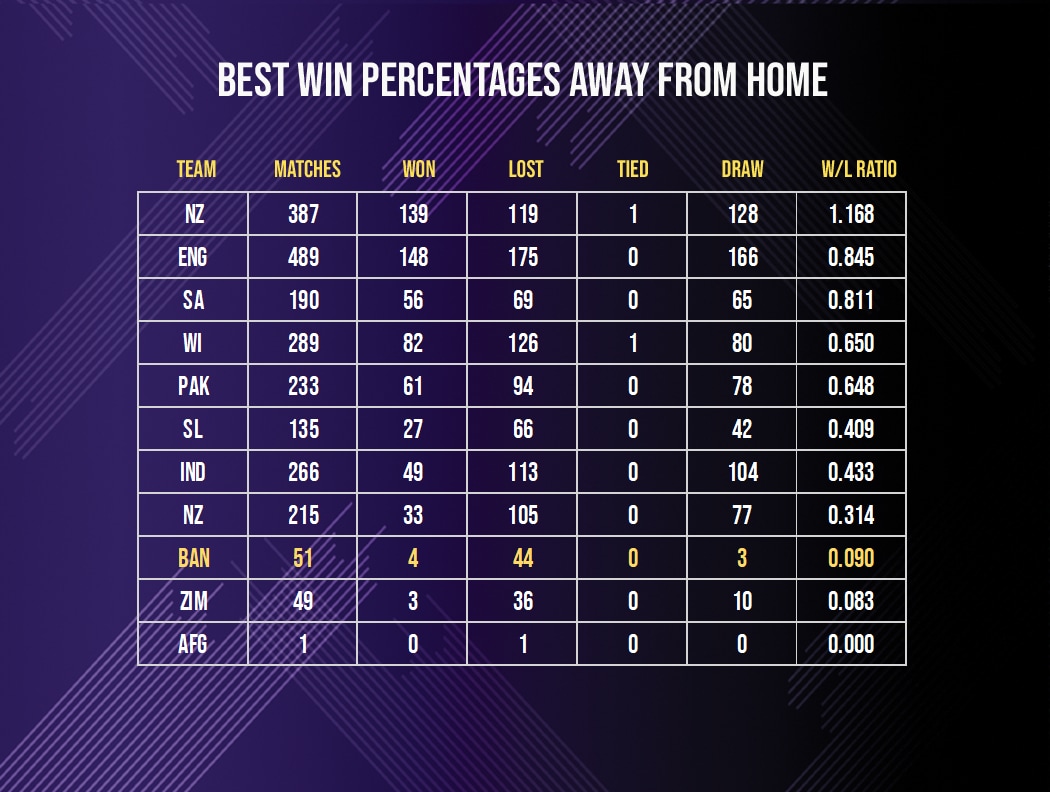 What is even more worrying for Bangladesh is that they have struggled to even eke out draws away from home. They have just 3 draws in 51 overseas Tests.
It is difficult to pinpoint one reason for Bangladesh's failures, with both their batting and bowling performances calling for heavy scrutiny. In the last two years, Bangladesh are believed to have grown as a Test power, but most of this improvement has been within the comfort zone of their own country.
Since 2015, they have drawn series' against England, Australia and Zimbabwe at home, winning in at least one Test of the series, while blanking West Indies last year in a 2-0 whitewash. Away from home, their only series victory came in the Caribbean Islands when they managed to win 2-0 against a depleted West Indies who were forced to field a second string team after issues between the players and WICB.
The bowling has been a huge albatross around the neck for Bangladesh away from home with their bowling average the worst among all Test teams.
Bangladesh have a team bowling average of 53.74 in the 51 matches they have played in the opposition's backyard. This is lower than all other teams in Test cricket and has been one of the primary causes for concern for Bangladesh.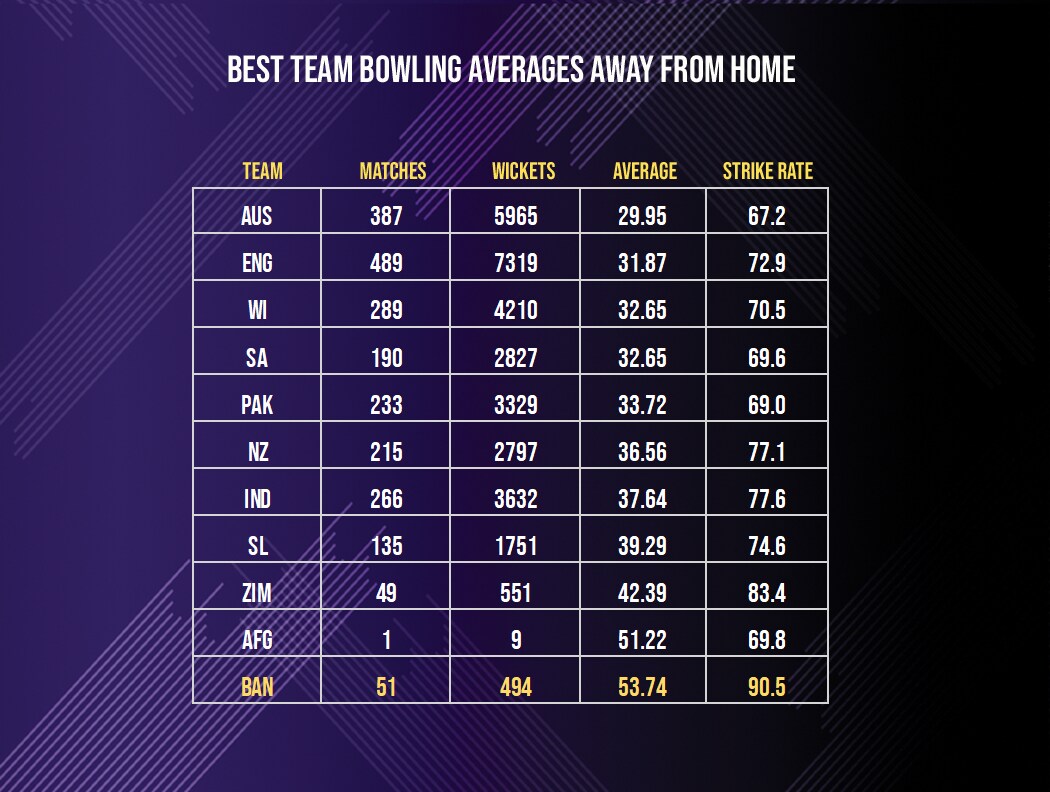 The batting hasn't been too much better either with the side clocking an average of 20.89 in Tests away from home, the second worst among all Test sides.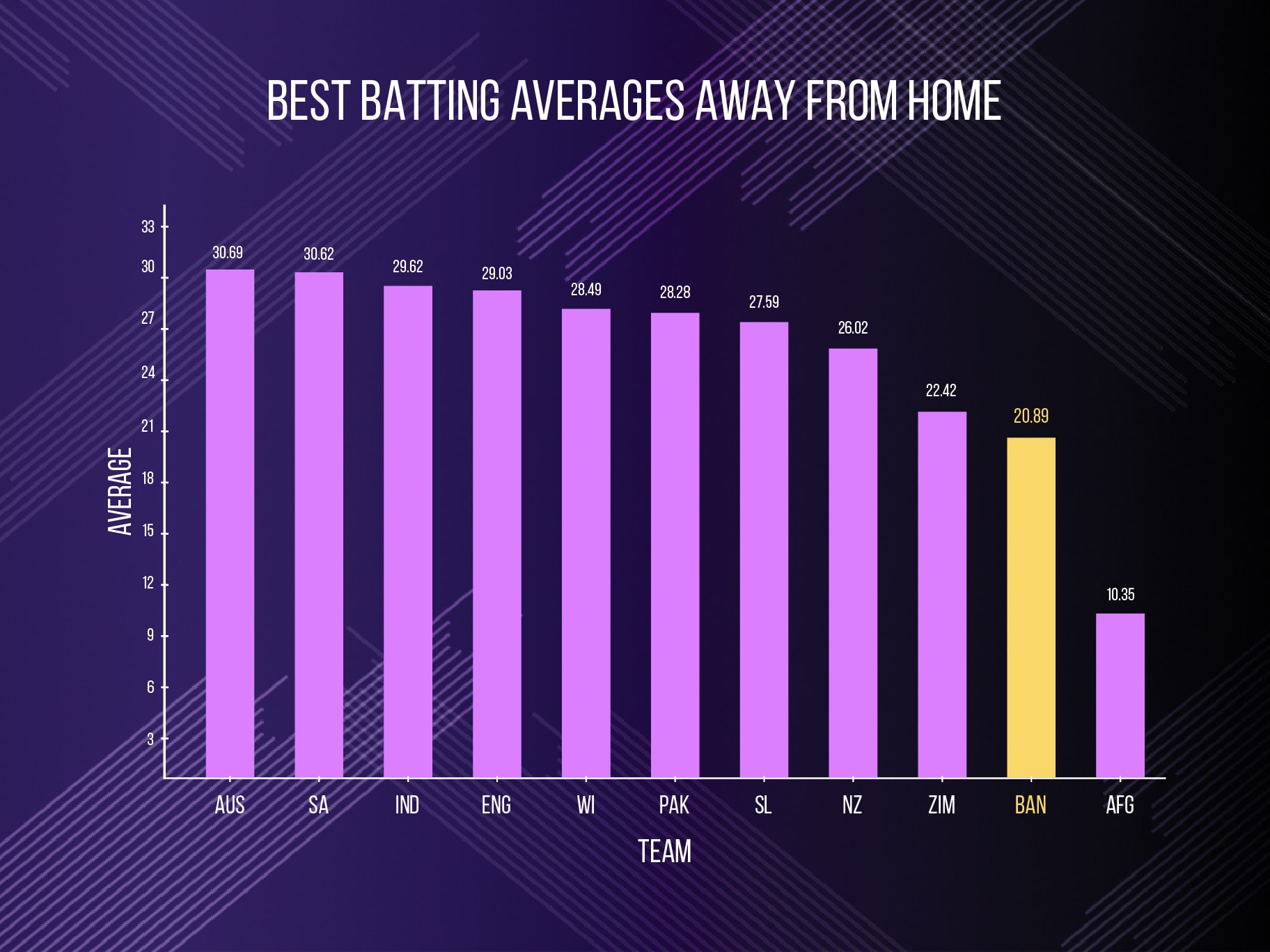 The worrying sign for Bangladesh for this series is that New Zealand, placed second in the ICC Test rankings, have been bullish at home and have a potent bowling attack while the tourists have one of their top players, Shakib-al-Hasan, missing. The trend of Asian teams losing in SENA is slowly breaking after India's Test series win in Australia and Sri Lanka's triumph in South Africa earlier this month. Bangladesh might want to take inspiration from Sri Lanka in particular, for the Islanders have been in similar strife of late but managed to pull off a 2-0 win in the Rainbow Nation despite missing several key players.