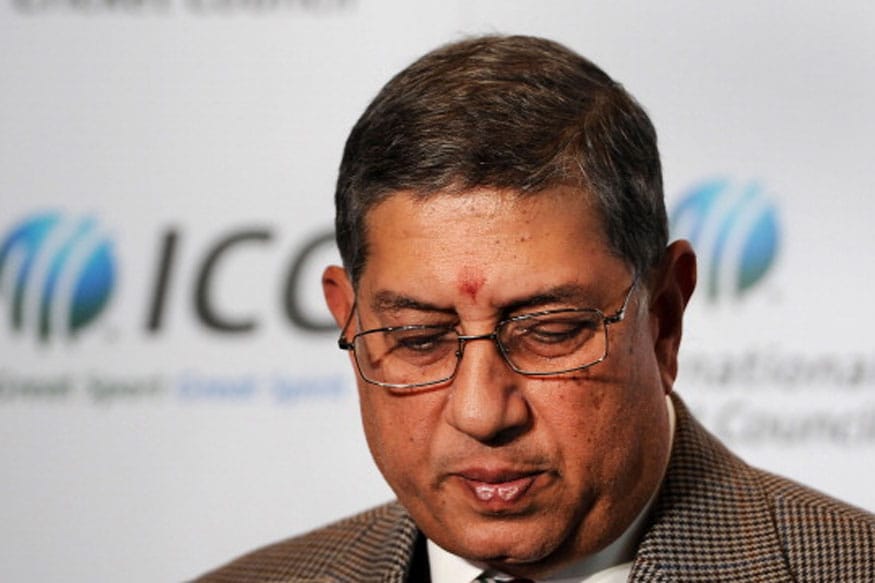 New Delhi: Indian Cricket Board's move to stall the proposed constitutional and financial reforms in the ICC may suffer a roadblock if BCCI tries to send N Srinivasan as its representative at the world body's Board Meeting.

It was also learnt that Committee Of Administrators (COA) may just spring into action if Srinivasan, who is 72 years old, becomes BCCI's representative at the global body's forum.

There are rumours that Srinivasan will have backing of majority of state units at the BCCI Special General Meeting, tentatively scheduled for April 9 but this move can mean that Bangladesh and Sri Lanka will no longer support India.


"The Bangladesh Cricket Board (BCB) is very wary of Srinivasan. They have not forgotten the kind of insult the then ICC President Mustafa Kamal faced at the 2015 World Cup in Australia. Bangladesh for certain will not be with India if Srinivasan is BCCI's choice at ICC Board Meet," a senior BCCI source privy to development said.


Even Sri Lanka might have other thoughts, ditto for Zimbabwe as India require three votes are required to stop the reforms.

"If the reform proposals come up for voting and Srinivasan is BCCI representative, don't be surprised if BCCI lose 1-9 or 2-8," the source said.

In the last two ICC meetings, the BCCI has been represented by Vikram Limaye. The ICC AGM will be held in Dubai on April 27-28

While COA head Vinod Rai has made it clear that the office bearers don't need their approval to convene an SGM but any deviation from Supreme Court order will make them step in.

A lot of BCCI officials are still N Srinivasan confidants including joint secretary Amitabh Chaudhary and treasurer Aniruddh Chaudhry.


"The COA is keeping a tab of things. Srinivasan in any case is ineligible to attend the so-called SGM as he is above 70 years and is on the wrong side of all the Lodha Committee reforms. Also one shouldn't assume that Srinivasan's nomination as BCCI representative for ICC meeting will be a cakewalk," the source said.


It is being speculated that Srinivasan is eying the independent chairman's position as current incumbent Shashank Manohar has told the Board that he will complete his current responsibilities and then leave.

Manohar had resigned last month only to reconsider his decision with important reform work still pending.

If Srinivasan throws his hat in the ring, it could make countries like Australia and England wary.

It was learnt that majority of the ICC Board members may request Manohar to continue so that Srinivasan's bid to control ICC is foiled.


First Published: April 2, 2017, 9:16 PM IST