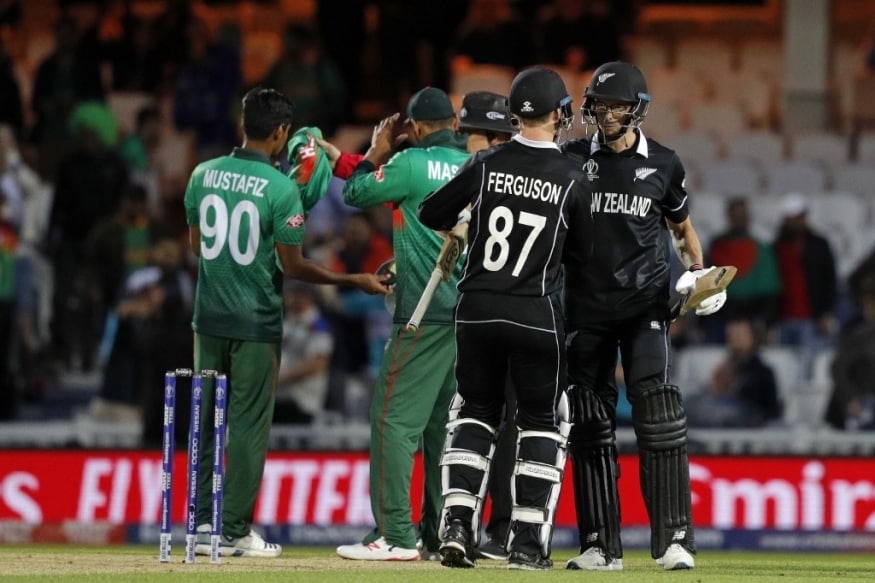 What was supposed to be an easy win turned into a thriller as Bangladesh kept fighting against New Zealand but eventually were unable to defend 244 and succumbed to a two-wicket loss at The Oval in their second fixture of the ICC World Cup 2019.
100 overs of World Cup pressure at The Oval btw @BCBtigers & @BLACKCAPS. Mitch Santner with bat and ball handling it better than most. Ross Taylor POM with 82(91). NZ go 2-0. #BANvNZ #CWC19

— Mel 'MJ' Jones (@meljones_33) June 5, 2019
Damn, Mitch Santner with the Ice Cold Librarian cover drive.... #iceicebaby #NZvsBAN

— Andre Adams (@AndreAdams) June 5, 2019
Nothing quite like a 250-250 thriller in ODIs. #BANvNZ — Vinayakk (@vinayakkm) June 5, 2019
Having been put to bat first, Bangladesh managed to post a competitive 244 courtesy of an excellent knock from Shakib Al Hasan. Some terrific bowling by Matt Henry ensured that New Zealand had a gettable score.
Shakib will go down as one of the best all-rounder to play the game of cricket,not just for Bangladesh.The guy can score runs in crucial situations and can take wickets when his team needs to,what a fabulous utility player to have! #RiseOfTheTigers #NZvBAN #CWC19

— Udit (@udit_buch) June 5, 2019
Any way you look at ot, Shakib Al Hasan is the most complete all-rounder playing in the #CWC19, and I'm so pleased he's giving good account for it so far. #BANvNZ — Rishad D'souza (@RD_Wisden) June 5, 2019
Shakib Al Hasan bats at 3 and bowls 10 overs every game. He can walk into any team in world cricket just as a batsman or a bowler. He is the most valuable ODI player of this generation. Ben Stokes receives more accolades than him despite not being half as consistent.#CWC19 — Aditya (@forwardshortleg) June 5, 2019
Seven wickets in 2 matches for Henry, during warm up match he went for 100 runs in 8 overs against Westindies. #CWC19

— Johns (@CricCrazyJohns) June 5, 2019
Geoff Allott in 1999, Matt Henry in 2019? #CWC19

— Vinayakk (@vinayakkm) June 5, 2019
New Zealand were cruising towards the target, with Kane Williamson and Ross Taylor stitching a vital stand. Bangladesh had the opportunity to run out the Kiwi captain by sloppy work from Mushfiqur Rahim proved costly.
Oh, no! Mushfiqur Rahim has just dropped the World Cup!#CWC19 #CWC2019 #BANvNZ #NZvBAN — Mohandas Menon (@mohanstatsman) June 5, 2019
Lucky escape for Kane Williamson. Mushfiqur Rahim dislodged the bails before the ball came to hands and should have uprooted the stumps after having the ball in hands. Williamson was not in the picture! Can't blame Mushi. It happens. Slice of luck for Kane! #CWC19 — Faisal Caesar (@faisalyorker1) June 5, 2019
So Mushfiqur Rahim's run out miss will cost the game for @BCBtigers?

— A.I.Vishal (@aivishal) June 5, 2019
Bangladesh kept chipping away with wickets but the BlackCaps eventually secured the victory by two wickets thanks to a calm Mitchell Santner.
YESSSS!!! Well done NZ. #BANvNZ #Blackcaps — Short Third Man (@vyatikram188) June 5, 2019
Santner 17* from 12 balls, cool as you get in these situation, wickets was going other end but just the calmness while taking singles or four during winning run. Impressive.

— Johns (@CricCrazyJohns) June 5, 2019
An hour ago, we were talking about Kane Williamson batting too slowly and sacrificing a Net Run Rate boost. Last five minutes were just shots of Trent Boult looking like he was about to burst into tears. What a passage of cricket. #CWC19

— Ben Jones (@benjonescricket) June 5, 2019