Banker Ashraf replaces Butt as PCB chief
Ijaz Butt completed his three-year tenure on October 8.
Updated: October 11, 2011, 8:50 PM IST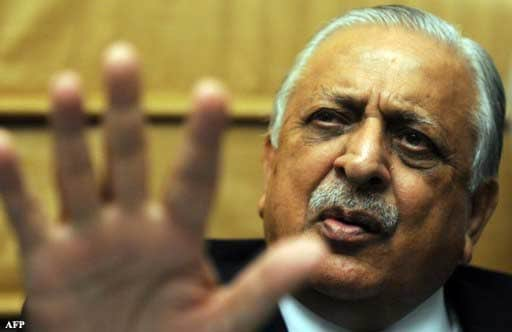 Lahore: Ending days of speculation, President Asif Ali Zardari appointed noted banker Zaka Ashraf as chairman of the Pakistan Cricket Board in place of Ijaz Butt on Tuesday.
In a notification issued late in the evening, Ashraf was named new chairman of the board, replacing Butt who completed his three-year tenure on October 8.
Butt had returned from Dubai on Monday after attending the executive board meeting of the International Cricket Council.
Butt had reportedly sought a six-month extension in the high-profile post but Ashraf will instead take over as PCB chairman with immediate effect, state-owned Pakistan Television said.
Ashraf is known as an ardent cricket follower who, as president of the Zarai Taraqyati Bank (ZTBL), regularised jobs of cricketers in his bank.
Ashraf, 59, has never played the game and is a member of the executive committee of the ruling Pakistan People's Party, said his priority was to improve Pakistan cricket's image abroad after a series of high-profile scandals.
"I will work day and night to live up to president Zardari's confidence," Ashraf told a private television channel.
"My top priority will be to improve Pakistan's cricket image and stop bookies and match-fixers."
Ashraf said that he will also try to improve relations with other cricket boards, including great rivals India, with whom sporting and diplomatic ties have stalled after a terrorist attack on Mumbai in 2008.
"People in both Pakistan and India love cricket so I will try to resume ties," said Ashraf."I believe in cricket diplomacy and hope that relations with all the countries improve," added Ashraf, who is the 32nd PCB chairman since its inception in 1948.
A senior board official confirmed that the government had issued a notification with regard to the appointment of the new PCB chairman, but he had not seen it as yet.
"Under the constitution, anyone appointed as Chairman automatically has a three-year term," chief operating officer Subhan Ahmad told PTI.
Ashraf is said to be a close friend of President Zardari, who as president of the country is a patron of the PCB, as both studied together at Petaro College and stayed in the hostel.
Ahmad said Butt attended office on Tuesday but left soon.
"He was pre-occupied and left early. Indications were that he had been informed about the change by the Presidency," Ahmad said.
73-year-old Butt's three-year tenure has been dodged by controversies and scandals and will be remembered for the infamous attack by militants on the Sri Lankan team in March 2009, which led to foreign teams boycotting playing in Pakistan.
His tenure was also hit by the spot-fixing scandal last year in England when three Pakistani players - Salman Butt, Muhammad Asif and Muhammad Aamir - were caught for allegedly bowling no-balls for money.
The ICC later banned the trio for their involvement in spot-fixing and they are now also facing criminal charges in a court in London.
Butt also became notorious for his treatment of senior players, which he claimed he was doing to root out groupism in the team.
His differences with former Pakistan captain Shahid Afridi have been well-documented and it is said that the latter announced his retirement from international cricket because of the tussle with the Butt.
Butt also got rid of Australian coach Geoff Lawson and was criticised for frequent changes to the captaincy and selection committee.
Five candidates were said to be considered for the post of PCB chairman. Among them were former Test captains Majid Khan and Zaheer Abbas.
"Obviously when a new chairman takes over there will be changes in the board, but it remains to be seen whether these changes are cosmetic or on merit," former chief executive of the Board, Arif Abbasi said.
He said there was a dire need for more authority to be given to the governing board of members and a more democratic system of governance in Pakistan cricket.
Former Pakistan captain Moin Khan felt that with a new chairman coming in, Afridi and other senior players like Muhammad Yousuf, Abdul Razzaq, Kamran Akmal and Danish Kaneria might get new lifelines in their international career.
---
---
Team Rankings
Rank
Team
Points
Rating
1
New Zealand
3198
118
2
India
3765
118
3
Australia
3498
113
4
England
4326
106
5
South Africa
2499
96
FULL Ranking
Rank
Team
Points
Rating
1
England
5405
123
2
India
6102
117
3
New Zealand
3716
116
4
Australia
4344
111
5
South Africa
3345
108
FULL Ranking
Rank
Team
Points
Rating
1
England
6877
275
2
Australia
6800
272
3
India
10186
268
4
Pakistan
7516
259
5
South Africa
5047
252
FULL Ranking