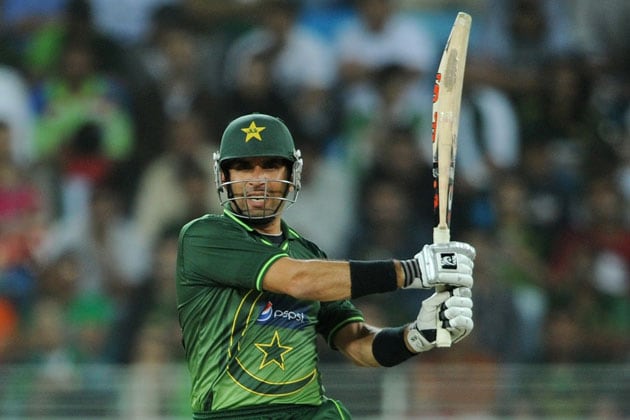 Islamabad: Misbah-ul-Haq says Pakistan needs a batting coach to solve the team's top-order batting problems at the crease in international matches. Misbah returned home on Monday after leading Pakistan to its first ever one-day series victory against South Africa, a 2-1 win. Pakistan also drew the Twenty20 series 1-1.
"We have to think a lot about our batting and (a batting) coach could be beneficial," Misbah said. "Batting is a constant problem for us for the last 2-3 years and we have to seriously start thinking about it."
Despite the top order batsmen struggling against South Africa, rookie allrounders Bilawal Bhatti and Anwar Ali emerged as future stars in the series.
Both Bhatti and Ali shared a productive half-century stand in Pakistan's 23-run win in first one-dayer at Cape Town after South Africa reduced the visitors to 131-7.
Bhatti smashed three fours in fast bowler Dale Steyn's one over in Pakistan's narrow 1-run win in the second ODI at Port Elizabeth where opening batsman Ahmad Shehzad also scored a century.
But Shehzad was out for a duck in the third ODI at Centurion and, despite Misbah's unbeaten 79, Pakistan was dismissed for 179 and lost the match by four wickets.
"Our batting averages are nowhere and there's no consistency," Misbah said. "After scoring in one match, we flop in 3-4 innings, so I think we have to work hard on this thing."
After two days of rest at home, Pakistan team will leave for the United Arab Emirates on Thursday to play three test, five ODIs and two T20 matches against Sri Lanka.
Pakistan will also play a T20 against Afghanistan at Sharjah on Dec. 8 before the tour kicks off against Sri Lanka with a T20 at Dubai on Dec. 11.
Lanky left-arm fast bowler Mohammad Irfan was not named in Pakistan's Twenty20 squad after the he injured his hip muscle during Pakistan's 4-1 loss in the one-day series against South Africa at the UAE last month. He also missed Pakistan's short tour to South Africa.
Irfan is yet to recover from the injury and is also likely to miss the ODI series against Sri Lanka.
"Without Irfan we were thinking that it will be difficult for us (in South Africa), but the way Bilawal Bhatti performed, we didn't feel Irfan's absence," Misbah said.
"The way youngsters have performed, our hopes are high from them in future."
Misbah said after playing in South Africa, where there's lot of bounce on the wickets, it will benefit his team to play against Sri Lanka in the U.A.E.
"No doubt Sri Lanka is a very strong team and conditions do suit them too, but I think our team will play quite well after competing against South Africa in tough conditions," Misbah said.
Former Pakistan cricketers like Shoaib Akhtar, Mohammad Yousuf and Sikander Bakht have criticized Pakistan its 4-1 loss to South Africa the one-day series at U.A.E., but Misbah said the criticism was unfair.
"There was lot of hue and cry to change the team, change the system, but we need patience," Misbah said.
"If the South Africans have lost its first ever series against an Asian team after 20 years, does that mean they should change their team?" he said. "We should not start blasting players after losing one series and stop backing them. This team needs backing, it will develop slowly and start producing good results."
In Karachi, Pakistan's enigmatic allrounder Shahid Afridi said former test cricketers should start backing players in tough times instead of criticizing them when they were going through bad form.
"They are Heckle and Jeckle and forget that during their playing days they did also struggle," Afridi said. "They should back the team when it's struggling instead of blasting the players on television."