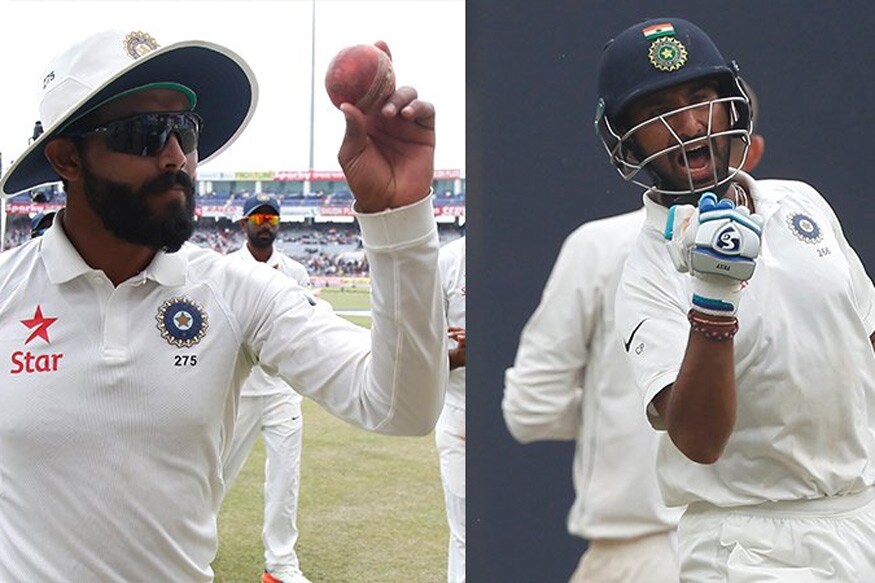 New Delhi: With Ravindra Jadeja grabbing pole position in the latest ranking for ICC Test bowlers and Cheteshwar Pujara reaching a career-best second spot among the batsmen, BCCI took to Instagram to congratulate the two on their achievement.
A post from the official BCCI account on Instagram read: "The new No. 1 and No. 2. @royalnavghan claims No.1 spot for bowlers, @cheteshwar_pujara acquires career best 2nd place for batting in latest ICC Test Rankings."
Pujara's double century helped him gain four places and reach the second spot with 861 points. While Pujara has Steven Smith ahead of him, Joe Root, Virat Kohli and Kane Williamson stand behind him on the third, fourth and fifth spot respectively.
Coming to Jadeja, he toppled Ashwin who was joint first with the left-arm spinner going into the third Test. But, while Jadeja managed to snare 9 wickets, Ashwin managed just two wickets.
Jadeja gained seven points after his performance in the third Test. The Saurashtra player has also closed in on a major landmark as his tally of 899 rating points has put him on the brink of becoming only the second Indian bowler after Ashwin to touch the 900-point mark.