New Delhi: Star India has bagged the Board of Control for Cricket in Indian (BCCI) media rights for television and digital rights for the Indian cricket team and domestic championships from 2018 to 2023 on Thursday, after an intense bidding process that lasted three days.

In a first of it's kind E-action, Star India came on top against heavyweights like Sony and Jio after their bid of Rs 6138.1 Cr bagged them the prized broadcasting rights. The bidding process has ensured another huge windfall for the the BCCI as previously, Star paid Rs 3851 crore for the rights to broadcast India's home matches from 2012-2018.

"Like everything else, BCCI rights come a little expensive. But it has been a good experience with BCCI all these years. We are focussing more on consolidated rights. We have always believed in looking at rights as combo offerings. The experience of the auction was great but it was like a movie that it just went on and on. It was good from BCCI's point of view because it got them more revenue." Star India CEO Uday Shankar said during the press conference in Mumbai after winning the bidding process.

"I don't think a tender in any sport that has gone for as long. It took time to understand but it was a transparent process. You always knew who the highest bidder in each category was. You had enough time to process and react. Both (advertising and subscription) have their own roles," he added.


Congratulations @StarSportsIndia on bagging the BCCI Media Rights @ 6138.1 crores at an average of 60.1 crore per game.

— Anirudh Chaudhry (@AnirudhChaudhry) April 5, 2018



Star India had earlier acquired the rights to host the Indian Premier League for a huge sum of Rs 16,347.5 Crores for next five years as well, and now, they have also bagged the rights for all Indian matches for the same duration. As far as the BCCI is concerned, they will be richer by Rs 60.1 Cr per match.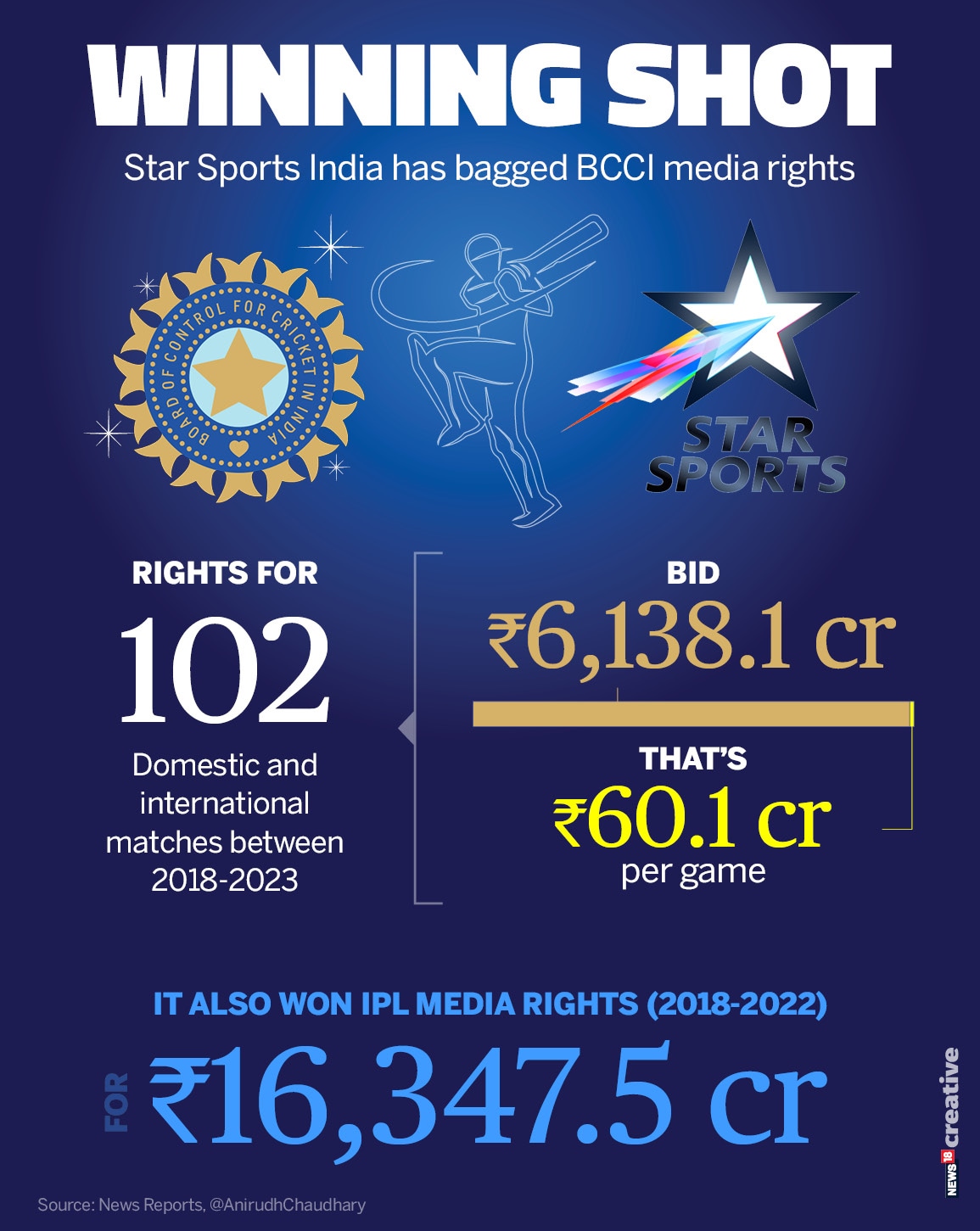 Cricketnext had broken this story first, as a BCCI official had earlier said that per-match pay should be in the range of Rs 55-60 crore when the auction will finally come to an end.

"It is very difficult to pick an exact figure as this is the first time that we are having an e-auction and everyone is trying to understand how the whole process works. But yes, it should end at something around Rs 55-60 crore per match," the official had said.

Initially six companies, including Facebook and Google, entered the fray to bid for international and domestic matches in India from April 15 2018 to March 31 2023.

Six companies, including Facebook and Google, initially entered the fray to bid for 102 matches in India from June, 2018 to March, 2023. But following scrutiny, on Star India Private Ltd, Reliance Industries Limited, and Sony Pictures Networks India Private Limited were found eligible to submit online financial bids.

Star now have the broadcast monopoly over its rivals as they now have the rights to cricket in India, IPL and also the ICC tournaments. Moreover, they also hold the rights for the games played in New Zealand and the Indian team are scheduled to play there in January-February 2019.


First Published: April 6, 2018, 8:45 AM IST