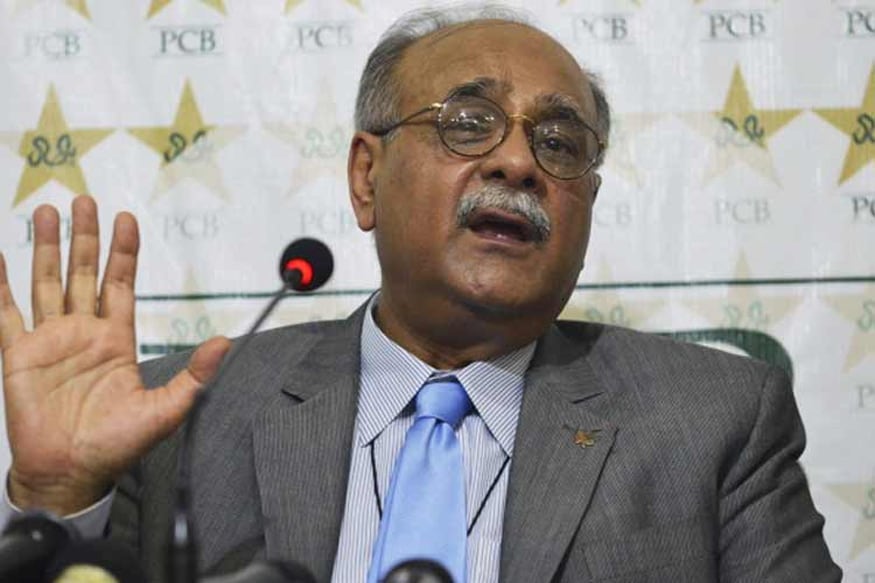 Karachi: The Indian Cricket Board (BCCI) has neither approved nor rejected playing 19 matches with Pakistan in the new bilateral series plan floated at the recent International Cricket Council (ICC) meeting in Auckland, said PCB chief Najam Sethi. Pakistan and India are slated to play 19 matches in the new Future Tours Program schedule, which will come into force from 2019 for four years as per the recommendations of the ICC.
"The ICC floated an FTP for all Test playing nations for the period 2019-2023 including the Pakistan-India matches. The BCCI has neither approved nor rejected the proposed FTP," Sethi told the media here.
He said Pakistan had objected to the proposed FTP as it wanted the ICC to schedule the same number of matches in the four years that were outlined in the MoU signed between the two boards in 2014. "We are sure India will eventually want the ICC to include the clause of government clearance in the FTP for matches between the two countries. But at the Auckland meeting they neither approved nor rejected the proposed 19 matches," Sethi said.
He said Pakistan had made it clear to the ICC that it wanted the BCCI to fulfil its obligations as mentioned in the MoU. Sethi also clarified that Pakistan's plans to submit a compensation claim with the ICC disputes resolution committee to claim $70 million for two home series that India didn't play under the MoU were a separate matter.
"That compensation claim is a different matter and we are waiting for the ICC board to ratify some amendments to the disputes resolution clause after which our case is prepared. We are seeking compensation for two series that we were supposed to host against India in 2014 to 2016," he said.
Sethi pointed out that India had even refused to play the bilateral series on neutral venues as proposed by Pakistan. He explained that the ICC had also decided to schedule Pakistan and India Tests and ODIs in its planned World Test League and World ODI League which will begin from 2019.
"But I think the problem of Pakistan and India matches in these leagues will only be resolved in the coming months." The PCB chief felt that if India refused to play Pakistan in the World leagues or FTP matches they would have to forfeit points as per ICC rules. Sethi also reiterated that Pakistan's decision to sign on World league documents depended on India fulfilling its MoU obligations.