New Delhi: The bench comprising Chief Justice of India Dipak Misra, Justice AM Khanwilkar and Justice DY Chandrachud on Thursday heard the BCCI matter and observed that there was scope to consider modifying the previous orders on 'One State-One Vote' and 'Cooling off period' clauses.

The observation comes as a big boost with the board members requesting the apex court to reconsider some of the proposals of the Lodha panel even as they were ready to accept most of the reforms suggested in the reworking of the BCCI constitution.

Speaking to CricketNext, a senior BCCI official said that the board had complete faith in the court and that the bench understood the need to have continuity in administration to ensure smooth functioning of the BCCI.

"We have repeatedly been saying that we have absolute faith in the Supreme Court but there were people who have been trying to propagate a different perception and even spending money on propagating that. The concept of cooling off in the tenure restrictions was somewhat unreasonable as it hit at continuity of the work and would have severely compromised various aspects of the administration of the game.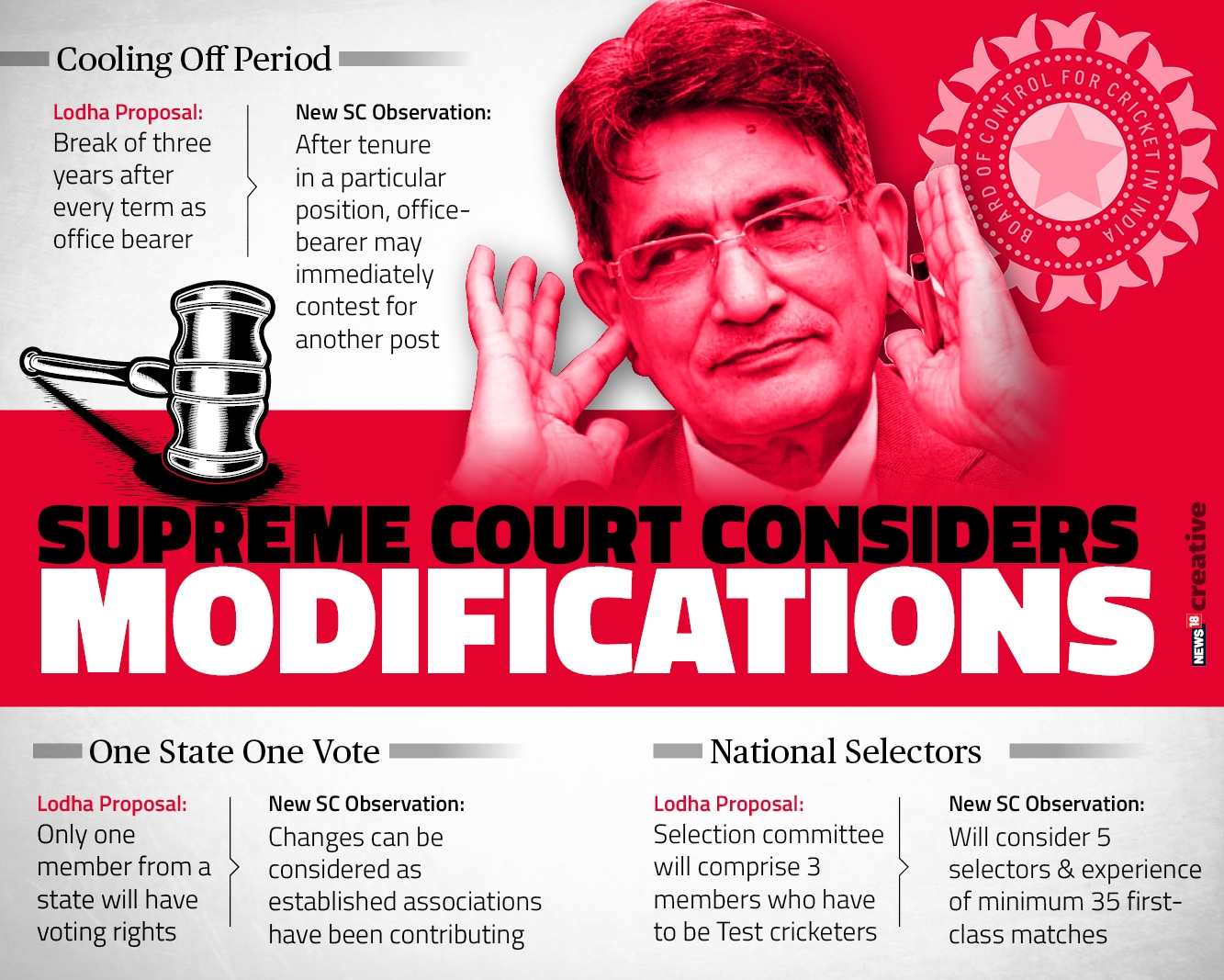 "The Hon'ble Court considered and appreciated this practical difficulty and expressed their views on the subject in Court today. We are extremely grateful for that since it is in the best interest of the organisation," he said.

Another official said that the bench's observation that the voting clause could be modified is again something that will help the smooth functioning of the board and it wasn't something that was aimed for the members. It was aimed at providing future cricket stars as absence of votes in the general body sometimes affects decision making.

"The proceedings in court today regarding 'One State One Vote' have set a lot of young minds at rest since the Associate Membership for a few Associations would have deeply impacted the opportunities for a lot of players. The absence of a vote in the General Body at some level does tend to affect decision making qua the association in all aspects.

"Additionally the historical value of these members are part of the cricketing heritage of India. CCI for example continues to host important BCCI and international games. Not many people know that it was the NCC that had possession of the Eden Gardens and it was only on account of the Reliance World Cup in 1987 that the possession was handed over to the Cricket Association of Bengal in order to host the World Cup Final in 1987," he said.

"The Services, Railways and Universities have also been contributing heavily to the game of cricket. The inclusive approach of the Hon'ble Court is very welcome and we are looking forward to working closely with the soon to be new full members from the North Eastern states to develop cricket in that region."

Another BCCI official added that with the apex court's observations, it is once again time to look forward to a situation where the board and its members will function in a positive mindset and environment.

"The feeling in BCCI presently is a very positive one. Everyone is looking forward to work in the BCCI as a normal, independent organisation and are very hopeful that all the project development programs and cricket development programs that have been at a standstill for some time now would soon start moving swiftly again. Essentially, the BCCI is looking forward to be an organisation filled with positivity rather than the present situation that is filled with negativity," he signed off.


First Published: July 5, 2018, 7:44 PM IST