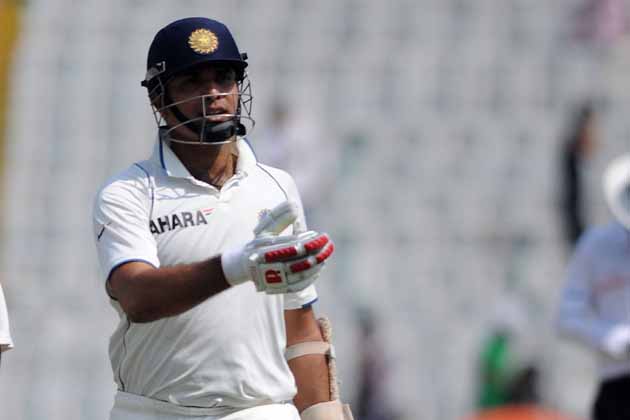 India's current selection committee, in its final act as a unit before their term comes to an end, has selected a squad that is safe and unproblematic for the most part. In penning a 16-man squad for the New Zealand Tests starting August 23, the current lot has acted pragmatically but left the incumbent panel members with calls to make on the future of Indian cricket.
There weren't many tough decisions to be made on Friday in Mumbai. With Rahul Dravid gone and VVS Laxman not guaranteed to last the season, the spotlight ahead of the BCCI selection meeting was on the young crop of batsmen – namely Cheteshwar Pujara, Rohit Sharma, Ajinkya Rahane, Suresh Raina and Manoj Tiwary.
Prima facie, Pujara had to be selected and Rohit had to be dropped. The promise shown by Pujara on Test debut in 2010 and the manner in which he toughed it out in three innings in South Africa – he fought harder than the rewards show – needed to be invested in. Pujara's scores against West Indies A – 50, 96*, 67, 1, 33 and 5 – in difficult batting conditions left him well above his batting team-mates and showed that he deserves another shot at Test cricket.
The inclusion of Raina indicates that the selectors have grown weary of Rohit, who averaged 2.60 in the recent Sri Lanka ODIs and has slipped further away from making his Test debut. Widely considered to be the most talented of India's younger generation, Rohit has failed to prove to the world that he belongs at the top. His supporters are going hoarse in calling for him to be given a chance to prove he can play Test cricket, but frankly Rohit's form in 2012 does not merit selection. That he has been named in India's Twenty20 squad on the same he as being dropped from the Test squad is starkly indicative of the way Rohit's career is headed.
Raina's selection is more a nod for excelling on the recent Sri Lanka tour. He is fourth in the pecking order behind Pujara and Ajinkya Rahane – retained as a reserve opener – and highly unlike to feature against New Zealand. With Test tours by England and Australia lined up, Raina will need to continue to score in limited-overs cricket to hold his place in the squad. In 15 Tests, he has scored 710 runs at 29.58 with his frailties against the short ball well-documented. He was dropped following India's 4-0 whitewash in England last year in which he averaged 13.12 from eight innings. Raina's record in India is also poor; he averages 20.57 from seven innings with one half-century.
India's selectors have chosen to not address the elephant in the room, however. Laxman hasn't spoken openly about his plans as a Test player, but one comment he made earlier this year suggested that he may have not come to terms with the impending. During Dravid's retirement function, Laxman told his former team-mate that he would miss his presence in the slip cordon. As sweet and emotional as that comment was, made from one friend to another, it left a discomforting after taste - does Laxman think he is a certainty for India's future Test assignments?
His name in this squad suggests the selectors – who have not spoken openly on the matter – have decided to give Laxman a farewell series. The new selection committee, headed by Mohinder Amarnath, will have the uncomfortable job of sitting down with Laxman should the veteran not already have been cautioned by the selectors.
India's bowling attack picked itself, and not much should be read into the naming of Piyush Chawla. The selectors named Rahul Sharma as the third spinner for India's previous home Test series, against West Indies late last year, but having allegedly tested positive for banned substances it is not surprising that the tall Punjab legspinner has been dumped. Chawla's last Test appearance was in April 2008 against South Africa and that he was the next option after Rahul was Chawla is indicative of how bare India's spin cupboard is. The 23-year-old is merely making up the numbers for this series.
Ishant Sharma's presence should be seen as a positive. He underwent ankle surgery in March and his selection promises that Ishant has achieved match-fitness. If he is not, we have a problem. With Varun Aaron, who suffered a recurrence of a back injury, and Sreesanth still on the recovery trail, the selectors needed to pick a third fast bowler. Ishant's selection over Ashok Dinda, who impressed in his recent limited-overs series in Sri Lanka, shows how the selectors regard the Bengal fast bowler despite him being the second-highest wicket-taker in the Ranji Trophy.
Zaheer is 33 and will surely have to take a call on his career at the end of the year; specifically, which format he needs to give up to prolong himself. It is unlikely that he will feature in all three of India's home Test assignments, and so identifying the next man is important. Ishant and Umesh Yadav will contest the second fast bowler's slot.
With what they had to work with, the selectors have done a commendable job. England and Australia will prove sterner examinations of the players, so it remains to be seen whether this squad is persisted with. For now, it will do.