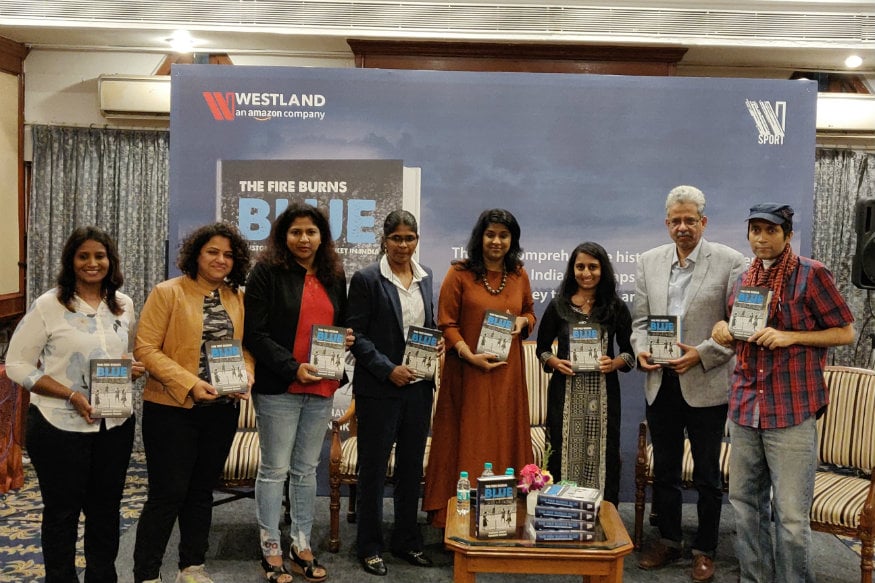 Women's cricket has come a long way in India ever since the Mithali Raj-led side finished as the runner-up in the 2017 World Cup. Indian women's team has been playing more matches since then but former skipper Pramila Bhatt believes that the Board of Control for Cricket in India can do to a lot more to improve the game.
Bhatt was speaking at the launch of a book dedicated to women's cricket - The Fire Burns Blue - alongside the panel of former skipper Mamatha Maben, senior journalist Suresh Menon, and co-authors Karunya Keshav and Sidhanta Patnaik. They spoke about the struggles, and ups and downs of women cricketers all around the world.
"Much more can still be done. Yes, BCCI is doing so much and we shouldn't be grumbling. However, (after) the kind of boost women's cricket got after the World Cup, thanks to India being the centre of everything, things didn't really take off," said Bhatt.
"We had a T20I series and they organised it in the morning. Who's going to watch it in the morning? Again in this World T20 people took notice but why always wait for such tournaments? BCCI have funds but we need a visionary there.
"Diana Edulji has done a lot, with her being there, things could have been slightly better."
The panel opined that Harmanpreet Kaur's breathtaking knock of 171* in the 2017 World Cup semifinal against Australia helped women's cricket reach the masses.
"Harmanpreet changed the game. In her knock, we saw a spirit that kind of connected the entire five generations. Whatever the odds will be, we will do it. And that became the essence of the book," said Patnaik.
Bhatt also felt the time is right for India to introduce a Women's IPL.
"With the kind of talents and power-hitting going around in women's cricket, India can afford to have a women's IPL," she said. "They are now able to play the fast-paced game but it's the BCCI who should have the will to do it."
Meanwhile, former India skipper Mamatha Maben, who represented the country in four Tests and 40 ODIs, said things could have been different had BCCI taken the women's team under their wings before 2006, the year when the board actually took full control of India women's cricket.
Bhatt, who featured in five Tests and 22 ODIs, also revisited memories of her playing days.
"It's wonderful to see the way women's cricket has evolved over the years. When we played cricket, we just played for the passion of the game. It was worth it. Sometimes we used to travel without reservations, sitting next to the toilets, and we enjoyed those moments as well."