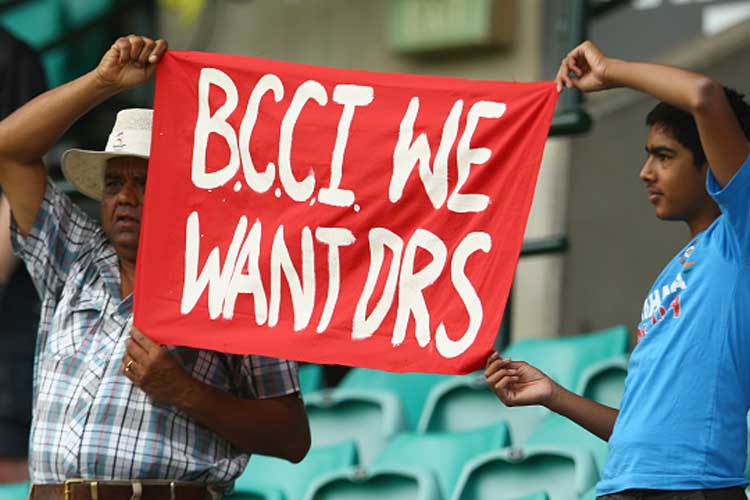 Cheteshwar Pujara's match-winning 131 for Saurashtra in the Ranji Trophy semifinal win over Karnataka was marred by umpiring howlers when he was given 'not out' after the batsman edged one to the keeper off Vinay Kumar. The BCCI have now answered calls to introduce Decision Review System (DRS) albeit on a 'limited' basis for the Ranji Trophy knockout games this season.
Pujara had got a reprieve in the first innings of the game as well when he had appeared to glove a delivery by Abhimanyu Mithun through to the wicketkeeper at the Chinnaswamy stadium in Bangalore. On both occasions the umpire was Saiyed Khalid.
In a decision taken by the Supreme Court-appointed Committee of Administrators (CoA), 'limited' DRS has been approved for next season.
"The CoA was informed that there have been some grievances raised regarding some poor umpiring decisions in domestic matches. It was recommended that introducing a limited Decision Review System (DRS) in some of the digitized/ televised domestic matches would reduce occurrence of such poor umpiring decisions," CoA decision in the minutes of the meeting posted on BCCI website read.
"After some discussion, the CoA accepted the recommendation of introducing limited DRS for domestic matches at the knock out stage," it added.
BCCI General Manager (Cricketing Operations) Saba Karim confirmed that the board will go ahead with the plan for the 2019-20 season.
"The CoA have given go-ahead of the plan to ensure that there are no howlers on the field. We will discuss how we can implement this 'limited' DRS after talks with umpires, match referees, official broadcasters and others. The fine points will be finalized over the course of the next few months," Karim told CricketNext on Wednesday (July 17).
However, one should not expect 'HotSpot' or 'Ball Tracker' technology to be available for the television umpire and that's why the board have come up with the term 'limited' DRS.
"By limited DRS we mean that TV umpires can review a dismissal or a decision through TV replays. Based on that if they can overturn a decision, they can recommend that to the on-field umpires.
"Since other technology is not available to the broadcasters for the domestic games, we'll make best use of whatever resources that we have at our disposal," former India wicketkeeper Karim informed.
It remains to be seen how successful this experiment of introducing 'limited DRS' proves for the BCCI.