Bhuvneshwar Kumar and Jasprit Bumrah have in a very short span become the lynchpin of India's bowling attack in all three formats of the game. Poles apart in skills but temperamentally quite alike these two have consistently struck for India with the new ball complementing each other wonderfully well.

In some ways, a major reason why they have been successful especially in the limited-overs format is how different the two are with the new ball upfront. While Bhuvneshwar extracts even the slightest movement on offer making the ball talk in both directions, Bumrah is more of a hit the deck bowler upfront, who ruffles up batsmen with bounce and his uncanny action.

The one aspect common between the two though is the impeccable line and length they maintain with the new ball, keeping it on and around the off stump channel making the batsmen earn their runs. At a time when most conversations are about placid surfaces, two new balls in ODIs and the ineffectiveness of new-ball bowlers in general, having two such potent seamers in the lineup is practically gold dust for any side.

Having said that the duo is equally capable in the death overs as well, an area where India have for the longest time been guilty of leaking runs. While Bhuvneshwar has over time added the knuckle ball and yorker in his armoury, Bumrah is often regarded as one of the best death bowler going around in world cricket currently. His ability to bowl in the blockhole ball-after-ball in the end stages of an innings has not just garnered praise from his countrymen but also from the opposition camps, most recently by Pakistan head coach Mickey Arthur during the 2018 Asia Cup after his team had suffered a thumping defeat at the hands of India for the second time in the tournament.

"One thing that really impressed me, we were at optional training session the other day and I sat there for 20 minutes, I saw Jasprit Bumrah in a net next to us execute yorker after yorker after yorker. He put that into practice in matches too. We will definitely be showing this to our young bowlers in our review," Arthur had said at the time.

Therefore, it is no surprise that India have done exceedingly well with the two in the mix in the last few years. Over the last 12 months, India have won 15 out of 21 ODIs, lost five, while one game against Afghanistan ended a tie. Bumrah has played 16 of the 21 ODIs where he has picked up 26 wickets at an impeccable average of 21.15 while Bhuvneshwar has snapped up 17 wickets in 16 games with an economy rate of 5.39.

It is no secret that the duo feeds off each other's success and love bowling as a pair. The two have played 30 ODIs together so far in which Bumrah has returned 49 wickets at 24.16 while Bhuvneshwar has 34 wickets at an average of 36.70 - better than his overall career average of 38.26. The chemistry is visible even off the field where they are constantly seen in each other's ears discussing the facets of the game and how to improve on it.

"What he practices in the nets and how he prepares himself is something I learn from him. It's fun when you (both) take wickets. We talk a lot. We talk a lot," Bhuvneshwar said of Bumrah recently.

Bumrah as well was effusive in praise of his senior pro from whom he has learnt a lot in the last couple of years. "We communicate a lot. As soon as we begin to bowl our overs, we talk to each other about the conditions and what should be our approach," he said. "If the ball is swinging or should we go for wickets, what variations to use as per the conditions, etc. This communication is throughout the game – at the beginning and in the end.

"He's known for his swing and his control. When you play attacking cricket, you need control. If you have good control, only then will you be successful in today's cricket. Once you're able to create pressure from both the ends, it's always beneficial for the team. So, we are always learning from each other."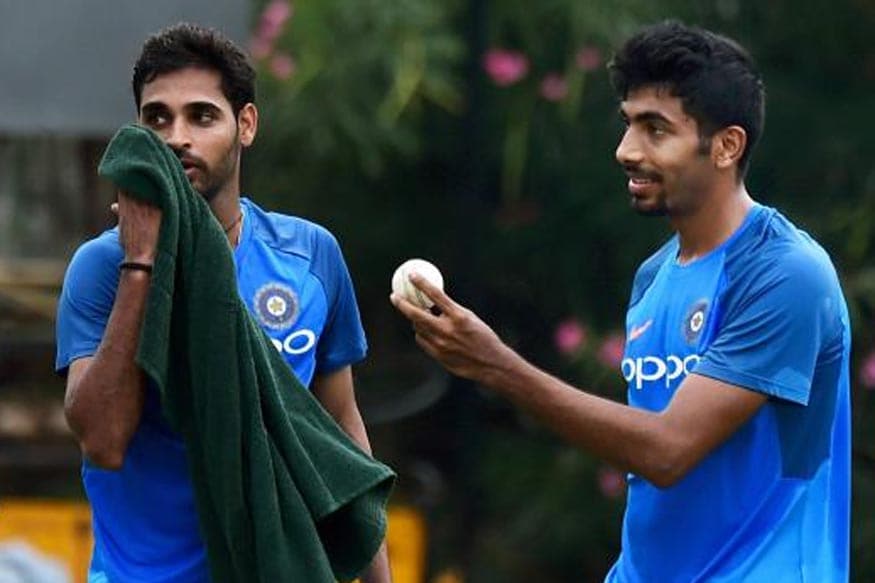 Just how important Bumrah and Bhuvneshwar are to this setup can be assessed by the fact that India's 2-1 loss to England in the three-match ODIs in July this year was their first after nine consecutive bilateral series wins. There was no Bumrah in the lineup for the series while Bhuvneshwar played just one game where he was visibly not a 100 per cent fit.

The last time India conceded a series before this was in January 2016 when they lost 4-1 to Australia – coincidentally the same time where Bumrah had made his 50-over debut.

India are now ready to embark upon another Australian tour that starts with three T20Is before the two teams will faceoff in five Tests and three ODIs. Both Bhuvneshwar and Bumrah will once again hold key in conditions which will assist the pacers that bit more.

Bumrah, however, said that he was not thinking too far ahead. The 24-year-old insisted that it was futile to go with pre-conceived notions and that he will decide on his gameplan only once he has a look at the surfaces Down Under.

"There is always bounce there but Australia nowadays is known for high-scoring games well. I am not focusing too much ahead, I am focusing on whatever the next match I play," said Bumrah.

"That's always been my philosophy. When I reach Australia, I will assess the wickets. Because sometimes going there with pre-conceived notions and then it doesn't happen, so you are in no space. I'll go there, see the conditions and plan according to that."

Bhuvneshwar as well resonated his teammate's opinion also admitting the Australian tour will be a challenge despite the hosts not having two key players in Steve Smith and David Warner, who are both facing a one-year suspension.

"It (the Australian tour) will be challenging, no tour is easy. But Australia will be challenging because when you play outside your home (country), you need to adapt to certain conditions," he said.

"They don't have the two batsmen (Smith and Warner), who have done well over the years. (But) there are other batsmen in their place and it is not that they aren't good. It's their home conditions. If it would have been easy, we would have always won the series (in the past). It won't be easy. Our preparation in the practise matches there will matter."

India have always boasted of top-class spinners in their setup but the fast bowling department has for the longest time been an area of concern. But, with Bhuvneshwar and Bumrah in the mix, India finally seem to have sorted out their pace bowling woes. With the ODI World Cup just seven months away, both these bowlers will be vital to India's chances at the quadrennial event.

First Published: October 18, 2018, 5:39 PM IST