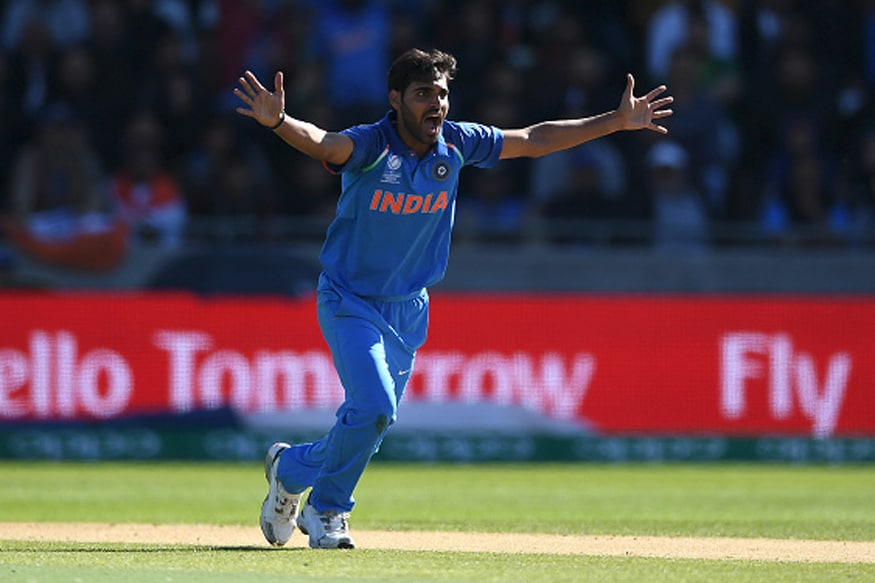 New Delhi: The Bhuvneshwar Kumar injury issue is going from bad to worse. While the BCCI said on Wednesday that his 'aggravated' lower-back injury would be further assessed before taking a call on his participation in the first three Tests against England, CricketNext has reliably learnt that he is headed home and will have to undergo rehab at the National Cricket Academy before being considered for the remaining two games. The fourth Test against England starts on August 30.
The whole idea to have him play the third ODI despite having a back injury has raised questions on the role of Indian team physio Patrick Farhart and trainer Shankar Basu. With the duo already being questioned by some sections within the BCCI on how and why the Yo-Yo test should be considered the benchmark for national selection, the news of Kumar needing to head back home further worsens the situation.
Kumar had an issue with his back from the start of the IPL and as a result had to skip quite a few games in the T20 league. In fact, he was also rested for the Afghanistan Test as the selectors wanted him to come back fresh for the England series. But the recovery didn't go as per plan and as a result, he was asked to rest for the shorter format games — T20Is and ODIs.
In a surprise move though, batting coach Sanjay Bangar announced on the eve of the third ODI that he would play if he passes the fitness test. While not much is known of the test and its result, Kumar played the game and aggravated the bad back. A senior BCCI official made it clear that the team management had some answering to do in this regard.
"Please go and ask Ravi Shastri that question. The moment we are saying he has aggravated his injury, we are conceding that he wasn't fully fit. So if he is a vital cog in our Test match scheme of things, why was he risked for an ODI.
"If you look at IPL, Bhuvi missed five out of 17 games for Sunrisers. The BCCI had asked the franchise to look after his workload management. Then he was rested for Afghanistan Test so that he gets time to recover for UK tour. But it seems something is amiss and that's quite baffling," the official said.
The official further questioned as to how did Kumar pass the Yo-Yo test if he was carrying a niggle when he boarded the flight to UK.
"If despite being given rest during the third T20 and the first two ODIs, he wasn't hundred percent fit, then why was he allowed to play? Secondly, did Farhart report before the third ODI that playing him would be risking his injury? There are some questions that the team management needs to answer," he said.
(With inputs from PTI)