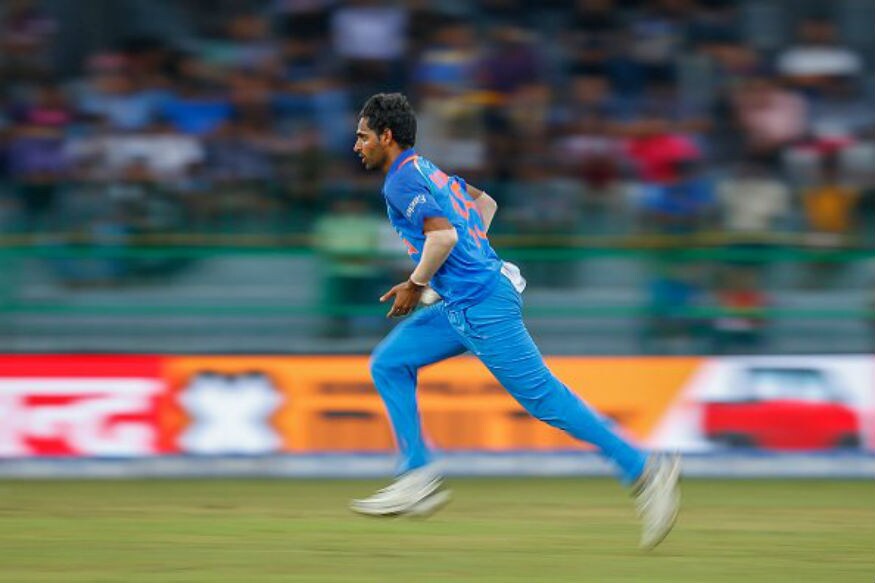 Bhuvneshwar Kumar is a key member of the Indian team given his potency with the new ball and his ability to contain runs in the death overs. Known to be a disciplined bowler, swing is undoubtedly Bhuvneshwar's biggest strength and he has time and again ripped apart opposition batting line-ups with the swinging ball.

Yet, despite having brilliant credentials, he hasn't had a perfect series across any format, and has run out of steam on several occasions.

A glance at his career record across formats shows he is a slow starter in a series, but then churns out a remarkable performance in the second match. Gradually his form dips as the series progresses, and he accounts for lesser wickets with the average also going up.

Take for instance his T20I record.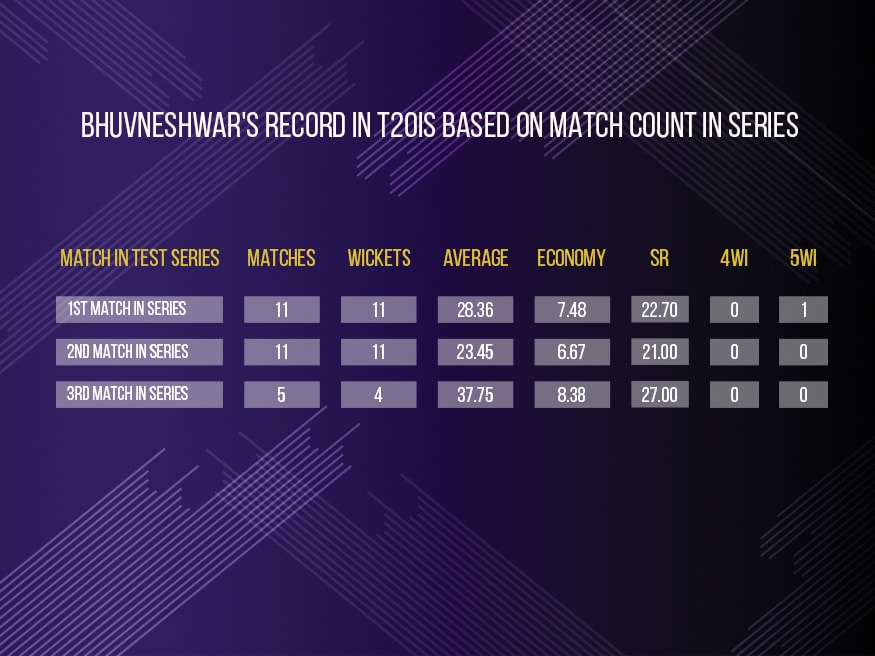 Bhuvneshwar has 11 wickets in 11 matches in the first game of a series, averaging 28.36 with an economy of 7.48. These aren't poor numbers by any stretch imagination but the numbers don't do justice to perhaps India's best swing bowler of this era.

In the second match of the series there is an instant spike in his numbers. He again has 11 wickets, but the average has gone down to 23.45 and the economy rate improves to 6.67, an indication that the bowler is in rhythm.

However, Bhuvneshwar quickly loses his zing, at least the numbers suggest so. In the third match of a series, his numbers take a serious beating. The average shoots up to 37.75 while the economy soars to 8.38.

The effect is a lot more profound in ODIs.




He starts the ODI series with an appalling average of 65.33 and has just 12 wickets in his 19 matches at the start of a series. The strike rate is a shocking 73.3 but he is quick to find his way back.

In the second match of a series, Bhuvneshwar has taken 32 wickets in 19 matches at an average of 23.00. The strike rate is terrific at 29 and even the economy moves down from 5.34 to 4.75.

For someone who has found his feet in a series, Bhuvneshwar is quick to lose the plot. His numbers spiral downwards after the second game with his average in the third, fourth, fifth and sixth games of the series being 61.57, 35, 38 and 42 respectively.

It is, however, a little less evident in the longest format of the game.




He has 21 wickets in 5 Test matches in the first match of a series at a pretty good average of 19.19. But it is in the second match again, that he actually puts in his best performance. The average goes down to 18 with 16 wickets in 4 Tests.

By the third Test of the series, Bhuvneshwar is slowly losing track although the average is still impressive at 21.41. By the fourth and fifth Tests, it moves to 62.28 and 86.

It is perhaps a minor flaw in an otherwise illustrated career across formats. Ironing-out the glitch, may perhaps help him to feature in the playing XI of the Indian team more regularly.


First Published: February 13, 2019, 8:09 PM IST