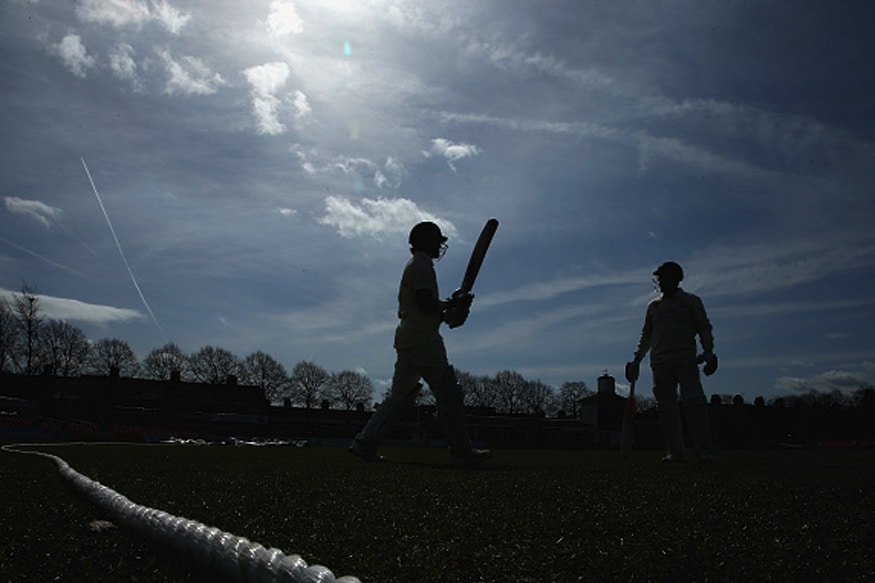 Puneet Bisht cracked a career-best 135 before Abhay Negi bamboozled Arunachal Pradesh with a seven-wicket haul to power Meghalaya to a huge 256-run win in the Vijay Hazare Trophy one-day cricket tournament here on Monday.
In his third domestic match, Negi returned with extraordinary figures of 6-0-17-7 as Arunachal Pradesh batting caved in for 61 all out in 26 overs at the Shastri Maidan.
Chasing a huge 318 in a match reduced to 43-overs a side, only two Arunachal Pradesh batsmen -- opener Samarth Seth (15) and Song Tacho (16) -- could reach double digits with Negi wreaking havoc.
Earlier Arunachal Pradesh's decision to bowl backfired as Bisht smashed a 90-ball 135 (17x4, 4x6) while skipper Jason Lamare also chipped in with 42 off 54 balls in an entertaining 111-run third wicket stand.
After the duo's departure, Yogesh Nagar (56 not out from 46 balls; 5x4, 1x6) and Gurinder Singh (35 from 25 balls; 1x4, 2x6) featured in an unbroken stand of 82 in nine overs to push the total to 317/4 in 43 overs.
At Motibaug ground in Vadodara, medium pacer Deepak Dhapola (4/34) produced a spectacular bowling performance in his third domestic match to power Uttarakhand to a six-wicket win over Nagaland.
Dhapola rattled the Nagaland top three inside 10 overs as the northeastern side folded for 206/9 in the stipulated 50 overs after they were sent in by Uttarakhand skipper Rajat Bhatia.
Uttarakhand's chase began on an ominous note with former Delhi pacer Pawan Suyal reducing them to 0/2 in four balls but opener Vineet Saxena (43) and No 3 Vaibhav Panwar (63) stabilised the ship in a 109-run platform.
Later the Delhi veteran Bhatia (31 not out) and Saurabh Rawat (60 not out) steered the chase with three overs to spare.
The match between Bihar and Puducherry at Nadiad was abandoned.
Summarised Scores
At Anand: Meghalaya 317/4; 43 overs (Puneet Bisht 135, Yogesh Nagar 56 not out, Jason Lamare 42) beat Arunachal Pradesh 61; 26 overs (Abhay Negi 7/16) by 256 runs.
At Vadodara: Nagaland 206/9; 50 overs (Abrar Kazi 75 not out; Deepak Dhopala 4/34) lost to Uttarakhand 210/4; 47 overs (Saurabh Rawat 60 not out, Vaibhav 63, Vineet Saxena 43) by six wickets.