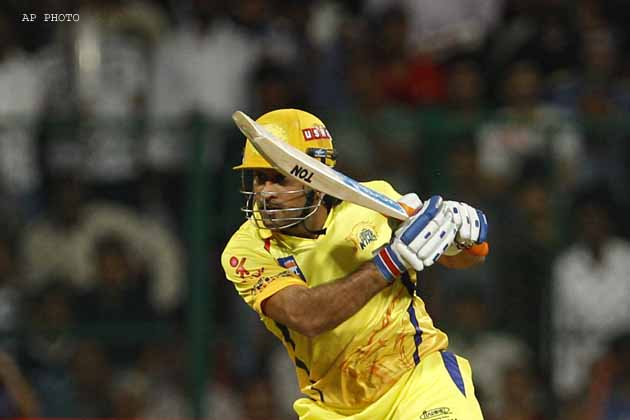 Inspired by their captain, Chennai Super Kings roared to life in the playoffs to set a date with Delhi Daredevils in Qualifier 2 with a clinical win over Mumbai Indians. A rousing 20-ball 51 from MS Dhoni, who took over the baton from Micheal Hussey and S Badrinath after Chennai had slumped to 1 for 2, propelled the defending champions to 187 for 5 and the bowlers struck telling blows across Mumbai's two-faced chase that petered out tamely.
Three wickets in 12 balls threatened to undo the good work from Hussey and Badrinath, but Dhoni and Dwayne Bravo combined for 73 runs in 29 balls to furrow Harbhajan Singh's brow. Once Dwayne Smith was extracted after getting the run-chase off to a blazing start Mumbai's innings fell apart. From 41 for 0 after four overs they slumped to 103 for 6 after 14 and never came close to Chennai's strong total.
The game begun in disarray for Chennai after they were stuck in to bat. Dhawal Kulkarni, a surprise pick in Mumbai's XI despite taking 3 for 18 in his previous and only match of IPL 5, struck two telling blows in his first two deliveries. With his first he got the ball to deviate and draw an edge off Murali Vijay's bat to slip and next ball Suresh Raina drove at width and chopped onto the stumps.
That left Hussey and Badrinath – in the side for Anirudha Srikkanth – to script a recovery. Badrinath struck two fours off Kulkarni's second over to give the innings some force, Hussey welcomed RP Singh with two fours as well, and boundaries in the sixth and seventh overs meant CSK were making progress.
The momentum shift really came in the tenth over. Hussey pulled Kieron Pollard to the midwicket boundary and Badrinath rounded the over with a couple more fours. The 11th over went for 19, as Harbhajan was swung for sixes by both batsmen; for good measure, Hussey reverse-swept four to third man to rattle the bowler. In two overs, Hussey and Badrinath had jacked up Chennai's run rate from five to seven.
Hussey passed Badrinath with consecutive leg-side fours off RP that took Chennai to 94 for 2 going into the second strategic break. But on resumption the innings threatened to unravel as Badrinath (47), Hussey (49) and Ravindra Jadeja fell to attacking shots in the space of two overs.
Fortunately for Chennai, the tentativeness that has affected Dhoni's form in the league stage was refreshingly absent as he attacked from the get-go and remained busy at the crease. A 112-meter six off James Franklin that landed on the roof was a sign of things to come. Dhoni hammered Kulkarni through the offside like a cannon twice in a row and then pulled him to fine leg; Lasith Malinga was heaved through midwicket with ferocity; RP lofted inside-out over extra cover; even the helicopter came out, as Malinga was stunningly whipped from off stump for a flat six over midwicket. Bravo contributed 33 off 14 balls – including two outrageous sixes in the 20th over – and Dhoni reached his fifty off the final ball of the innings to lead his team to score that proved way out of reach.
The start provided by Smith gave Mumbai the impetus. Choosing attack as the best form of defense, Smith bludgeoned boundaries over the on side with tremendous bat speed. Two overs from Ben Hilfenhaus yielded 28 runs, including two sixes and three fours and two sixes, as Mumbai reached 41 for 0 after four overs.
A terrible mix-up saw Sachin Tendulkar run out for 11, and soon after Smith slashed Shadab Jakati to cover-point for a 22-ball 38. Enter Albie Morkel, who removed Dinesh Karthik first ball and Rohit Sharma with his seventh – both batsman caught behind – to leave Franklin and Ambati Rayudu to rebuild the innings.
Rayudu set about it with two fours but couldn't press on; attempting a second slog-sweep he picked out the sweeper to give R Ashwin his first wicket. That effectively ended Mumbai's chase, the rest of the wickets a blur as the innings fizzed to a close. After bullying Mumbai's bowlers, Dhoni was all over the batsmen, literally, with three catches.