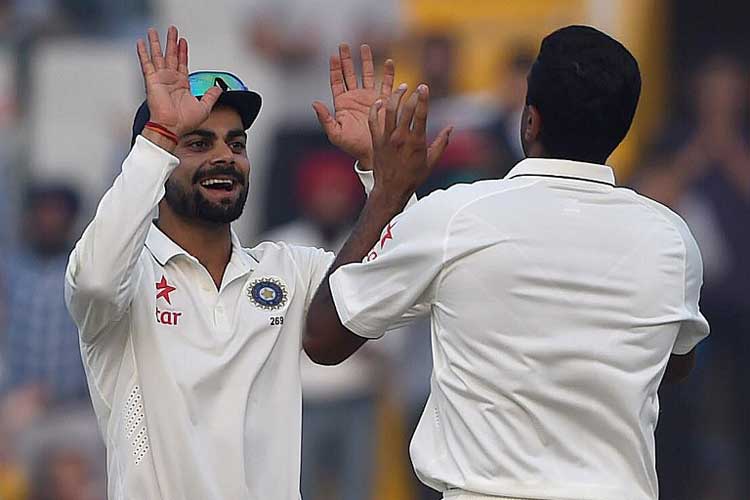 Having won back-to-back Test series against Sri Lanka and now South Africa, India Test skipper Virat Kohli feels the reason behind the team's recent success in the longer format has been the confidence of its bowlers.
Kohli, 27, showed enough maturity in leading a young side and the the top-order batsman did not forget to praise the efforts of the team in his early success.
Kohli has always been a bowlers' captain and has been vocal about their role and importance in Test cricket.
The Delhi man, who took the reins of Test captaincy from Mahendra Singh Dhoni, is well on his way to follow his predecessor's success with victories in the first two full series at the helm of India's Test team.
Deserving all the praise that has come along the way, Kohli has already come to the fore in his short captaincy stint.
In an interview to BCCI, the young leader emphasised how crucial it is for a captain to have confidence in his bowlers.
"It is very important to give confidence to the bowlers. We have told the bowlers that they are the bosses and they will dictate terms in Test cricket. And we want each bowler to think, 'I am going to win the match for India'. Batsmen will contribute at some stage, but it is up to the bowlers to take responsibility and feel like match-winners," Kohli said.
India's recent 3-0 win over South Africa in the 4-match Test series has come on the back of some brilliant bowling performances from the likes of Ravichandran Ashwin, Ravindra Jadeja and Umesh Yadav.
Ashwin ended with 31 wickets in the four matches, while Ravindra Jadeja contributed 23 scalps in as many games.
"In all the other teams, their bowlers are looked after very well. You can see the captains giving them confidence, knowing that this guy is going to do the job for him. As an opposition batsman you feel like you are getting nothing from that bowler.
"It feels nice when our bowlers go out there and dominate; bowling with pace or spinning the ball, and troubling the opposition batsman. We want to make it as difficult for other team's batsmen to score and survive as it is for us," Kohli said.
Known for his aggressive nature on the pitch and someone who is always ready to take a stand for his team, Kohli said he was happy to see his bowlers stand up for him during the SA series.
"What made me really happy as a captain is that all my bowlers told me that they are ready bowl non-stop until the last minute of the Test. That is the kind of effort they are ready to put in for the team. If I give them confidence, they want to bowl their heart out for me. We take care of each other and play for each other," he told BCCI.tv.
Kohli also singled out Ishant Sharma and Ashwin for their efforts in the series.
"I am very pleased to see Ishant taking up the role of the leader of the pace attack, and he is actually feeling like one. With the kind of experience he has under his belt, it is important for him to guide the other guys. It is important that others grow in his presence. And he is bowling beautifully.
"The way he bowled in Sri Lanka, I have never seen him bowl like that since his first tour of Australia (in 2008). He has got his confidence back. Even in this series [against South Africa], he knew he did his job for the team by putting in those maidens and creating pressure," he said.
"Ashwin has always been a champion bowler. I keep picking his brain on the field. In difficult situations, I keep asking him what should be done. He gives me proper insight. As a captain, you need a few people like that around. You cannot possibly think of everything at all times. Ashwin, Ajinkya [Rahane], Ishant, Rohit [Sharma], I keep speaking to these guys because they think about the game and analyse what is going on in the field," he added.