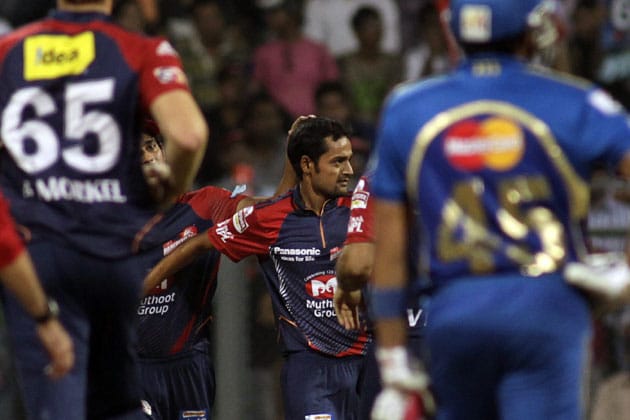 The last time Delhi Daredevils visited the Wankhede Stadium, they were bowled out for 147 as Mumbai Indians picked up an easy victory. This time around, the Virender Sehwag-led side handed out a seven-wicket defeat to Mumbai Indians, one that took them to top of the IPL 5 table. Mumbai's chance to reach No. 1 on the standings was dashed spectacularly, and they looked out of depth as they were bowled out for 92 – the season's lowest total – and conceded the win inside 15 overs.
This was a victory fashioned by Delhi's bowlers on a lively surface, with each of the five men employed picking up at least one wicket. Delhi lost two wickets owing to the pacy nature of the pitch but, with the help of handy knocks from Sehwag and Mahela Jayawardene, the target was crossed with 5.1 overs to spare.
Mumbai had sought to reinforce their top-order batting with another overseas player in Davy Jacobs, but it failed to prevent another sloppy performance. Delhi's new-ball pair handcuffed the top order, with Irfan Pathan starting off with a maiden and Shahbaz Nadeem's left-arm spin extracting the openers early. Nadeem struck with his fifth ball, when Jacobs was bowled for a 10-ball 0 slogging across the line, and on his seventh Richard Levi was also bowled playing a loose shot.
At 7 for 2 after four overs, Rohit Sharma tried to break free with a series of edged boundaries that helped Mumbai to 23 for 2 – the lowest Powerplay score of IPL 5. Ambati Rayudu failed to cash in on a drop on 0, however, run out for 4 on the first ball bowled by Ajit Agarkar. In walked Kieron Pollard, but he lasted just three balls; without even sizing up Umesh Yadav, the West Indian played a crude slog to his first ball bowled and gave Ross Taylor an easy catch in the deep.
It got worse. Sehwag put two men back on the leg side and Rohit promptly top-edged a short ball from Agarkar out to Taylor, who held his second catch. Yadav got Dinesh Karthik next, pulling a short delivery tamely to mid-on. Mumbai were hurting, with the scoreboard showing five batsmen with single-digit scores – including Jacobs' blob – next to their names.
Harbhajan Singh opted for belligerence and smacked Agarkar for six, four and four in three balls to get Mumbai's total past 50. A couple of edged boundaries gave the home crowd something to cheer about, but the strategy break did Mumbai no good. Clint McKay – on IPL debut - fell five balls after the re-start, lofting Morne Morkel to long-off, and in the next over Yadav went straight through RP Singh making his first appearance of the season. Morkel got Harbhajan next, nicking a wide delivery outside off stump for 33, and Agarkar wrapped up the innings in the 20th over.
A target of 93 was never going to be too big a challenge, especially as Mumbai were without Lasith Malinga. However, even Delhi's batsmen weren't fluent on a surface that had some bounce in it for the quick men. Sehwag sliced his first delivery over two fielders in the point region for a flat six but once Mumbai's three-pronged pace attack pulled back its lengths, the freebies dried up. The extra lift did for Naman Ojha, who lobbed to short midwicket, and Kevin Pietersen was also cramped on the pull to give RP two wickets in his unbroken four-over spell.
Sehwag should have been out on 16, but Levi spilled a catch at third man. Delhi's captain took his team to within 19 runs of victory before trying to hit a six, and Jayawardene's patient 17 sealed victory.