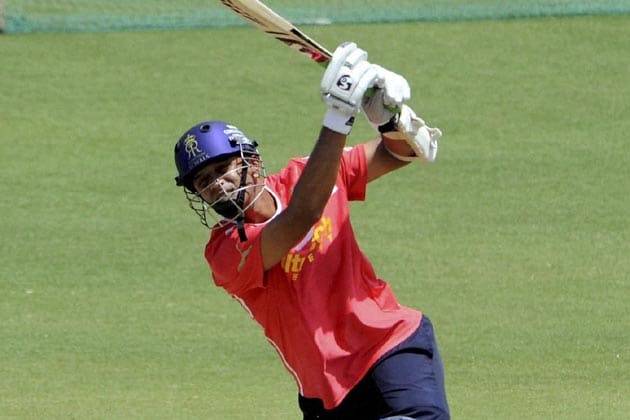 Jaipur: Rajasthan Royals skipper Rahul Dravid feels that his team's bowling at the death is a cause of concern. Rajasthan were comprehensively beaten by 46-runs by Royal Challengers Bangalore in their IPL 5 on Monday, where the home team bowlers got a bit of stick in the last few overs.
"We had the game in control till the 13-14th over, but in the last seven overs, things slipped out of our hands. It has happened before also, the bowling in death overs is still a big worry for us," Dravid said after the match. "I can't blame the bowlers, they are inexperienced, but they have been trying hard. You can do little when the likes of [Tillakaratne] Dilshan and [AB] de Villiers are playing. I would not take away the credit from them as they batted very well to post a formidable 189 for 3."
Asked about team's overdependance on Ajinkya Rahane and Owais Shah as far as the batting is concerned, Dravid replied, "We have been batting quite decently in all our eight matches and I don't feel we rely heavily on Rahane and Shah only. When you are chasing a big total of 190, you have to play shots and you might fall 30-40 runs short. It becomes tough to chase the extra 35-40 runs which we gave away." Dravid himself scored a 42-ball 58 in the losing cause.
The skipper expressed surprise at RCB's move to open with Dilshan and Virat Kohli and send the explosive Chris Gayle in at No 4. "We were surprised not see Gayle coming out to open the innings. We had some plans for him," he revealed. The captain, however, was critical of his fielders. "The fielding was poor. We did not drop too many catches but we certainly could have fielded better," he said.
Dravid said the team was thinking of playing Australian fast bowler Shaun Tait in the coming games. The former India captain is also eagerly waiting for Aussie all-rounder Shane Watson's arrival as he can bring in the necessary balance required. "We are also pondering over whether to play Shaun Tait. [S] Sreesanth is another option, but I am not sure whether he would be available to play as he has been ruled out for at least two weeks."
"We have good bowlers in Pankaj Singh and Kevin Cooper. Ajit Chandila and Gajendra [Singh] can be good options, but they all are rather inexperienced. I feel our attack will have a settled look only after Watson lands here. We are expecting him to be in India by April 29 and most probably he will play against Delhi [Daredevils] on May 1, if he is fit and not wary of a jet-lag," he said.
Asked why Ashok Menaria was left out of the team, as he could have proved handy against left-arm spinner KP Appanna, Dravid said the left-hander had been rested. "We thought of giving him a break but he will be back in the side soon. Stuart Binny too is a talented player and we gave him the opportunity," he said.