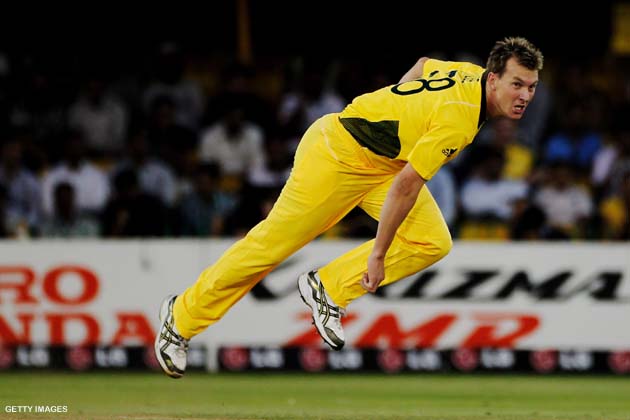 It was perhaps apt that Brett Lee chose to call time on a 13-year international career on Friday the 13th, for like the film of the same name that has become synonymous for filling a generation of viewers with fear, the fast bowler instilled a fair amount of fear into batsmen down the years.
Lee was a nice bloke off the field, but on it he was a terror. Speed was his game. He loved bowling fast, even if it took a huge toll on his body. He was out there to take wickets and break stumps, rattle batsmen, rap knuckles, ping helmets. He was a fast bowler, full stop.
To watch Lee pummel in during a Test match with a bevy of catchers behind the wicket was to appreciate the art of fast bowling. The 21 paces he sprinted in were mesmerizing, each snap of the knees lithe yet somehow primal – a cheetah swooping in on his prey. The snap of the wrist, the release of the ball – yorker, bouncer, in-cutter – followed by that leap when a wicket fell, and the red face, the veins throbbing on his forehead, his eyes twinkling. You didn't have to like Lee, but you could not ignore him.
When he burst onto the international scene in the final week of 1999, Lee was hailed as a remarkable find for a country in search of new heroes. He was raw, he was passionate, and he was damn fast. For Lee, the sight of flying stumps was what drove him and, as he once admitted in an interview in the mid-2000s, was the reason he was in the Australian team. If he happened to break the sticks bowling at 160kmph, all the better. It was this hunger for all things fast that reaped him 310 Test and 380 ODI wickets – joint with Glenn McGrath, that wise old metronome with whom Lee formed a lethal new-ball pair.
Like most flat-out fast bowlers, Lee had his troubles with injuries. His back, ankles, abdomen, elbow and feet gave him plenty of grief but Lee continued to want to bowl quick. He slogged his rear end off to recover from debilitating injuries. He slogged in the gym to ensure each comeback was successful. And he did it all with smile.
In 2005-06 Lee spent 18 months on the sidelines of Australia's Test line-up as the management opted for more seasoned pros. But he didn't brood; in fact it cranked up his desire to do better in one-day cricket. He missed the 2007 World Cup due to a serious ankle injury, but came back to grab 16 wickets in two Tests against Sri Lanka – in which he bowled seriously quick – and a series-high 24 wickets against India. Next, in the West Indies, Lee finished as the highest wicket-taker in the Test series and reached wicket No. 300 in the ODI leg. You just couldn't keep him down.
There were and will be many adjectives used to describe Lee, but one that summarizes the man best is dedicated. Lee didn't shirk his responsibilities. He was out there to rattle the batsmen, take wickets, and win matches. Lee didn't play to lose. The image of Andrew Flintoff consoling Lee at the end of the nail-biting second Test of the 2005 Ashes has become one of sport's greatest gestures, yet there are many more that capture Lee's essence.
Australia's 2011 World Cup group match against Pakistan in Colombo was one such. Lee was 34, near the end of his career after five ankle surgeries, but he bowled like he was 19 again. The defending champions had been bundled out for 176 on a tricky surface, their lowest total in a World Cup since 1992, but Lee bowled his heart out to make it an engrossing match. He plucked out the openers in a fiery new-ball burst and then returned to get rid of Younis Khan and Misbah-ul-Haq in successive deliveries in the 23rd over, leaving Pakistan on 98 for 4.
He lacked support from his team-mates, but that day Lee was unbelievable. He was quick and hostile, forcing the batsmen to duck and weave as he found appreciable bounce. Australia were struggling, but Lee refused to go quietly. That display of fast bowling epitomized Lee. He wasn't a quitter.
It was this outstanding sporting spirit and combativeness that endeared Lee to the fans and in the 13 years he played at the highest level, he remained a crowd-puller. Lee loved the roar of the crowd, the pulse of the stadium rising and flowing as he ran into deliver the cricket ball. He thrived on the fans' support, blushed when female fans blew him kisses, be it Melbourne, Manchester or Mumbai. In later years, with the advent of the IPL, Lee's fan following in India increased.
Today Lee has retired as international cricket's tenth leading wicket-taker of all time, but more than statistics, it will be the pleasure he gave fans while hurling a cricket ball that Lee will be remembered for.