India vs England: Bumrah Set to Return, But Are India Being Fair on Umesh?
Where does a possible selection of Jasprit Bumrah leave Umesh Yadav?
Updated: August 14, 2018, 8:11 PM IST
First Test, Edgbaston: England reeling at 87 for 7 in the second innings, but recover to score 180, setting India a target of 194. India fall short by 32 runs.
Second Test, Lord's: India fold for 107 but fight back to reduce England to 131 for 5. Chris Woakes then slams his maiden first-class ton, and along with Jonny Bairstow (93), takes England to 396 for 7. India eventually lose by an innings and 159 runs.
The first two Tests exposed two timeless problems in Indian cricket: Inability to handle quality swing bowling, and the constant struggle to get rid of the tail. India don't seem to have answers to the former, but they might just about have one for the latter: Jasprit Bumrah.
The yorker-machine and destroyer of tailenders in white-ball cricket, to the massive relief of Indian fans, is likely to be fit again for the third Test, starting in Nottingham on Saturday. Ishant Sharma, Mohammed Shami and R Ashwin have been able to take care of the English top order, and could well do with support from someone to do the rest. With an almost weird arm-action that can generate good pace, Bumrah could be a handful, especially given the likes of Sam Curran and other lower-order batsmen have seen so little of the pacer.
But where does a possible selection of Bumrah leave Umesh Yadav? Not too long ago, Umesh was one of the most wanted bowlers by Virat Kohli, who made no secrets about his love for sheer pace in his early days as captain. Now, Umesh is in a strange position of being a regular in Asia but not overseas. Quite bizarre for a genuine quick who can also swing the ball.
Almost incredibly for a pacer, Umesh played 17 of the 19 Tests – including 12 off the 13 games in the marathon home stretch - in Asia between September 2016 and end of 2017. In the same period, Shami played 11 Tests, Ishant played only seven, and Bhuvneshwar merely three.
Unlike in the past, India did not opt for rank-turners throughout that home season, which meant the pacers too had quite a bit to do. Often bowling on tracks with very little assistance for bowlers of his type, Umesh got 41 wickets in the 19-Test stretch. It could have been a few more if not for some poor slip catching, particularly in the five-Test series against England.
All the talk throughout the season was focused, understandably, on Ashwin and Ravindra Jadeja. They ran away with the bulk of the wickets, but almost silently, Umesh was developing into a serious pacer, providing crucial breakthroughs every now and then.
"We focus on small contributions. Because the big ones will be talked about anyway," Kohli had said then, recognizing the efforts of the work-horses.
The spree of Tests seemed to have made Umesh more experienced, and more equipped to be a serious threat as India embarked on their tough overseas assignments in late 2017. He was no more the quick ball-sprayer he was in the past; Umesh's economy rate before the 2016-17 home season was almost 4. In the 21 Tests India have played since that season started, Umesh's economy has been 3.23.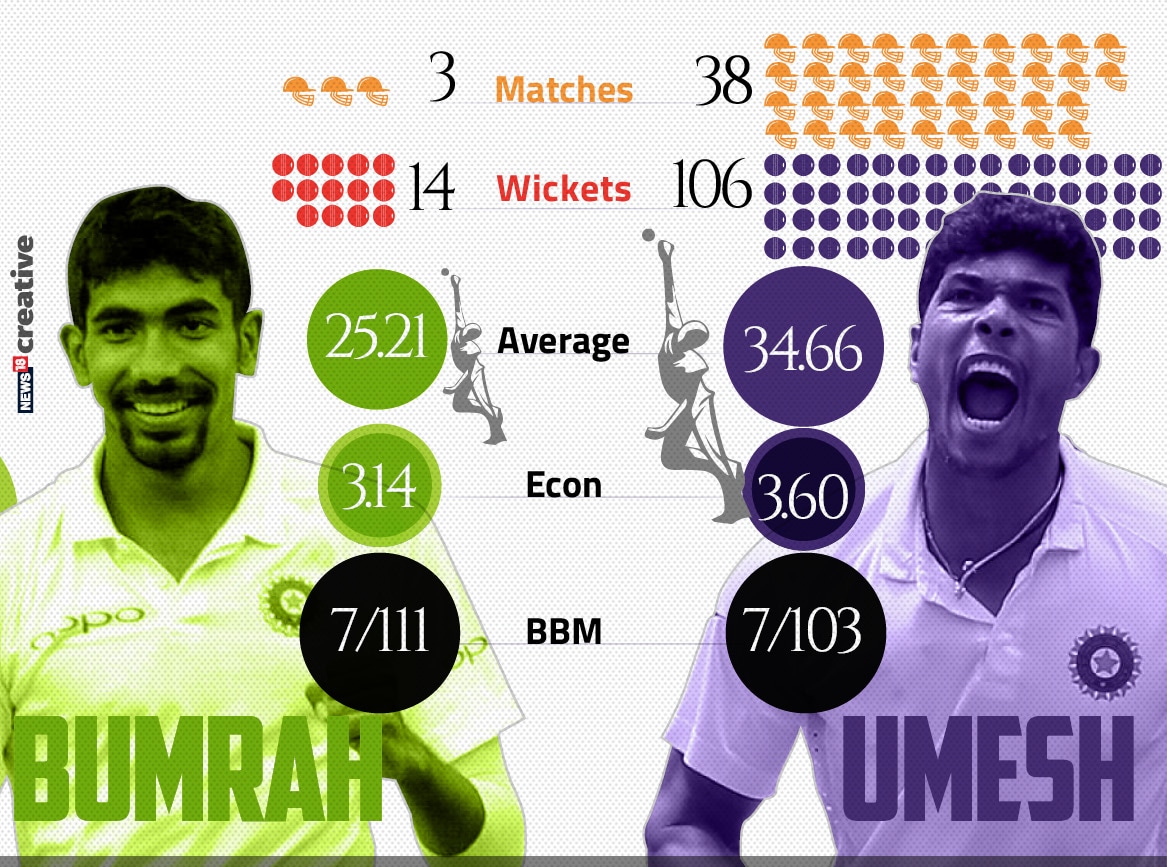 Yet, it's Umesh who has struggled to keep his place in the overseas Tests. He didn't make it to the XI in any of the three Tests in South Africa. He was not picked even in the third dead-rubber Test in Johannesburg even when India opted for an all-pace attack.
Umesh's story in the ongoing England tour has been slightly different, but only because of injuries to the other pacers. A strong show in the IPL and injuries to Bhuvneshwar and Bumrah saw Umesh making a comeback to the One-Day International side after almost a year. A four-wicket impressive spell in the tour game against Essex and the absence of Bhuvneshwar and Bumrah sealed Umesh's spot for the first Test, but Kohli's confidence in his pacer didn't last long.
Umesh was guilty of not being tight with the new ball – he picked up 1 for 56 from 17 overs – in the first innings, and was not asked to bowl until the 41st over of the second innings. He did show an improvement and dismissed both India's thorns – Adil Rashid and Sam Curran – in a seven-over spell, but it wasn't enough to keep his place for the next Test.
India, incorrectly, thought the Lord's pitch would assist spin and played Kuldeep Yadav. Fairly or otherwise, with Bumrah fit again, Umesh could continue to remain on the sidelines.
Incidentally, it was Umesh who had to make way when Bumrah entered the Test world in Cape Town despite not having played first-class cricket in more than a year. It showed immediately, as he struggled to identify the 'Test cricket' length, bowling either full or short in the first innings conceding 73 from 19 overs in a moderately low-scoring game.
It was one of those X-factor/'aggressive' selections that Kohli loves to make, especially overseas: Karn Sharma over Ashwin in Adelaide 2014, Rohit Sharma over Ajinkya Rahane in South Africa last year, KL Rahul and Shikhar Dhawan over Cheteshwar Pujara in the first England Test, and Kuldeep over a Ravindra Jadeja at Lord's being a few other examples.
History suggests none of those decisions bore fruit. Karn hasn't played a Test since. Rohit was dropped after a poor South Africa tour.
But Bumrah adapted better over the next five innings in South Africa and even managed a five-wicket haul, suggesting he can do the job even with the red ball.
He hasn't had multi-day cricket since then and could well be heading into his first Test in England without much game-time. India's situation in the series could leave them turning to Bumrah more with hope than conviction, but unlike in South Africa, neither he nor the team has room for failures.
---
---
Team Rankings
Rank
Team
Points
Rating
1
Australia
3028
116
2
New Zealand
2406
115
3
India
3085
114
4
England
4326
106
5
Sri Lanka
2454
91
FULL Ranking
Rank
Team
Points
Rating
1
England
5405
123
2
India
6102
117
3
New Zealand
3716
116
4
Australia
4344
111
5
South Africa
3345
108
FULL Ranking
Rank
Team
Points
Rating
1
England
6877
275
2
Australia
6800
272
3
India
10186
268
4
Pakistan
7516
259
5
South Africa
5047
252
FULL Ranking