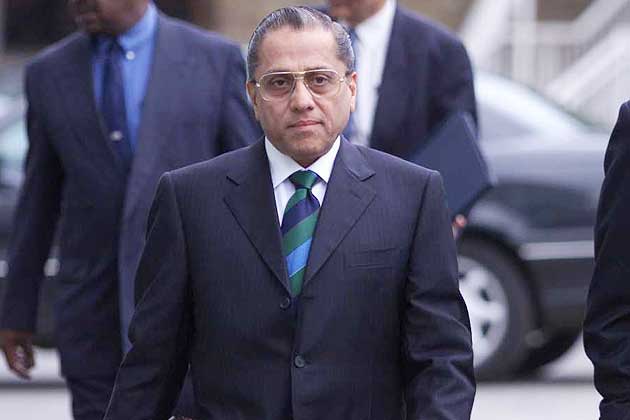 Kolkata: Euphoria reached its peak at the Eden Gardens here on Thursday as cricket crazy fans went down the memory lane when a number of former players from India and Pakistan were felicitated to mark the 25 years of Indo-Pak ODI matches.
The group of around 19 former cricketers including Wasim Akram, Intikhab Alam, Rameez Raja, Kapil Dev, Sunil Gavaskar and Anil Kumble went around the stadium in open-air jeeps waving at fans during the 45-minute innings break of second ODI between the two neighbouring countries.
Planned by the Cricket Association of Bengal (CAB), the felicitation was done by West Bengal chief minister Mamata Banerjee who gave Rs one lakh each to the cricketers.
Former Pakistan players like Wasim Akram, Intikhab Alam, Sadiq Mohammad, Imtiaz Ahmed, Mushtaq Mohammad, Rameez Raja were taken around the field.
They were accompanied by former India cricketers like Bishen Singh Bedi, Sunil Gavaskar, Kapil Dev, Dilip Vengsarkar, Krishamachari Srikkanth, Ravi Shastri, Anil Kumble and VVS Laxman.
Kolkata's favourite son Sourav Ganguly was the only one to go around solo in the jeep as the fullhouse Eden responded to the gesture with a thunderous applause.
Incidentally, India and Pakistan had played the first ODI at the Eden Gardens on February 18, 1987 when Salim Malik played a blinder [72 off 35 balls] as Krish Srikkanth's century went in-vain.
"It's a historic day over here today. It's wonderful to see and meet most of your ex-cricketers. I met [Bishen Singh] Bedi, Kapil [Dev], Ajit Wadekar. Bishen is a good friend of mine. I met Sunil Gavaskar alongside whom I played for Rest of the World and I also played against him," said former Pakistan skipper Intikhab Alam.