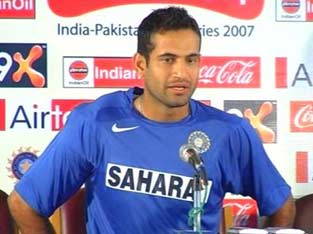 Chennai: As the selectors search for the right balance in the Test team, one question confounds them - What to do with Irfan Pathan? Chosen to play as a bowler who can bat, Pathan is doing just the opposite.
If he can somehow find his swing again, the search for an all-rounder would be over.
"When I play my cricket, I am like a kid. Whenever I bowl or bat, I always want to be exactly like the one when I came back into the team," said Irfan.
In his first Test for over a year and a half Irfan Pathan brought just that childlike freedom to the park with his maiden hundred.
But it is with the ball that a desperate dressing room wants him to shine and experts believe Pathan can.
"The swing is definitely less at this moment but I won't be too worried about it as swing is something that you can always get back. I want him to gain as much of confidence as he can. His technique is looking really good and he is being able to bowl at a good pace," said T A Sekhar, the head coach at MRF Pace Foundation.
It was at Sekhar's MRF pace foundation that Pathan worked hard to overcome flaws that had crept into his game.
"Irfan's shoulder was somewhere and only his arm was going towards the batsman so now we have made the body as well as the shoulder also going towards the batsman. That way he is able to bowl a better line," said Sekhar.
But everyone is searching for that old Pathan, who took a hat-trick with lethal late swing against Pakistan in Karachi nearly two years ago. Can the magic return?
As former Pakistan pacer, Waqar Younis said, "You can see the springs in his feet when he is running towards the crease and he wants to do it - if you see him in his follow-through. That is a sign that he wants to do it and I can see it coming back."
At 23, a long career still lies ahead for Irfan and if he can start to swing it again, he has the tools to become an all-time great.