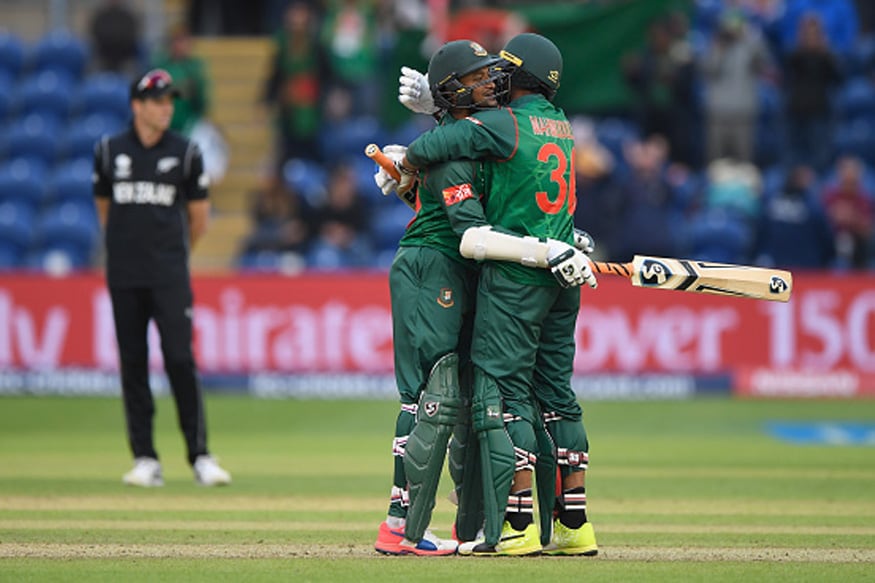 Bangladesh had bowled well to restrict New Zealand to 266, but it seemed as if the old ghosts of inconsistency and struggle against quality fast bowling would come back to haunt Bangladesh after they lost four quick wickets.
But Mahmudullah and Shakib-Al-Hasan - among the most experienced Bangladeshi batsmen - got together to show the cricketing world that this is a new Bangladesh which is not scared to show fight against the top teams in the world.
They put up a 224-run partnership for the fifth as Bangladesh cruised home to stay alive in the tournament and also end New Zealand's hopes of progressing to the semi-finals.
Shakib scored a brilliant 114 off just 115 balls, while Mahmudullah stayed unbeaten on 102. By the time partnership was broken, Bangladesh were just nine runs short of the historic win. The Kiwi fielders congratulated Shakib before he walked off, even as the whole ground stood up to applaud.
The duo played smart cricket, and didn't take early risks when New Zealand bowlers were on top. But when the two settled they hit a combined of 19 fours and 3 huge sixes.
The partnership also set a new record for Bangladesh of highest partnership for any wicket - overtaking 178-run partnership between Tamim Iqbal and Mushfiqur Rahim.
First Published: June 10, 2017, 10:19 AM IST